What's Happening
OZ Weekly - Tazria/Metzora 5780 + More...
04/24/2020 09:19:25 AM
| | |
| --- | --- |
| Author | |
| Date Added | |
| Automatically create summary | |
| Summary | |
---
---
Click HERE for Post-Passover Shopping Guide
Submit your "Views from the Pews" to Office@OZNY.org
---
Mazel Tov
Rafi Murphy & Shira Klein on their engagement
Condolences
OZ mourns the loss of our dear friend Ken Bossewitch z'l, and shares condolences with the extended Bossewitch family
Volunteers Needed
Please contact RAS@ozny.org to help shop for the homebound
Rosh Chodesh Iyar 5780
Remember to include Ya'aleh v'Yavoh, Hallel, and Mussaf for Rosh Chodesh
Upcoming Events - www.OZNY.org/Online
Rabbi Schwartz's April Lunch & Learns
Weekday Night Mishna & Maariv (now at 8pm)
Friday, April 24 @ 6:30pm - Community Kabbalat Shabbat with Erez Cohen
Saturday, April 25 @ 9:00pm - Havdala & Kumsitz [Zoomsitz?] with Erez Cohen
Thursday, April 30 @ 5:00pm - Live at Five with Jane Blumenstein, LMSW
Stay tuned for Trivia Night, Yom Ha'Atzmaut, and a brand new series with Micah Halpern!
---
Guest Dvar Torah by Rabbi Tsvi Blanchard, Hashkama Minyan
The first Rashi in Tazria explains the placing of the laws of birth-impurity after the impurity laws that apply to animals by citing the order of the Torah's account  of creation in Bereshit---animals before humans. Elsewhere, he notes that the Rabbis saw the structure of the mishkan, the desert sanctuary, also mirror that order of creation. Other aggadot say that humans were created last so that we would not become prideful--after all, even a mosquito was created before us. 
The Gur Aryej and Mizrachi have an extended commentary on the Rashi in Tazria. These sources occasioned the following reflection. In a shiur i would flesh all this out. If you can, have a look at these sources. In any case, I  hope that these thoughts below will stimulate your thought.  
Most of us do not want a world of chaos, disorder or seeming randomness. Instead, we want  an ordered world. To do this, we often understand and organize the world in narratives--scientific, historical, psychological, religious, mystical.  Most often we  weave these narratives. together in a roughly systematic way. Most of us , however, do not have a complete, all encompassing story of our world and what it is like. In our "big" story their are "smaller" stories about apparently different narratives that share the same structure and hence some common meaning. The story of our marriage may sound a lot like the story of our parents' marriage, or the story of the marriages of our friends, or even the story of a marriage from a novel or movie that meant a lot to us. What's important is the kernel of common meaning and values that we attribute to these stories, for example, marriage as true or failed love, or as romantic attraction, or as  one misunderstanding or missed opportunity after another.   
What is your version or versions of the following stories? Do you or could you have a common vision or set of values or shared meaning that is expressed in all three of these stories?   
The story of how the world and its structure came to be and what values , if any, this implies.
The story of what creates an anomaly, mistake, fault or failure in that structure and how to repair them.
The story of how human societies access , even commune with, what transcends  the world as we understand it. 
---
Shabbat Tazria Metzorah 5780 / Rosh Chodesh Iyar
FRIDAY
6:20pm - Plag HaMincha
6:30pm - ZOOM OZ Community Kabbalat Shabbat with Erez Cohen
7:28pm - Candle Lighting
7:46pm - Shkiah (Sunset)
8:36pm - Tzeit HaKochavim (Night Fall)
SHABBAT
16th Day of the Omer
Pirkei Avot Chapter 2
6:01am - Netz HaChama
9:27am - Latest Shema
12:54pm - Chatzot
7:47pm - Shkiah
8:37pm - Havdalah / Tzeit HaKochavim
9:00pm - ZOOM Community Havdalah & Kumsitz with Erez Cohen
---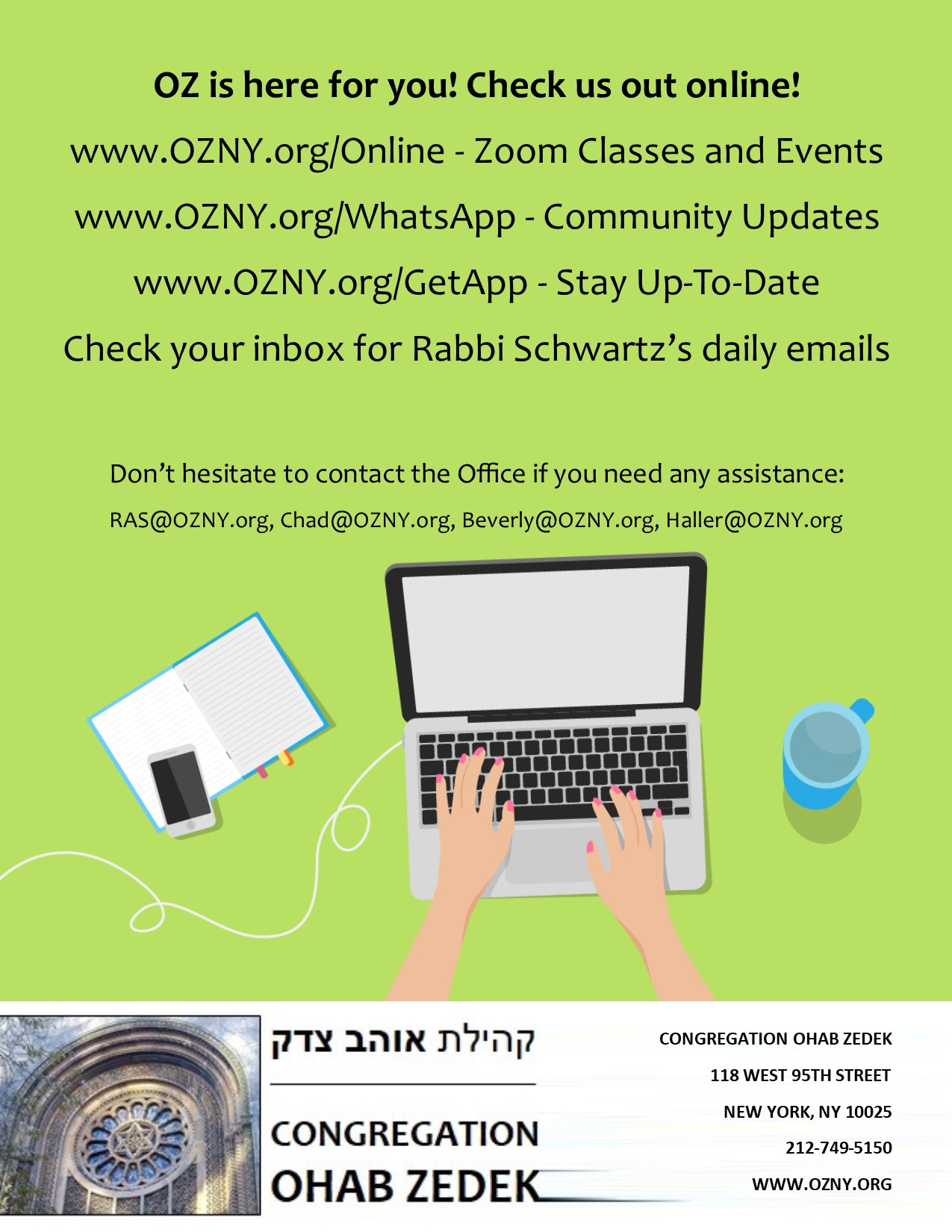 ---
Sun, September 20 2020
2 Tishrei 5781
Today's Calendar
---
Tomorrow's Calendar
Fast begins

: 5:31a
Selichot & Shacharit

: 6:20a
Selichot & Shacharit

: 7:20a
Mincha & Maariv

: 6:40p
Fast Ends

: 7:33p
High Holidays with Rabbi Schwartz
: 8:00p
Maariv & Selichos

: 10:00p
---
Upcoming Programs & Events
---
This week's Torah portion is

Parshat Ha'Azinu
Candle Lighting
Havdalah
Rosh Hashana & Tashlich
View Calendar
Today's Zmanim
Alot Hashachar
5:20a
Earliest Tallit
5:46a
Netz (Sunrise)
6:42a
Latest Shema
9:45a
Zman Tefillah
10:46a
Chatzot (Midday)
12:49p
Mincha Gedola
1:19p
Mincha Ketana
4:22p
Plag HaMincha
5:39p
Shkiah (Sunset)
6:55p
Havdalah
7:45p
Tzeit Hakochavim
7:45p
More >>
Sun, September 20 2020 2 Tishrei 5781