What's Happening
OZ Weekly - Achrei Mot / Kedoshim 5780 + More...
05/01/2020 06:04:43 PM
| | |
| --- | --- |
| Author | |
| Date Added | |
| Automatically create summary | |
| Summary | |
---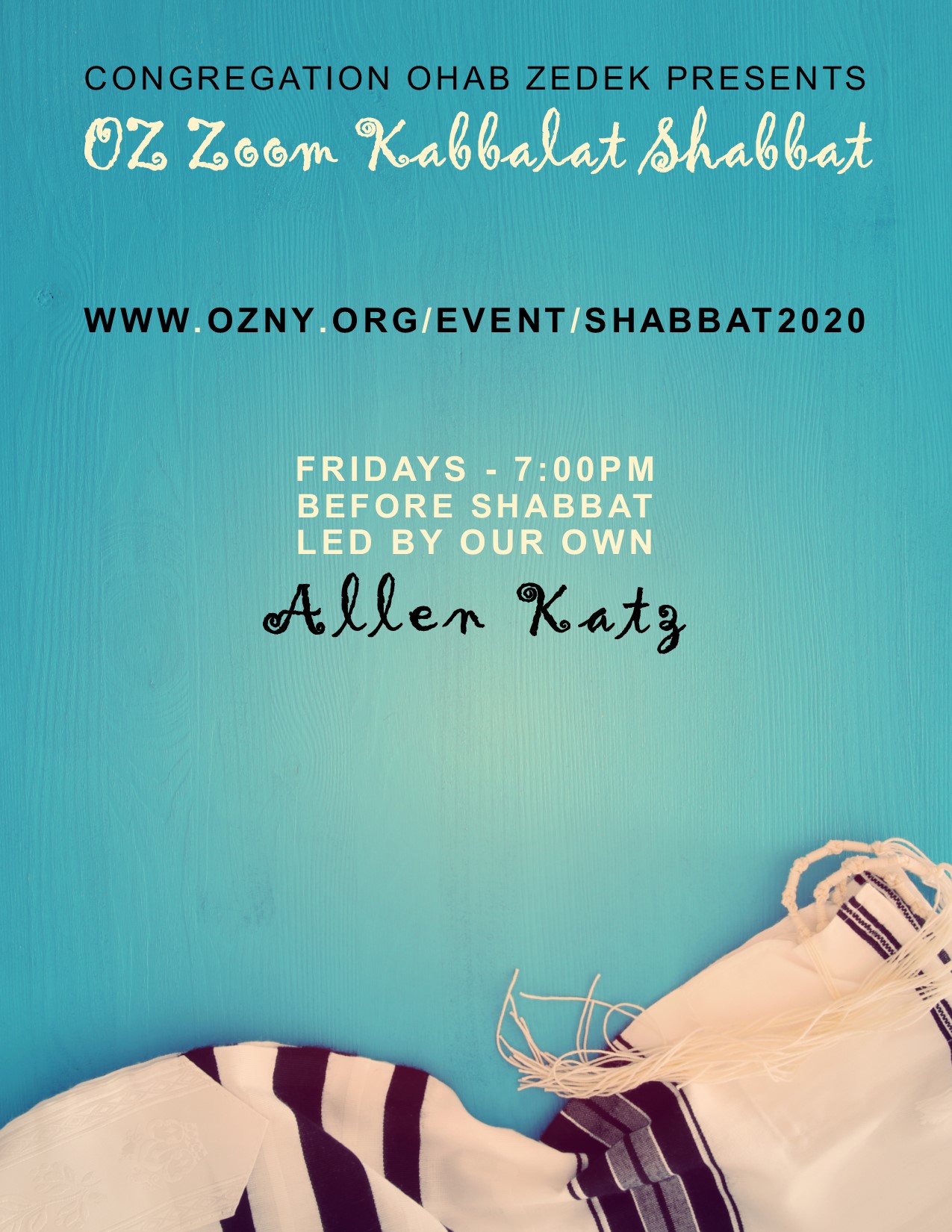 ---
---
Click HERE for Post-Passover Shopping Guide
Submit your "Views from the Pews" to Office@OZNY.org
---
Mazel Tov
We join in wishing Mazel tov to Aaron and Ronit Etra on the birth of a baby boy - Mazel tov to big brother Shmuel
Mazel tov to Pia and Paul Rubin on the engagement of their son, Elie to Aliza Gold - Mazel tov to aunt and uncle David and Sabrina Ascher
Contribute to the Mitzvah Meal Campaign at www.OZNY.org/Event/613
​​​​​​​​​​​​​​Volunteers Needed
Please contact RAS@ozny.org to help shop for the homebound
Dedications
The May Lunch & Learns have been dedicated in memory of our dear friend, Ken Bossewitch z'l
Upcoming Events - www.OZNY.org/Online, www.OZNY.org/Events
Daf Yomi Daily Conference Call
Zoom Kaballat Shabbat - Fridays at 7:00pm
Zoom Maariv & Mishna - Sunday - Thursday at 8:45pm * New Time
Zoom "The G-d Series" with Rabbi Allen Schwartz - Mondays at 8:00pm
Zoom Lunch & Learn with Rabbi Allen Schwartz - on Mondays & Wednesdays

12:00pm - Mastering the Megillah: Ruth in Text & Context
12:30pm - Tackling the Talmud: The King David Sugyas​​​​​​​​​​​​​​

Zoom TNLP on Tuesdays starts at 7:30pm
Zoom Discover Judaism (Wednesdays) starts of 6:45pm
Zoom "Live at Five" with Jane Blumenstein LMSW - Thursdays at 5:00pm
Zoom "History of Jewish Humor" with Micah Halpern - Select Thursdays at 7:30pm
Stay Tuned for More... Events!
---
Guest Dvar Torah by Rabbi Tsvi Blanchard, Hashkama Minyan
Two sons of Aaron, Nadav and Avihu, died when inappropriately approaching the holy of holies. At the beginning of parasha acharei mot, their death is mentioned and connected to their having "come close"  to this sacred place---perhaps because they did so in an inappropriate way or perhaps because they did so at a wrong time. Rashi understands this as strengthening the warning to Aaron to respect temporal boundaries in entering the holy of holies--to avoid the familiarity of acting as if he can come and go as he pleases. He thinks the incident is mentioned to motivate Aaron to take respecting temporal boundaries very seriously. He seems to understand the text as saying that they died not just when they acted inappropriately with respect to this most sacred space but actually because they did not respect proper temporal limitations when approaching the sacred. This occasioned the following reflection: 
Since everything is a divine creation, all of nature and humanity is in some sense sacred. But, of course, some objects, times, places and even people--who are all of equal value-- are more intensely sacred than others.  Encountering them allows for special access to a transcendent  dimension. Some objects, times, places and people are more inspiring than others. Being with them, we feel that we are at the edge of a greater reality; we are at a kind if portal to a reality that we can not understand, if we can even grasp it at all.   
But: we need to respect the boundaries, physical and temporal, of these sacred realities. We must be careful not to become overly familiar with them, We must be careful not to take them for granted. Moments with the people, places, even the things that are important to us, that inspire us...that open a door to a greater dimension of reality and understanding..must be loved, respected, cherished  and valued. We must be careful not to take them for granted. We must be careful not to think that they are there merely for us to "use", even for good purposes---that would be the beginning of a spiritual and moral death. 
---
Shabbat Achrei Mot / Kedoshim 5780 / Rosh Chodesh Iyar
FRIDAY
6:26pm - Plag HaMincha
7:00pm - Zoom OZ Community Kabbalat Shabbat with Allen Katz
7:35pm - Candle Lighting
7:53pm - Shkiah (Sunset)
8:43pm - Tzeit HaKochavim (Night Fall)
SHABBAT
23rd Day of the Omer
Pirkei Avot Chapter 3
5:52am - Netz HaChama
9:22am - Latest Shema
12:53pm - Chatzot
7:54pm - Shkiah
8:44pm - Havdalah / Tzeit HaKochavim
---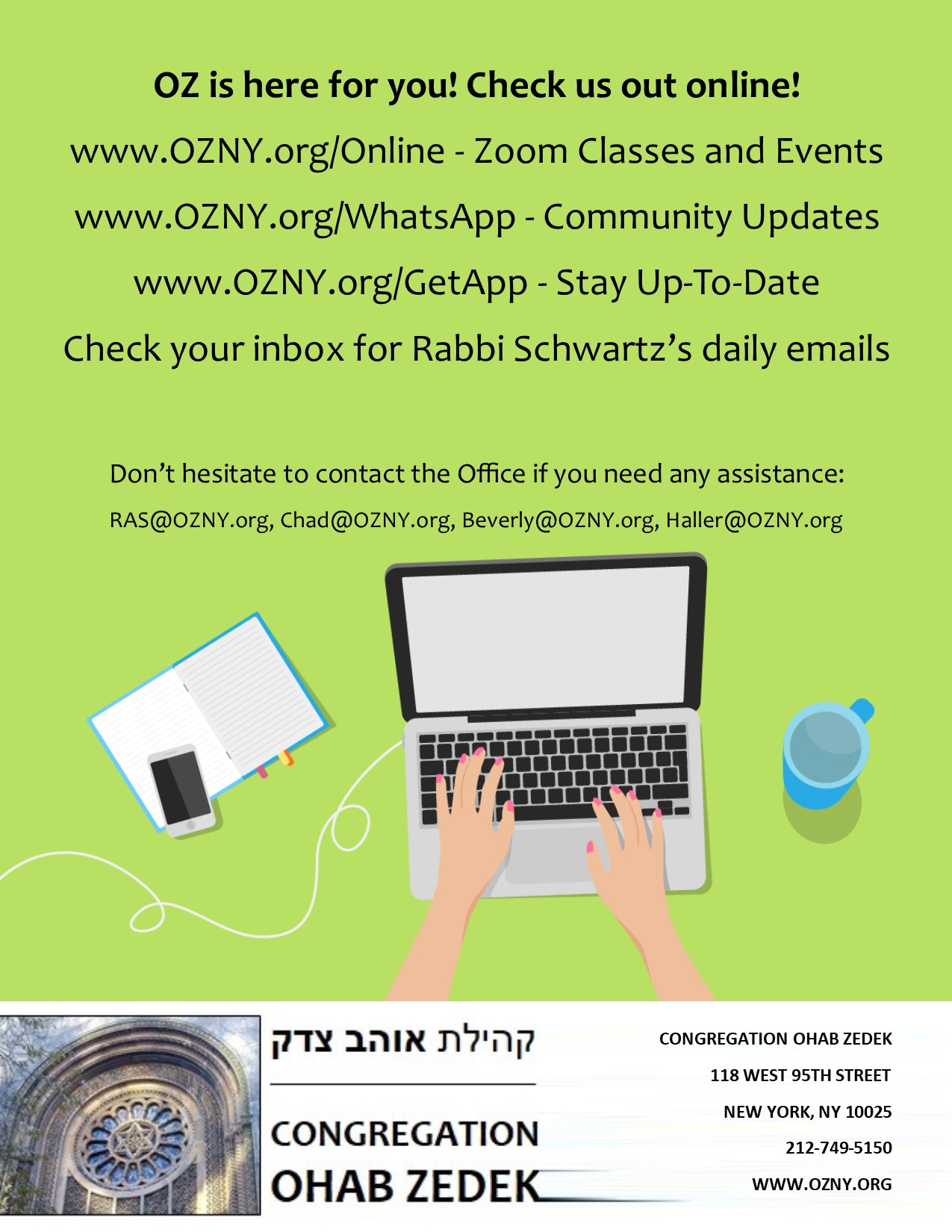 ---
Sun, September 20 2020
2 Tishrei 5781
Today's Calendar
---
Tomorrow's Calendar
Fast begins

: 5:31a
Selichot & Shacharit

: 6:20a
Selichot & Shacharit

: 7:20a
Mincha & Maariv

: 6:40p
Fast Ends

: 7:33p
High Holidays with Rabbi Schwartz
: 8:00p
Maariv & Selichos

: 10:00p
---
Upcoming Programs & Events
---
This week's Torah portion is

Parshat Ha'Azinu
Candle Lighting
Havdalah
Rosh Hashana & Tashlich
View Calendar
Today's Zmanim
Alot Hashachar
5:20a
Earliest Tallit
5:46a
Netz (Sunrise)
6:42a
Latest Shema
9:45a
Zman Tefillah
10:46a
Chatzot (Midday)
12:49p
Mincha Gedola
1:19p
Mincha Ketana
4:22p
Plag HaMincha
5:39p
Shkiah (Sunset)
6:55p
Havdalah
7:45p
Tzeit Hakochavim
7:45p
More >>
Sun, September 20 2020 2 Tishrei 5781