What's Happening
OZ Weekly - Eikev 5780 + More
08/07/2020 10:13:35 AM
| | |
| --- | --- |
| Author | |
| Date Added | |
| Automatically create summary | |
| Summary | |
---
Help us close the Fiscal Year!
Check Your Account Balance & Support our Shul by Clicking HERE.
---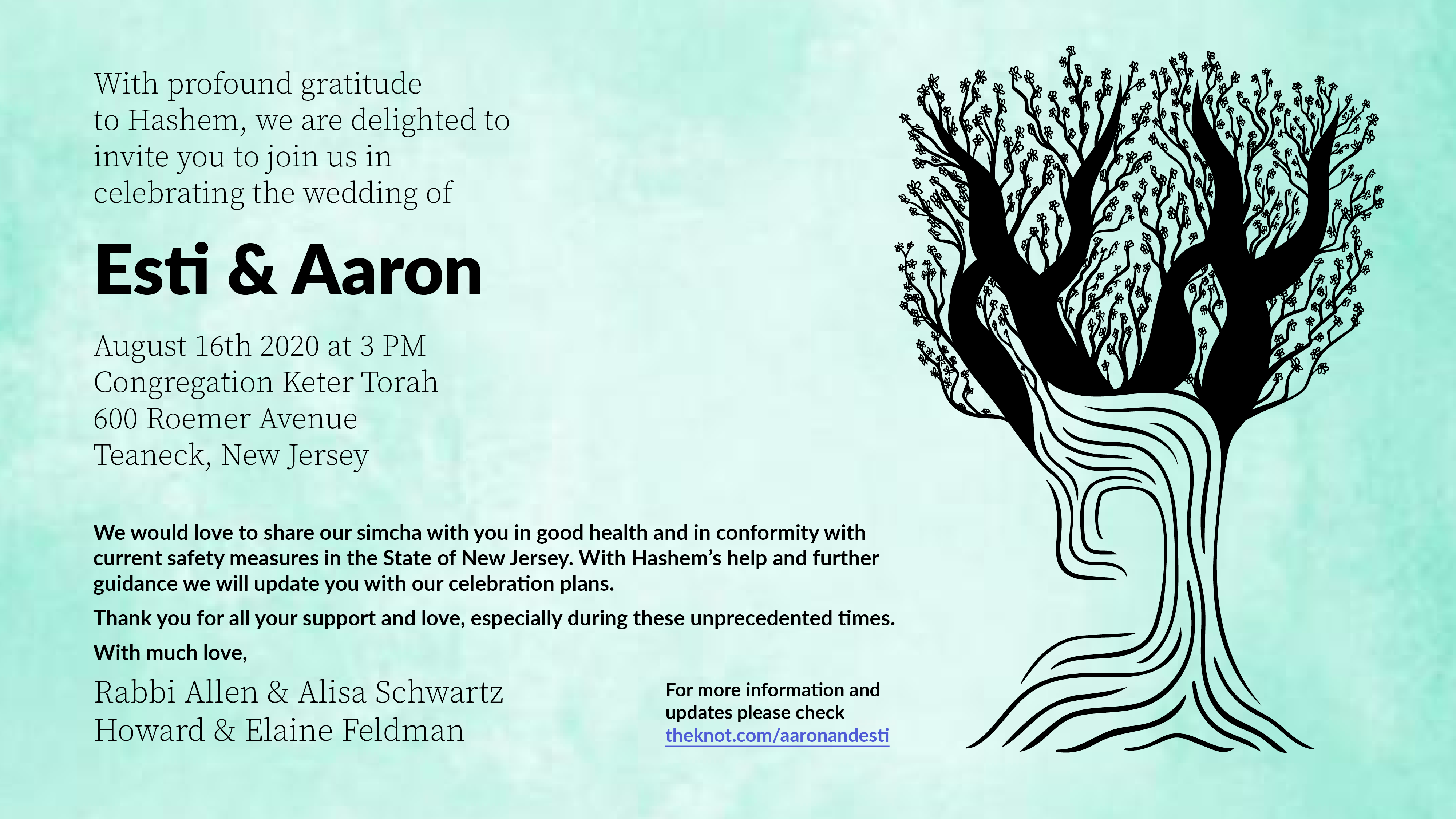 ---
---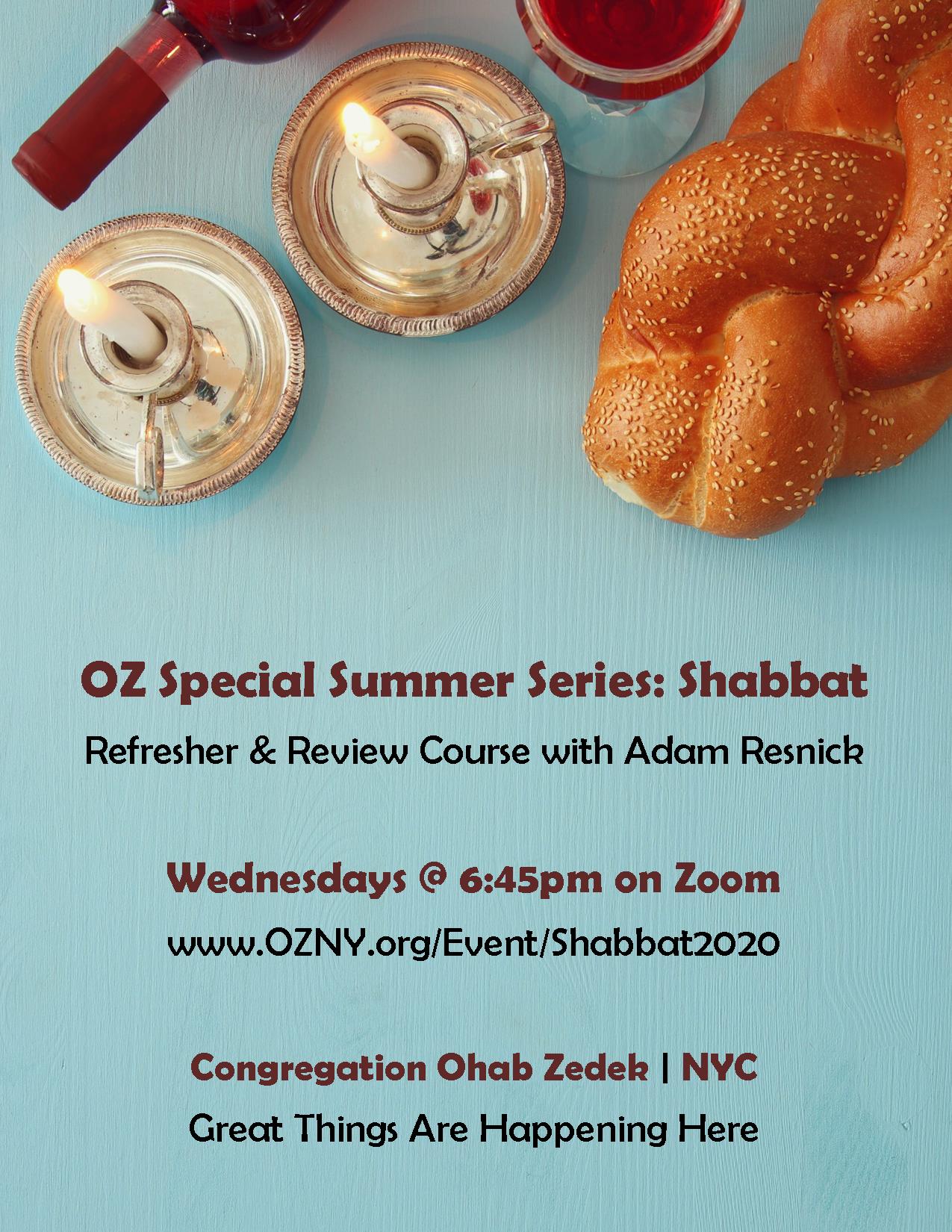 ---
---
---
Submit your "Views from the Pews" to Office@OZNY.org
---
Mazel Tov
Rabbi Allen & Alisa Schwartz, on the Bat Mitzvah of their granddaughter Rivkah - Mazel tov to Rivkah's parents, Chani & Joel, and to Shira, Meira, Ahuva, Sara, Shiffy and Chaim
Rabbi Tsvi Blanchard & Naomi Mark on the birth of a granddaughter, born to their children Elana & Yaakov Goldsmith
Pia & Paul Rubin, on the wedding of their son Elie to Allison Gold
Baruch Dayan Emet
Richard & Jane Stanger, on the passing of Richard's brother Jordan Stanger - Yisroel Ben Tzion ben Avraham Manis z'l
---
Rabbi Schwartz Class Update
Monday Night Course has concluded for the season
---
Minyan Update
Minyanim have resumed under the guidelines of the CDC, DOH, and OU/RCA. Limited minyanim are operating at partial capacity.
Visitors to the building must wear a mask on premises and sanitize hands. Violators will be asked to leave or temporarily forfeit the ability to participate.
Weekday Minyanim currently meet in the Bet Medrash and max out at 30 men and 5 women.
Shabbat Minyanim meet in the Main Sanctuary with 1 Person / Family per row alternating between window and aisle seat designations.
In the Main Sanctuary, Individuals and Families should sit in the

BLUE

marked seats
Shacharit will now start at Brachot
Rabbi Schwartz is emphatic that absolutely no one should feel any pressure to participate at this point.
---
Make a BIG Difference...
...with a SMALL monthly contribution at the OZ Online Pushke
---
Psychological Insights into Parshat HaShavua
---
Youth Events
---
ISRAEL BONDS SPECIAL EVENT
Featuring Prime Minister Benjamin Netanyahu & Ambassador Ron Dermer
Tuesday August 18, 2020 @ 8:00pm

Contact our synagogue representative, Robert Lunzer at 646-523

-

1939 or 

robert.lunzer@israelbonds.com

 or visit Israelbonds.com for current offerings.
---
Volunteers Needed
Please contact RAS@ozny.org to help shop for the homebound
---
OZ Online Opportunities - www.OZNY.org/Online, www.OZNY.org/Events
Daf Yomi Daily Conference Call

Zoom TNLP on Tuesdays starts at 7:30pm

Zoom Discover Judaism (Wednesdays) starts of 6:45pm

Stay Tuned for More... Events!
---
Parshat Eikev 5780
Friday Night
6:30pm - Plag Minyan

6:36pm - Zman Plag HaMincha

7:46pm - Candle Lighting

7:55pm - Zman Minyan

8:04pm - Shkiah

8:54pm - Tzeit Hakochavim
Shabbat 
6:00am - Netz HaChama

7:30am - Hashkama Minyan

9:15am - Minyan

9:30am - Latest Shema

1:01pm - Chatzot

7:45pm - Minyan

8:02pm - Shkiah

8:45pm - Maariv

8:52pm - Havdalah / Tzeit HaKochavim
Weekday Minyanim 
Sunday: 8:00am & 7:45pm
Monday - Friday: 6:00am, 7:00am & 8:00am, 7:45pm Zman Mincha Maariv
Next Friday's Plag Minyan is at 6:20pm

Shacharit now starts at Brachot
---
Rabbi's Blanchard's Parsha Reflection
How do we live a good life in order to be worthy of the love and blessing that comes our way? It surely is not enough that we do what is good simply in order to protect ourselves from suffering, or merely to benefit ourselves. It does not seem to me enough that we do what is right and good so that others will think well of us, or even so that we act according to what our society sees as appropriate. This kind of action rarely gets past self interest. Even when it does benefit others it is primarily rooted in our search for payoff or for our own personal success.  In fact, it is mostly about "me". 
To my way of thinking, to actually be worthy of the love and blessing that comes our way we have to start living beyond "I. me. mine"---even sophisticated versions of this , in which my "I-me-mine" also benefits your "I-me-mine". We need to reach for the common good that binds us beyond even the mutual agreement of self interested "social contracts". We need to seek the principles and purposes of our common good.  We seek what is rooted in realities that transcend the limits of our own given natural desires, perceptions, purposes and interests.  To be worthy of love and blessing, we need to seek what transcends us, whether this is philosophical, religious, mystical or spiritual.
These remarks are reflections on Deuteronomy 7:12ff. 
---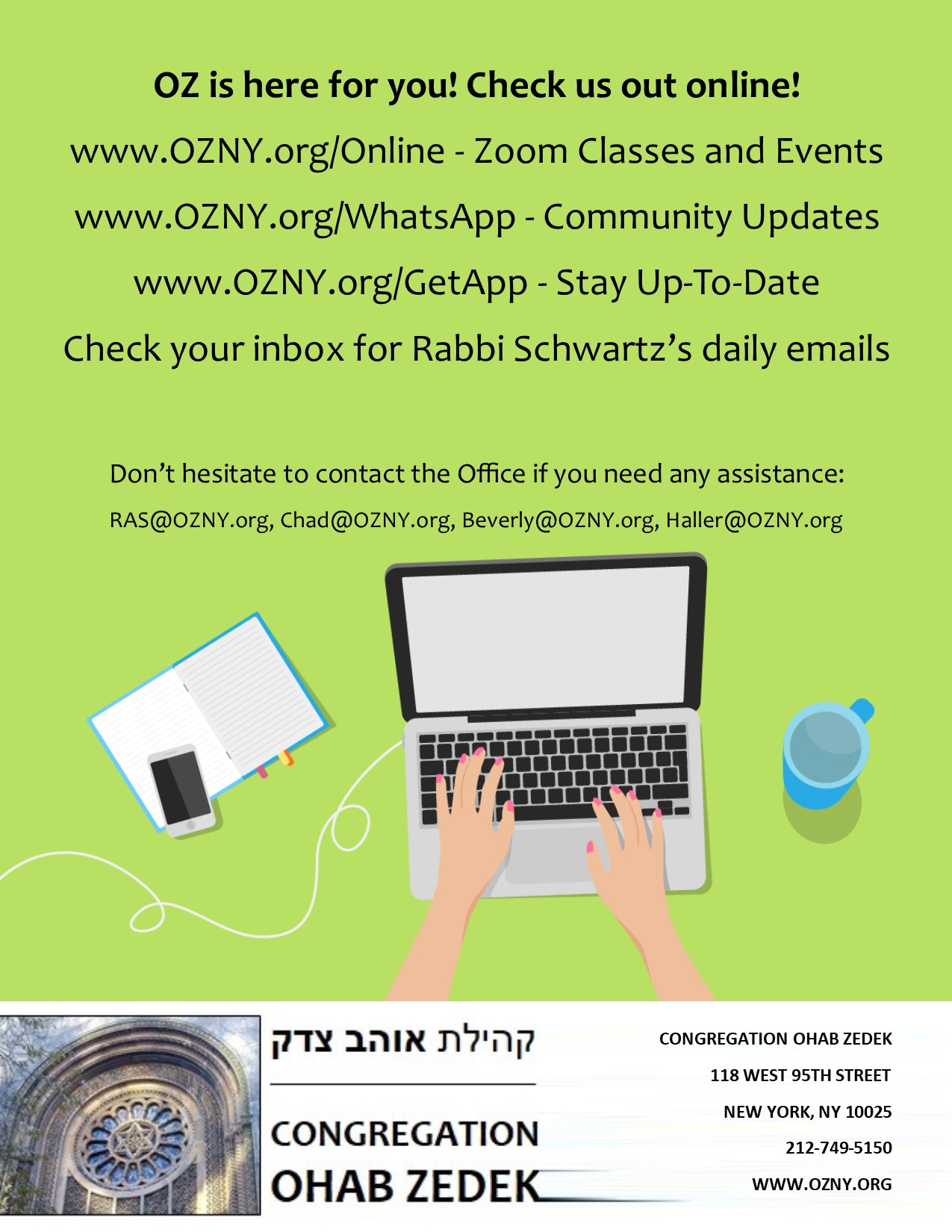 ---
Sun, January 17 2021
4 Shevat 5781
Today's Calendar
---
Tomorrow's Calendar
Office Closed
MLK Day
Shacharis

: 6:15a
Shacharis

: 7:00a
Shacharis

: 8:00a
Zman Mincha Maariv

: 4:45p
Weekly Haftorah Shiur
: 8:00p
---
Upcoming Programs & Events
---
This week's Torah portion is

Parshas Bo
Candle Lighting
Havdalah
Motzei Shabbos, Jan 23, 5:52p
Tu B'Shvat
View Calendar
Today's Zmanim
Alos Hashachar
5:51a
Earliest Tallis
6:21a
Netz (Sunrise)
7:17a
Latest Shema
9:41a
Zman Tefillah
10:30a
Chatzos (Midday)
12:06p
Mincha Gedola
12:30p
Mincha Ketana
2:55p
Plag HaMincha
3:55p
Shkiah (Sunset)
4:55p
Tzais Hakochavim
5:45p
More >>
Sun, January 17 2021 4 Shevat 5781