What's Happening
OZ Weekly - Re'eh 5780 + MINYAN UPDATE
08/14/2020 11:22:24 AM
| | |
| --- | --- |
| Author | |
| Date Added | |
| Automatically create summary | |
| Summary | |
---
Help us close the Fiscal Year!
Check Your Account Balance & Support our Shul by Clicking HERE.
---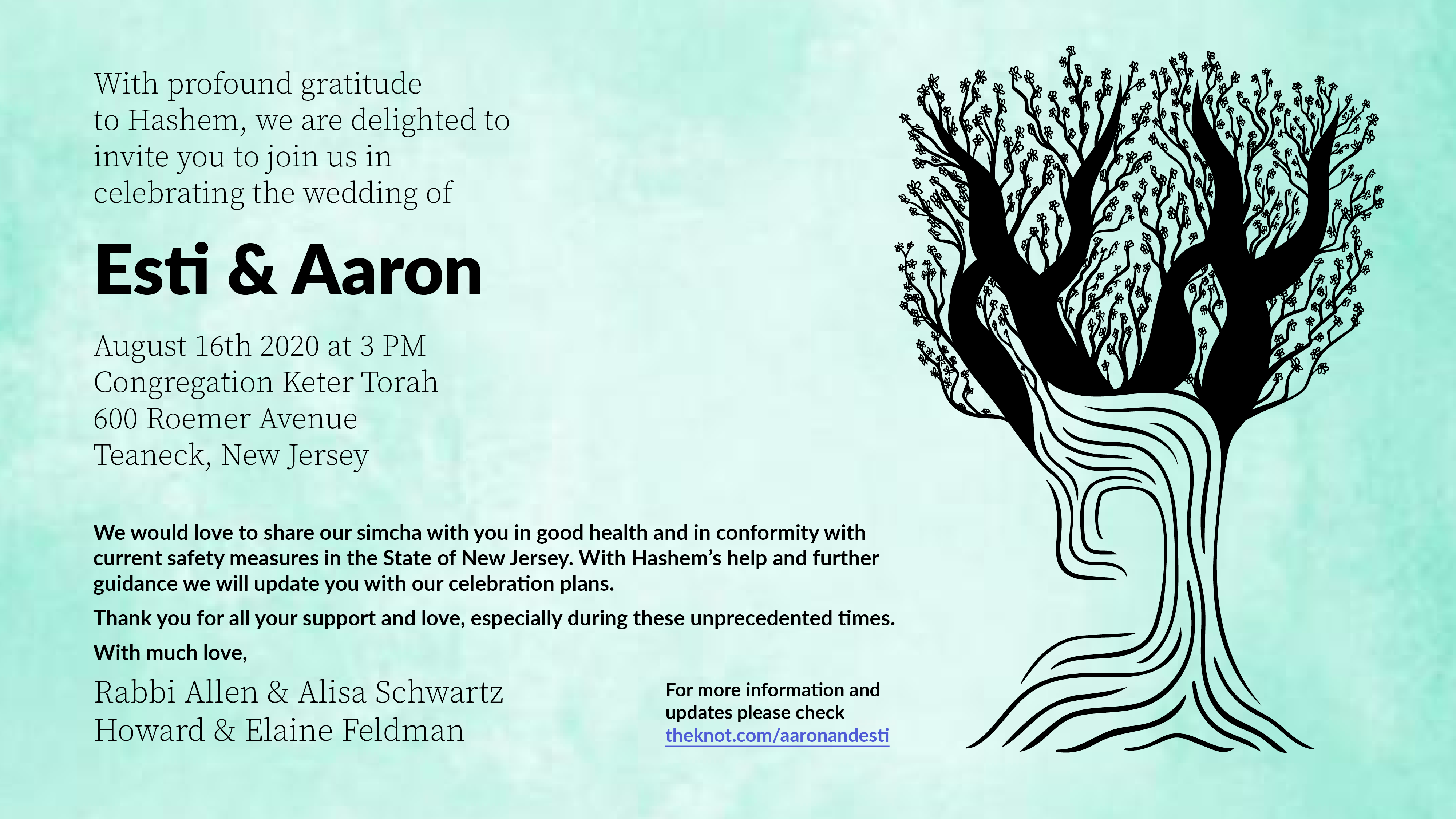 ---
---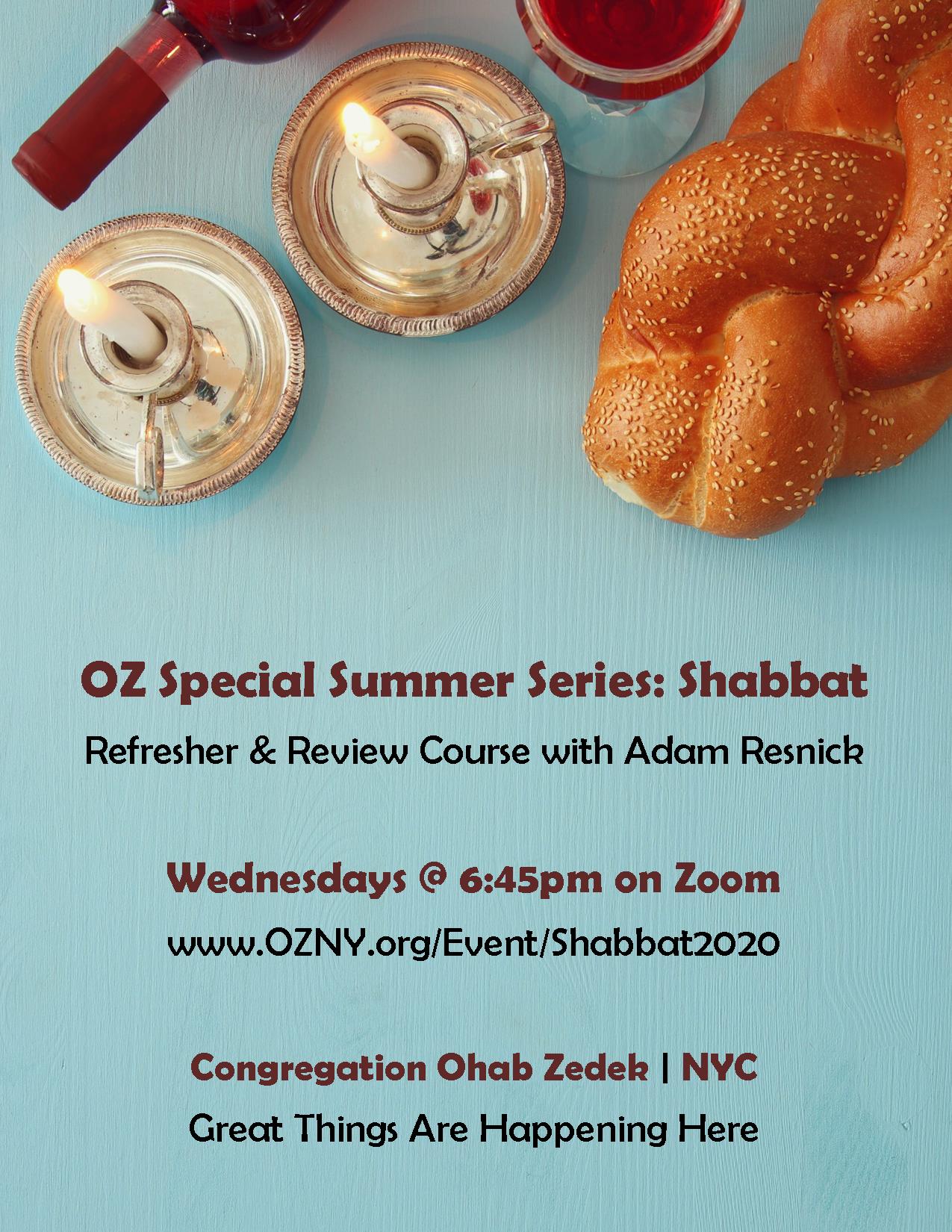 ---
---
---
Submit your "Views from the Pews" to Office@OZNY.org
---
Mazel Tov
Rabbi Allen & Alisa Schwartz, on the upcoming wedding of their daughter Esti to Aaron Feldman
---
Minyan Update
Participants in Minyanim must follow all Shul & Social Distancing Guidelines, including wearing masks, sitting in marked seats, and following New York's self-quarantine rules

Rabbi Schwartz is emphatic that absolutely no one should feel any pressure to participate at this point.

Current Tefillah Times:

Shacharit

Shabbat: 7:30am, 9:15am

Sunday: 8:00am

Monday & Thursday: 6:00am, 6:50am, 7:50am

Tuesday, Wednesday, Friday: 6:00am, 7:00am, 8:00am

Rosh Chodesh: 6:00am, 6:45am, 7:45am

Mincha/Maariv

Zman - Please check Calendar

Friday, August 14 will be the last Plag Minyan of the Season
---
Youth Events
---
Israel Bonds Special Event
Featuring Prime Minister Benjamin Netanyahu & Ambassador Ron Dermer

Tuesday August 18, 2020 @ 8:00pm

Contact our synagogue representative, Robert Lunzer at 646-523

-

1939 or 

robert.lunzer@israelbonds.com

 or visit Israelbonds.com for current offerings.
---
Volunteers Needed
Please contact RAS@ozny.org to help shop for the homebound
---
OZ Online Opportunities - www.OZNY.org/Online, www.OZNY.org/Events
Daf Yomi Daily Conference Call

Zoom TNLP on Tuesdays starts at 7:30pm

Zoom Discover Judaism (Wednesdays) starts of 6:45pm

Stay Tuned for More... Events!
---
Parshat Re'eh 5780
Friday Night
6:20pm - Plag Minyan

6:28pm - Zman Plag HaMincha

7:36pm - Candle Lighting

7:45pm - Zman Minyan

7:54pm - Shkiah

8:44pm - Tzeit Hakochavim
Shabbat Mevorchim
6:07am - Netz HaChama

7:30am - Hashkama Minyan

9:15am - Minyan

9:33am - Latest Shema

1:00pm - Chatzot

7:35pm - Minyan

7:53pm - Shkiah

8:35pm - Maariv

8:43pm - Havdalah / Tzeit HaKochavim
Weekday Minyanim 
Rosh Chodesh Elul is observed on Thursday and Friday
Mincha/Maariv: 7:35pm

Sunday: 8:00am

Monday: 6:00am, 6:50am, 7:50am

Tuesday: 6:00am, 7:00am, 8:00am

Wednesday: 6:00am, 7:00am, 8:00am

Thursday: 6:00am, 6:45am, 7:45am

Friday: 6:00am, 6:45am, 7:45am
---
Rabbi's Blanchard's Parsha Reflection
There are transitional moments in life . Moments that we anticipate, prepare for, worry about and look forward to, for example, graduating from HighSchool or University, beginning our professional life, starting a business, marrying or becoming a parent. Life is "bigger" after them; they bring more possibilities as well as more demands. Rules, obligations, opportunities, pleasures, etc. are one way before them and another, hopefully more expanded, way after them. If we make the transition well, our lives are blessed; if we make the change wrongly, life can sometimes feel hard to accept, even cursed. 
One issue that doing well or poorly often depends on is how we engage moral reasoning and desire in the transition. When desire comes first, the best that we can hope for is that what we desire is good and reason will help us to acquire it. But our seeking it. desiring it , even "lusting" after it, does not make it good. It just makes it what we want badly. When we use desire to steer our way through these transitional moments , they may very well end up  cleverly done but "cursed". 
When moral reasoning comes first, we have  a decent chance of knowing what is good. Then we may engage desire to motivate us to persist in our search for it.   We want what is good badly enough to work hard for it. When we navigate the change by reasoned moral ideals, we have a good chance of ending up "blessed"  
But neither approach is a guarantee. We can have the good luck [ or good upbringing] to desire what is good. We can do a poor job of thinking our ideals through and end up chasing illusions, windmills or worse. Perhaps we should use both approaches--create a dialectic that moves back and forth between them, tempering our desires with moral reasoning and seeking only the good that is also part of our deepest dreams. That may work better but it too is not guaranteed to lead directly to a blessing instead of a curse. Hence, facing these great moments of "opening" in our lives also takes courage, faith and persistence. 
These reflections were based on Deuteronomy 11:26ff, 12:20ff and the classical rabbinic interpreters of these sections. 
---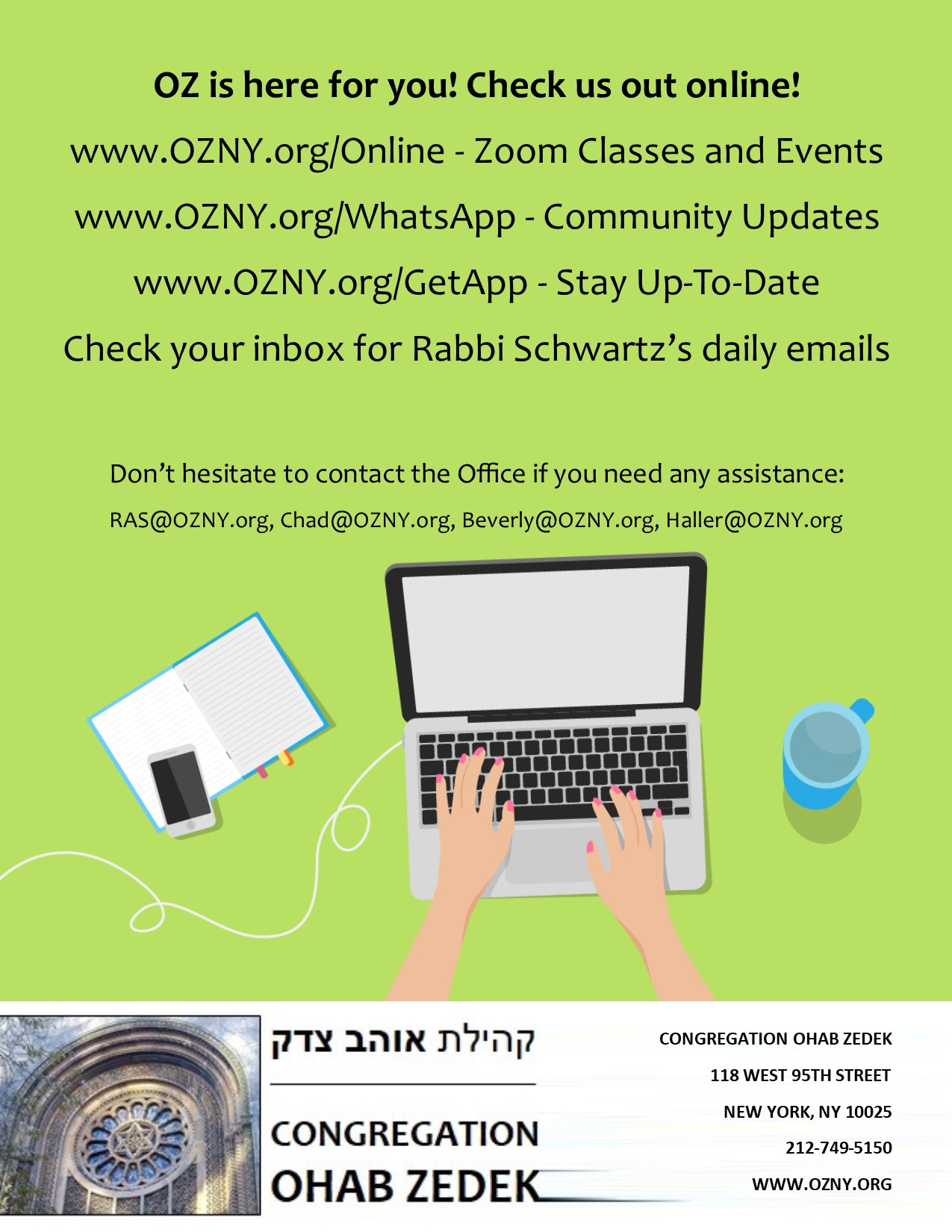 ---
Sun, January 17 2021
4 Shevat 5781
Today's Calendar
---
Tomorrow's Calendar
Office Closed
MLK Day
Shacharis

: 6:15a
Shacharis

: 7:00a
Shacharis

: 8:00a
Zman Mincha Maariv

: 4:45p
Weekly Haftorah Shiur
: 8:00p
---
Upcoming Programs & Events
---
This week's Torah portion is

Parshas Bo
Candle Lighting
Havdalah
Motzei Shabbos, Jan 23, 5:52p
Tu B'Shvat
View Calendar
Today's Zmanim
Alos Hashachar
5:51a
Earliest Tallis
6:21a
Netz (Sunrise)
7:17a
Latest Shema
9:41a
Zman Tefillah
10:30a
Chatzos (Midday)
12:06p
Mincha Gedola
12:30p
Mincha Ketana
2:55p
Plag HaMincha
3:55p
Shkiah (Sunset)
4:55p
Tzais Hakochavim
5:45p
More >>
Sun, January 17 2021 4 Shevat 5781