What's Happening
OZ Weekly - Shoftim 5780 + High Holidays Update
08/21/2020 10:51:32 AM
| | |
| --- | --- |
| Author | |
| Date Added | |
| Automatically create summary | |
| Summary | |
---
High Holidays at OZ
Thank you for your patience as we finalize our High Holiday plans to ensure a safe, secure, and special experience for all of our members. Once the Rabbi and Gabbaim release the final schedule, seats will be announced available for purchase online. Please note that for this year reservations will need to be made for each service and location scheduled.
---
Help us close the Fiscal Year!
Check Your Account Balance & Support our Shul by Clicking HERE.
---
---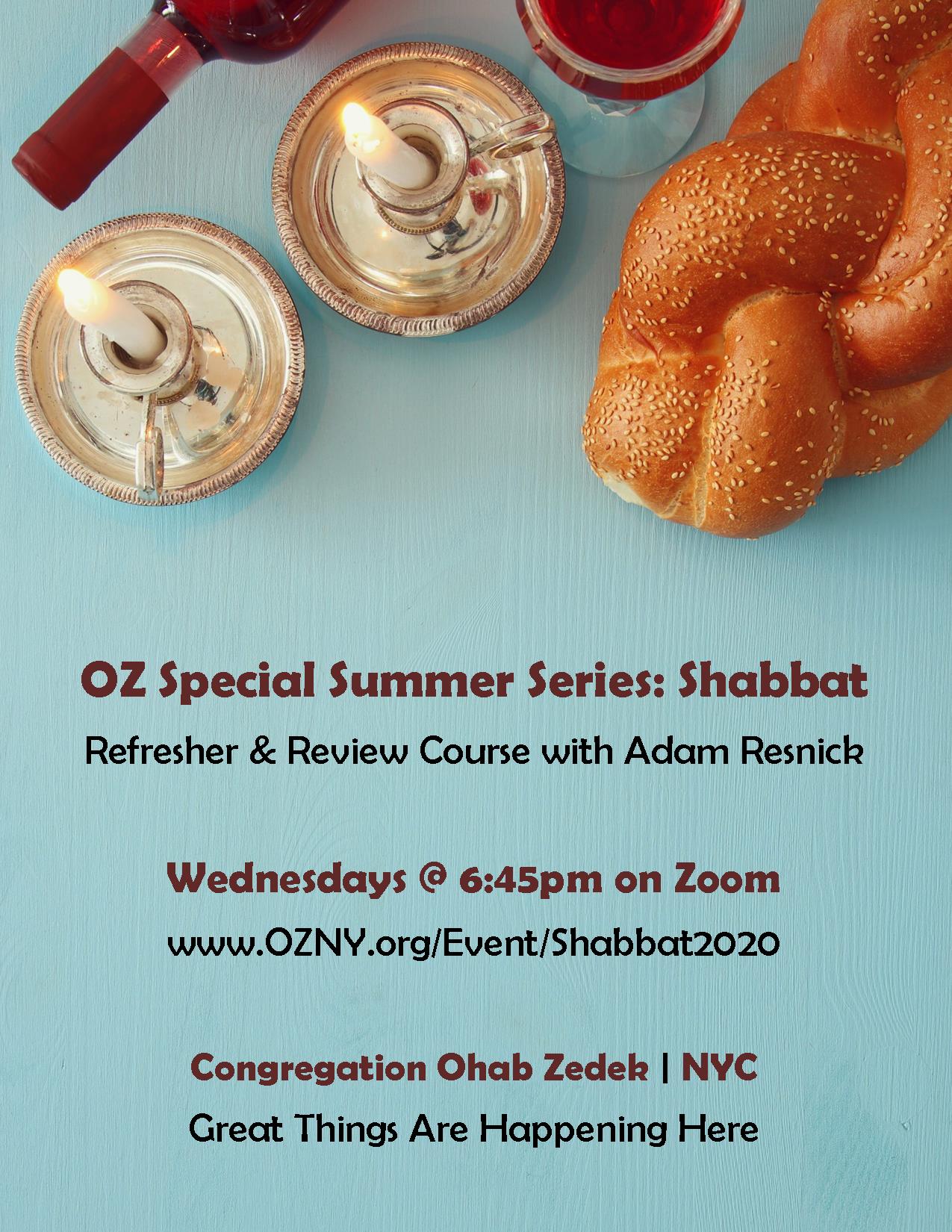 ---
---
---
Submit your "Views from the Pews" to Office@OZNY.org
---
Mazel Tov
Rabbi Allen & Alisa Schwartz, on the wedding of their daughter Esti to Aaron Feldman

Gabe & Anat Levi, on the engagement of their daughter Tali to Zev Marcus

Andy & Ronnie Schonzeit, on the aufruf of their son Jeremy, and upcoming wedding to Lauren Shapiro

Tsivia Hochman & Tal Fishman on the birth of their daughter Ronit Lea

Rafi Murphy, on his aufruf and upcoming wedding to Shira Klein

Benji Fink, on his aufruf and upcoming wedding to Shaina Bedziner

Dr. Fred Hirsch, on being named the "Lung Cancer Hero of 2020" in recognition of his award winning Pulmonary research

The OZ Daf Yomi Chevra, on putting Massechet Shabbat to rest and getting rewired for Massechet Eiruvin
---
Minyan Update
Participants in Minyanim must follow all Shul & Social Distancing Guidelines, including wearing masks, sitting in marked seats, and following New York's self-quarantine rules

Rabbi Schwartz is emphatic that absolutely no one should feel any pressure to participate at this point.

Current Tefillah Times:

Shacharit

Shabbat: 7:30am, 9:15am

Sunday: 8:00am

Monday & Thursday: 6:00am, 6:50am, 7:50am

Tuesday, Wednesday, Friday: 6:00am, 7:00am, 8:00am

Rosh Chodesh: 6:00am, 6:45am, 7:45am

Mincha/Maariv

Zman - Please check Calendar
---
Youth Events
---
Volunteers Needed
Please contact RAS@ozny.org to help shop for the homebound
---
OZ Online Opportunities - www.OZNY.org/Online, www.OZNY.org/Events
Daf Yomi Daily Conference Call

Zoom TNLP on Tuesdays starts at 7:30pm

Zoom Discover Judaism (Wednesdays) starts of 6:45pm

Stay Tuned for More... Events!
---
Parshat Shoftim 5780
Friday Night
7:26pm - Candle Lighting

7:35pm - Zman Minyan

7:44pm - Shkiah

8:34pm - Tzeit Hakochavim
Shabbat
6:14am - Netz HaChama

7:30am - Hashkama Minyan

9:15am - Minyan

9:35am - Latest Shema

12:58pm - Chatzot

7:25pm - Minyan

7:43pm - Shkiah

8:25pm - Maariv

8:33pm - Havdalah / Tzeit HaKochavim
Weekday Minyanim 
Mincha/Maariv: 7:25pm

Sunday: 8:00am

Monday & Thursday: 6:00am, 6:50am, 7:50am

Tues., Wednes., Fri.: 6:00am, 7:00am, 8:00am
---
Rabbi Blanchard's Parsha Reflection
The pursuit of justice is at the heart of Judaism. O.K. It's a cliche but we need to note that it's an important cliche.  Justice and fairness are central ideals of the Bible and the rabbinic tradition. [Torah]. The Bible showcases both legal rules and principles of just law. Justice is in the law. But justice is also in the application of the law to specific cases, both in the correctness of the application---the just judgement that learned and expert judges make.. and also in the manner in which the correct ruling is reached-- the fairness. of the legal process which is impartial, treating all involved equally and with dignity, not letting either power or wealth determine how participants are treated. And, of course, the entire proceeding must also not only be, but also be seen to be fair and just. All told, in the Bible and its traditional commentaries, anything besides justice and fairness is crooked and perverse. 
Although we are not all judges, we spend a good deal of our lives making assessments and judgements of ourselves and of the people around us--our immediate family, our extended family [relatives], our friends and acquaintances, the leaders and members of the communities to which we belong.  Here too we need to be careful to seek justice and fairness. But life is not a court of law and so we need to do more. We also need to seek to love these people, to care about them and when possible even to help  them.  
Much of the complexity and difficulty of our lives derives in part from the fact that the pursuit of justice and fairness is a central ideal of our lives. But it results just as much from our hope that we can find and also sometimes go to a realm beyond judgement and justice to a place of love, forgiveness, acceptance and reconciliation.   The Hebrew Bible and rabbinic tradition teaches, urges, even demands that we pursue both of these ideals. But we find no clear statement of how to do both at once. Again we find that we need courage, faith and persistence. There is the transcendent  spirituality of our lives.
These thoughts are the result of my reflections on Deuteronomy 16:18ff. and the traditional rabbinic commentary on them. 
---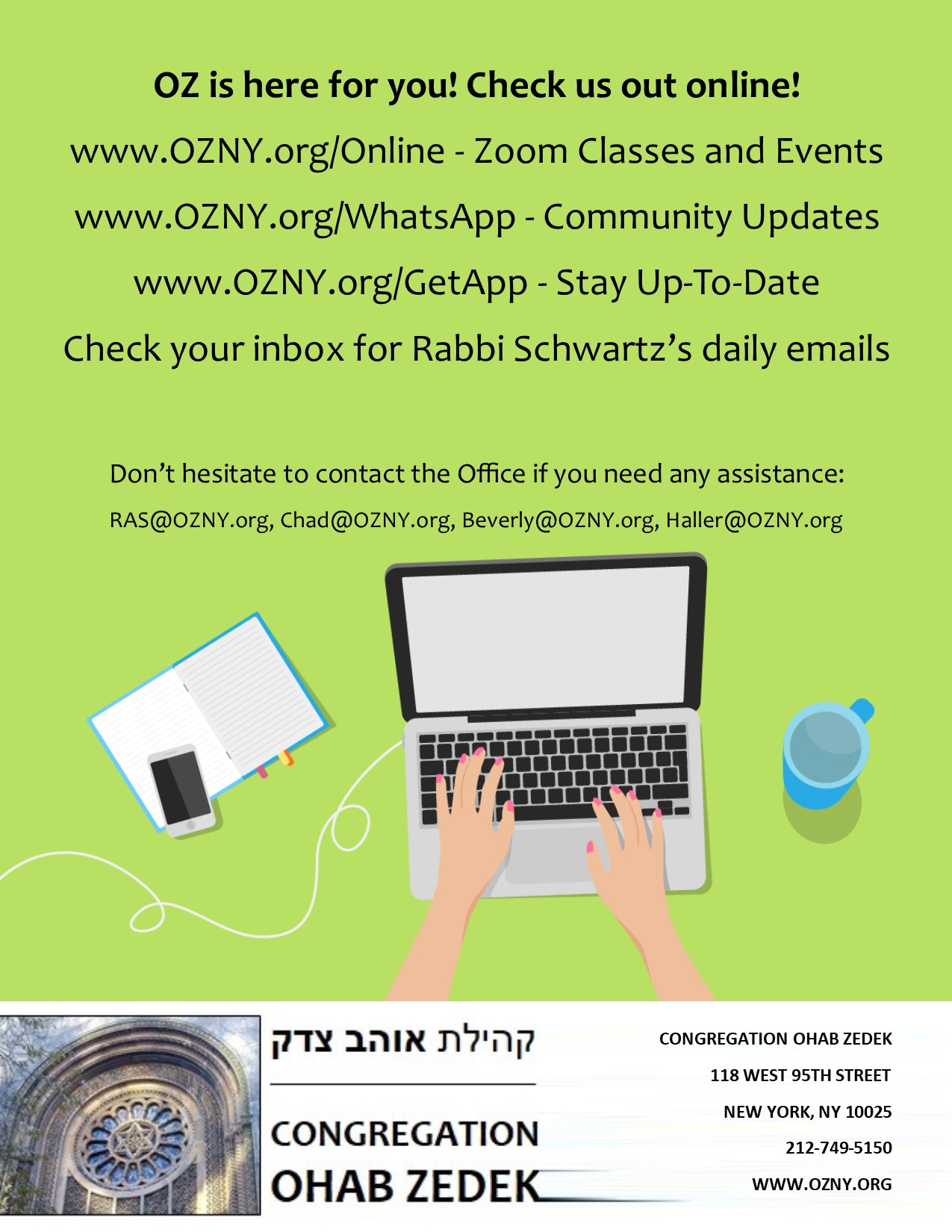 ---
Sun, January 17 2021
4 Shevat 5781
Today's Calendar
---
Tomorrow's Calendar
Office Closed
MLK Day
Shacharis

: 6:15a
Shacharis

: 7:00a
Shacharis

: 8:00a
Zman Mincha Maariv

: 4:45p
Weekly Haftorah Shiur
: 8:00p
---
Upcoming Programs & Events
---
This week's Torah portion is

Parshas Bo
Candle Lighting
Havdalah
Motzei Shabbos, Jan 23, 5:52p
Tu B'Shvat
View Calendar
Today's Zmanim
Alos Hashachar
5:51a
Earliest Tallis
6:21a
Netz (Sunrise)
7:17a
Latest Shema
9:41a
Zman Tefillah
10:30a
Chatzos (Midday)
12:06p
Mincha Gedola
12:30p
Mincha Ketana
2:55p
Plag HaMincha
3:55p
Shkiah (Sunset)
4:55p
Tzais Hakochavim
5:45p
More >>
Sun, January 17 2021 4 Shevat 5781