What's Happening
OZ Weekly - Ki Teitzei 5780 + Kiddush-To-Go!
08/28/2020 12:05:47 PM
| | |
| --- | --- |
| Author | |
| Date Added | |
| Automatically create summary | |
| Summary | |
---
Celebrate the High Holidays at OZ
---
Help us close the Fiscal Year!
Check Your Account Balance & Support our Shul by Clicking HERE.
---
---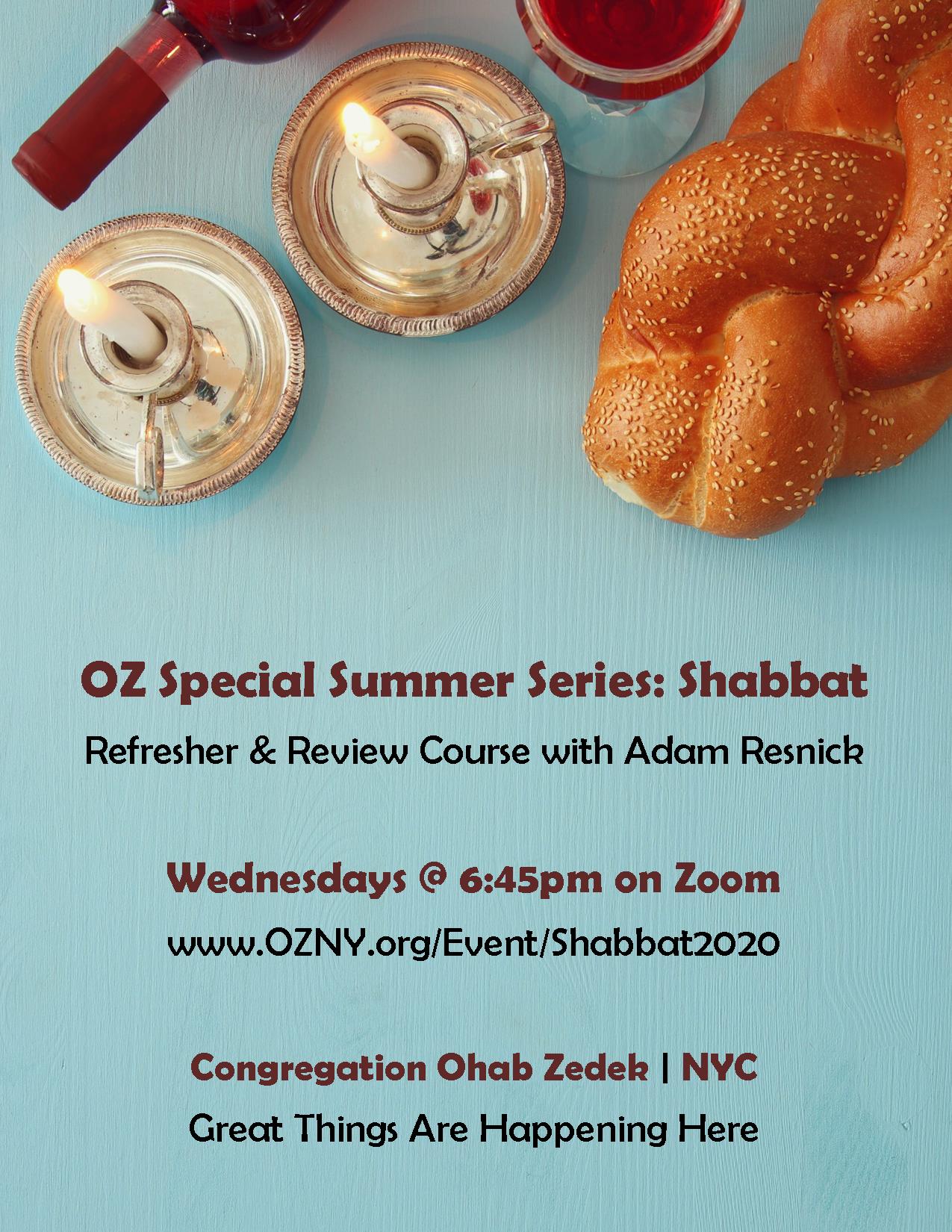 ---
---
---
Submit your "Views from the Pews" to Office@OZNY.org
---
Sponsorships
Kiddush-To-Go (following Main Minyan)
Ari & Chaya Weitzner for the Yarzheit of Ari's father Zev Dov ben Avraham z'l

Allen Katz & Sheryl Galler for the Yarzheit of Allen's father Moshe ben Avraham HaKohein z'l
---
Mazel Tov
Lisa & Alistair Gatoff, on the upcoming wedding of their daughter Dina to Michael Pisem

Dan & Randi Hefter, on the birth of their daughter, Sara Shoshana
---
Len's Links & Parsha Picks
---
Minyan Update
Participants in Minyanim must follow all Shul & Social Distancing Guidelines, including wearing masks, sitting in marked seats, and following New York's self-quarantine rules

Rabbi Schwartz is emphatic that absolutely no one should feel any pressure to participate at this point.

Current Tefillah Times:

Shacharit

Shabbat: 7:30am, 9:15am

Sunday: 8:00am

Monday & Thursday: 6:00am, 6:50am, 7:50am

Tuesday, Wednesday, Friday: 6:00am, 7:00am, 8:00am

Rosh Chodesh: 6:00am, 6:45am, 7:45am

Mincha/Maariv

Zman - Please check Calendar
---
Youth Events
---
Volunteers Needed
Please contact RAS@ozny.org to help shop for the homebound
---
OZ Online Opportunities
www.OZNY.org/Online, www.OZNY.org/Events
Daf Yomi Daily Conference Call

Zoom TNLP on Tuesdays starts at 7:30pm

Zoom Discover Judaism (Wednesdays) starts of 6:45pm

Stay Tuned for More... Events!
---
Shabbat Refresher Course with Adam Resnick
The Fall Season starts next week and will commence a review of the 39 Melachot: 

Topics to be covered: Reheating Food, Food preparation, Housework, Personal grooming, Appliances, Carrying, Eruvin, Muktzeh
---
Parshat Ki Teitzei 5780
Friday Night
7:15pm - Candle Lighting

7:25pm - Zman Minyan
Shabbat
7:30am - Hashkama Minyan

9:15am - Minyan

7:15pm - Minyan

8:15pm - Maariv

8:22pm - Havdalah / Tzeit HaKochavim
Weekday Minyanim 
Mincha/Maariv: 7:15pm

Sunday: 8:00am

Monday & Thursday: 6:00am, 6:50am, 7:50am

Tues., Wednes., Fri.: 6:00am, 7:00am, 8:00am
---
Rabbi Blanchard's Parsha Reflection
Isaiah 54:1-10, uses the barren woman as a symbol.  A  pregnant woman suggests fecundity,  one or many new generations, and even the restoration and renewal of life. Typically, a barren woman symbolized the opposite. It reminds us that the transformation from barren to fruitful is not really limited to actual pregnancy and birth. Women do not actually to give birth to children in order to be generative. The symbol ,then, gestures toward  personal, national and spiritual rebirth.
In our own lives, we have periods where we are blocked, uncreative and uninspired. Our work life  or our relationships seem to be stalled, going nowhere. We lack imagination.  Realizing that alienation/exile from opportunities, possibilities, and hopes is never permanent , we ask: " What are we to do? " Then we begin our answer by recalling the resources that have worked in the past but are now eclipsed.  We assume that these resources are still present.....work on trusting in the personal/spiritual power still within us....imagine a world of expanding experience.....picture making space for new ways of renewing the times and spaces of our lives.  We talk with friends....reread the books that inspired us......listen to the music that has always lifted us up. Sometimes we just sing. Opening ourselves to regeneration and rediscovery, we renew our faith in ourselves and trust in the meaning of our lives. Barrenness and Exile are not permanent. Love is permanent. 
Though the mountains may depart
My love [loving kindness] shall never depart from you 
and My covenant of peace [wholeness]
says the One who [ in generosity and com[passion] loves you, the Eternal  
---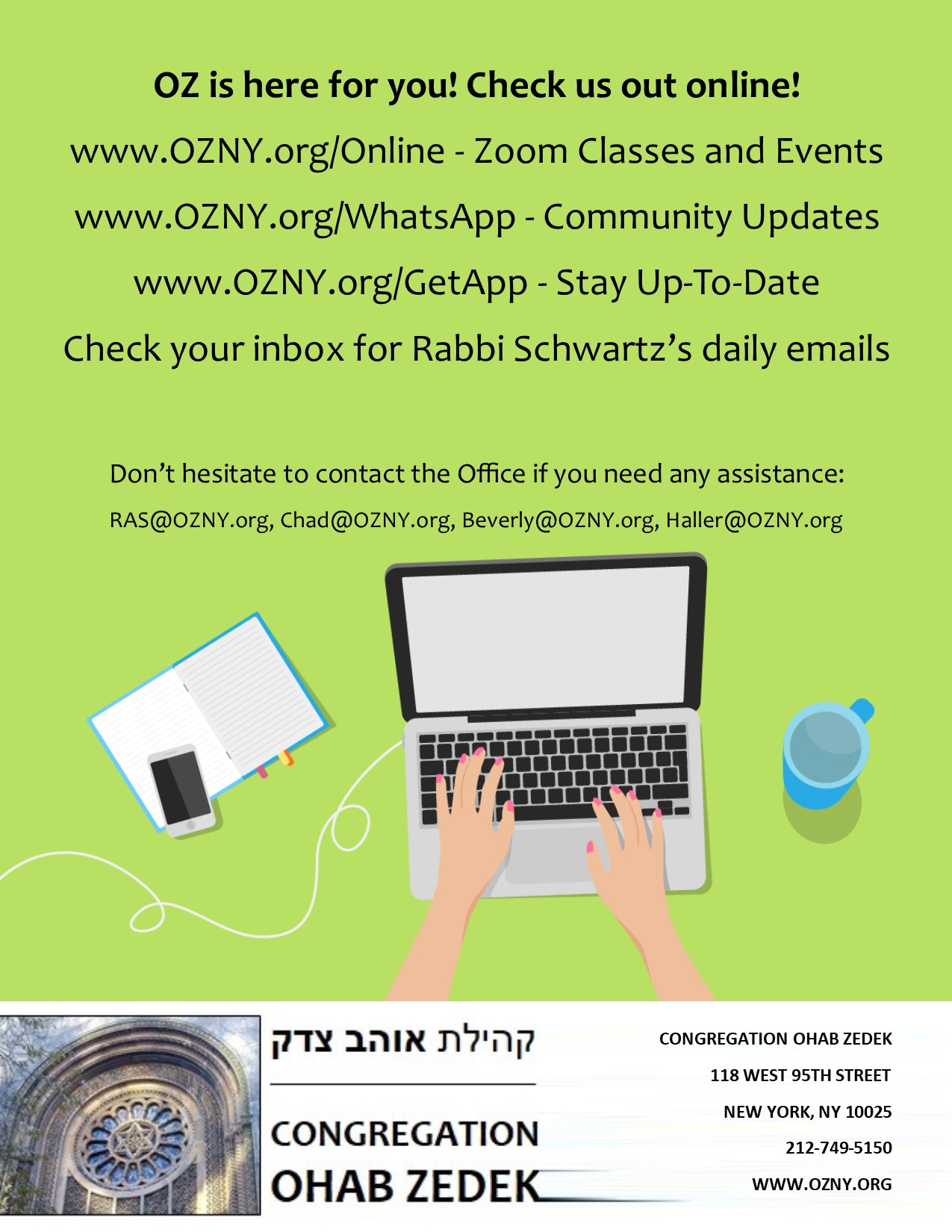 ---
Sun, January 17 2021
4 Shevat 5781
Today's Calendar
---
Tomorrow's Calendar
Office Closed
MLK Day
Shacharis

: 6:15a
Shacharis

: 7:00a
Shacharis

: 8:00a
Zman Mincha Maariv

: 4:45p
Weekly Haftorah Shiur
: 8:00p
---
Upcoming Programs & Events
---
This week's Torah portion is

Parshas Bo
Candle Lighting
Havdalah
Motzei Shabbos, Jan 23, 5:52p
Tu B'Shvat
View Calendar
Today's Zmanim
Alos Hashachar
5:51a
Earliest Tallis
6:21a
Netz (Sunrise)
7:17a
Latest Shema
9:41a
Zman Tefillah
10:30a
Chatzos (Midday)
12:06p
Mincha Gedola
12:30p
Mincha Ketana
2:55p
Plag HaMincha
3:55p
Shkiah (Sunset)
4:55p
Tzais Hakochavim
5:45p
More >>
Sun, January 17 2021 4 Shevat 5781