What's Happening
UPDATED OZ Weekly: Holiday Weekend - Hoshana, Shemini, Simchas, More...
10/09/2020 10:33:26 AM
| | |
| --- | --- |
| Author | |
| Date Added | |
| Automatically create summary | |
| Summary | |
---
Reminder - Entry to Shul requires:
Self-check of symptoms and temperature at home

Stay home if not feeling well

Stay home if awaiting test result, even for non-sick reasons like work or travel requirements

Masks worn at all times

Rabbi Schwartz is emphatic that absolutely no one should feel any pressure to participate at this point.
---
Thank you to our members, participants, gabbaim, staff, and Rabbis who made the High Holidays Services as safe and seamless as possible!

It's not too late to contribute to the Kol Nidrei Appeal at www.OZNY.org/HighHolidays.
---
Weekend Notes
---
Help us close the Fiscal Year!
Check Your Account Balance & Support our Shul by Clicking HERE.
---
Join the 'Click'!
---
Submit your "Views from the Pews" to Office@OZNY.org
---
Youth Events
---
Volunteers Needed
Please contact RAS@ozny.org to help shop for the homebound
---
Len's Links
---
OZ Online Opportunities
www.OZNY.org/Online, www.OZNY.org/Events
Daf Yomi Daily Conference Call

Zoom TNLP on Tuesdays starts at 7:30pm

Zoom Discover Judaism (Wednesdays) starts of 6:45pm

Stay Tuned for More... Events!
---
RABBI'S NOTES
Social Distancing guidelines are still enforced at all minyanim. Please self check symptoms at home. Masks must be worn at all times on premises. If you do not feel well, or are awaiting test results - stay home.
Community Leining: We will discharge the 'Tzibbur's' obligation to hear the Parshios that were missed in the Spring by distributing the leining throughout the final days of Shemini Atzeres & Simchas Torah. 
Aravos: Have been generously donated this year. Contributions are still welcome - please deposit them in the drop boxes in the Bet Medrash lobby or Office Door, or make an online payment at 

www.OZNY.org/Payment.php

. 
Hoshanos: 7 Circuits will be conducted around the Bima in each minyan. They will be limited to 5 (Beis Medrash) to 18 (Main Shul) men depending on the location of the minyan. Those comfortable participating should take turns at each circuit. Only 1 Torah will be taken out. 
Hakafos: Like Hoshanos, Hakafos will be limited to the number of participants. We will sing one song, and have 1 Short Dvar Torah at each Hakafa from members of the community.
Kol Nearim: Parents are asked to keep their children with them at their side
Simchas Torah Aliyos: Both the Hashkama and the Main Minyanim will conduct only 5 Aliyas, plus the Chasan Maftir, Chasan Torah, and Chasan Bereishis. The Main Shul will host Aliyas as well for the additional missed Parshios to be read throughout Yom Tov.
---
COMMUNITY
Upcoming Series
Mazel Tov
Steve Erenberg & Tamara Balaban, on the birth of a baby boy
Simchas Torah 5781 Chassanim
Kol Nearim - David Ascher

Chassan Bereisis - Zachary Prensky

Chassan Torah - Rabbi Allen Schwartz

Chassan Maftir - Dr. Ariel Brandwein
Hoshanos Sponsor
Anonymous, in honor of Beverly, Chad, and Ignacio & his team, and their hard work on behalf of our community
Simchas Torah Kiddush-to-Go Sponsor
Yehuda Weinstock, commemorating the second Yartzeit of his father, Menachem Zalman ben Pinchas z'l.
Parsha Patron: Community Leining
Ki Tissa - Jeremy Cooper, in honor of his Bar Mitzvah parsha

VaYakhel - Michael & Alison Novich: 

in honor of Jonah Glassberg's bar mitzvah that was one of the first to fall to Covid-19

VaYikra - Camelia Serghie: in honor of Rabbi Allen & Rebbetzin Alisa Schwartz

Tzav - Joey Lifschitz - 

In commemoration of the first yahrzeit of his cousin Rabbi Yosef (Joey) Azar - Yosef Zvi Ben Yaakov v' Rachel Pesel z'l

Shemini - Paul & Pia Rubin, in honor of David Ascher & Family

Tazria - Blayne Ross & Scott Mathias, in honor of the OZ Community

Metzora - Sheldon Newman, in memory of his brother Joseph Newman - Yosef Binyamin ben Menachem Mendel z'l

Achrei Mot & Kedoshim - Lori, i

n gratitude to Hashem on a continued Refuah Shlemah to my beautiful mother Esther bat Vera

Emor - Zack Prensky: in honor of Daniel & Yoni

Behar - Rabbi Allen &Alisa Schwartz: in memory of Tzvi Menachem Mendel ben Michoel

Bechukosai - Andy & Ronnie Schonzeit: in memory of Andy's mother Rhea - Rivka Freya bas Yaakov z'l

Bamidbar - 

Sheldon Newman, in memory of his brother Joseph Newman - Yosef Binyamin ben Menachem

Mendel z'l
---
SCHEDULE
Friday - Hoshana Rabbah
6:30am - Main Shul

7:15am - Beis Medrash

8:15am - Main Shul

4:00pm - Kol Ne'arim on Shul Steps & via Zoom

6:06pm - Candles

6:15pm - Mincha/Maariv

Dvar Torah by Rabbi Schwartz: "A Time for every Purpose under the Sun: Koheles in Modern Thought"

Upstairs Sukkah by reservation
 Shabbos - Shemini Atzeres / Koheles
7:00am - Hashkama in Main Shul

8:20am - 

Sukkah Minyan

 - RSVP Required

9:15am - Shacharit in Main Shul

10:30am - Yizkor

Community Leining

: Ki Tissa, VaYakhel, Pekudei

10:00am – Youth Groups in Central Park

Upstairs Sukkah by reservation

5:30pm - Daf Yomi in Main Shul

5:30pm - 

Sukkah Schmooze

 with Dr. Nava Silton Brandwein - RSVP Required

6:05pm - 

Sukkah Minyan

 - RSVP Required

6:05pm - Mincha in Main Shul

Siyum by Rabbi Schwartz

Community Leining: VaYikra, Tzav, Shemini

7:00pm - Maariv

7:12pm - Candles

Hakafos

Community Leining: Tazria, Metzora
 Sunday - Simchas Torah
7:00am - Hashkama in Main Shul

8:00am - 

Sukkah Minyan

 - RSVP Required

9:15am - Shacharit in Main Shul

Hakafos

Community Leining

: Achrei Mos, Kedoshim, Emor, Behar

10:00am – Youth Groups in Central Park

Kiddush-to-Go

5:30pm - Daf Yomi in Main Shul

6:00pm - Mincha in Main Shul

Siyum Tanach & Siyum Mishnayos by Rabbi Schwartz, in memory of his father Milton Schwartz z'l

Community Leining

: Bechukosai, Bamidbar

7:00pm - Maariv

7:11pm - Havdalah
Monday, Columbus Day
Shacharis: 6:50am, 7:50am

Mincha Maariv: 6:05pm
Tuesday
Shacharis: 7:00am, 8:00am

Mincha Maariv: 6:05pm
Wednesday
Shacharis: 7:00am, 8:00am

Mincha Maariv: 6:05pm
Thursday
Shacharis: 6:50am, 7:50am

Mincha Maariv: 6:05pm
Friday
Shacharis: 7:00am, 8:00am

Mincha Maariv: 6:05pm

Candles: 5:55pm
---
---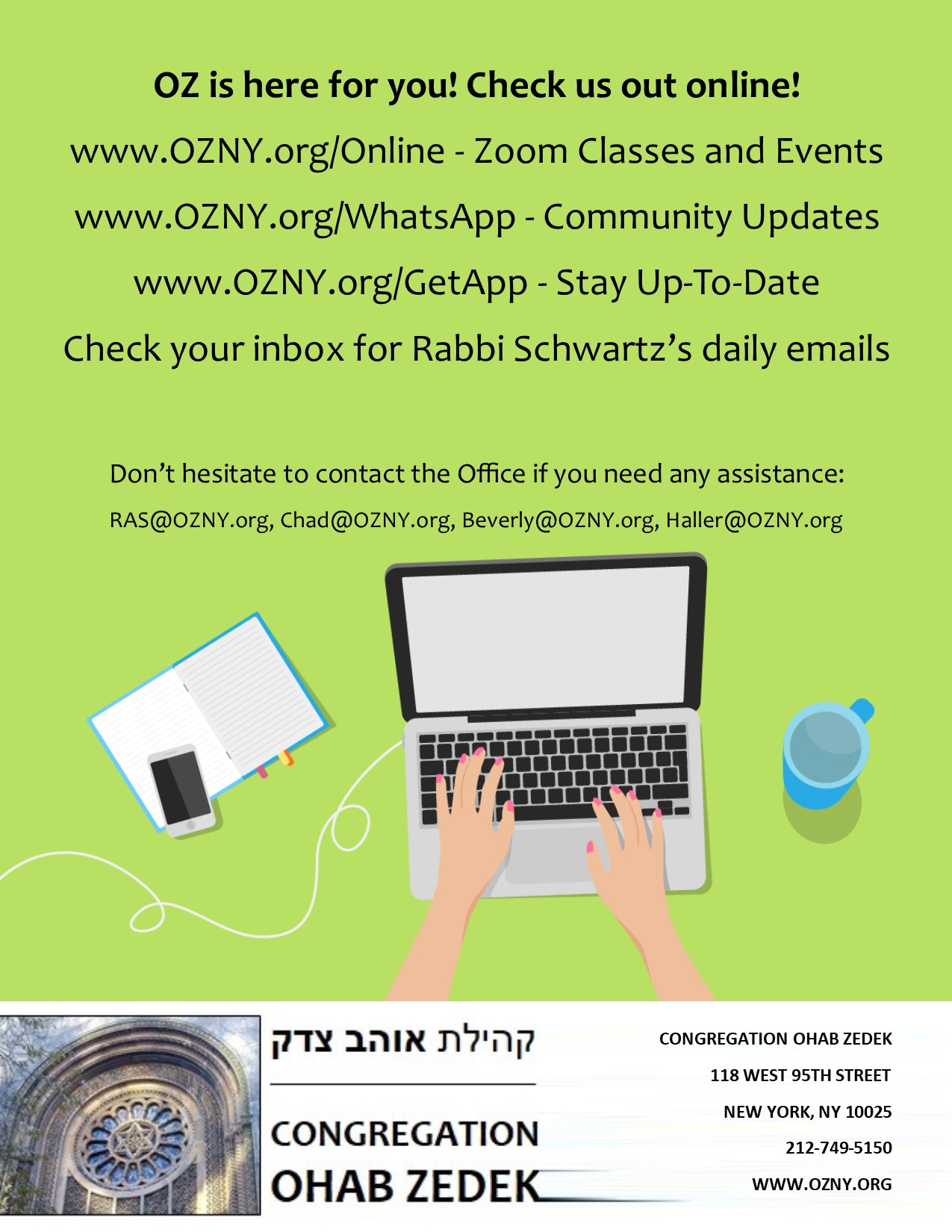 ---
Tue, April 13 2021
1 Iyyar 5781
Today's Sefirah Count Is 16
היום ששה עשר יום שהם שני שבועות ושני ימים לעמר
Today's Calendar
---
Tomorrow's Calendar
---
Upcoming Programs & Events
---
This week's Torah portion is

Parshas Tazria-Metzora
Candle Lighting
Havdalah
Motzei Shabbos, Apr 17, 8:27p
Rosh Chodesh Iyyar
View Calendar
Today's Zmanim
Alos Hashachar
4:54a
Earliest Tallis
5:25a
Netz (Sunrise)
6:21a
Latest Shema
9:38a
Zman Tefillah
10:45a
Chatzos (Midday)
12:57p
Mincha Gedola
1:30p
Mincha Ketana
4:48p
Plag HaMincha
6:10p
Shkiah (Sunset)
7:33p
Tzais Hakochavim
8:23p
More >>
Tue, April 13 2021 1 Iyyar 5781