What's Happening
OZ Weekly - Mishpatim 5781 + More....
02/14/2021 06:34:13 PM
| | |
| --- | --- |
| Author | |
| Date Added | |
| Automatically create summary | |
| Summary | |
---
Office Update
Over the last weekend a burst pipe in the back of the Social Hall leaked into our main office. The heavy snowfall largely prevented us from getting rapid assistance, but thankfully our staff quickly salvaged and cleaned what they could. Equipment was saturated, files were soaked, and the wall and carpet are in the process of being removed and replaced as we work with our insurance and mold mitigation companies. We appreciate your patience as we get the phones, computers, systems, and other items up and running.
---
Printable Items & Len's Links
What's Happening at OZ - Parshas Mishpatim 5781: Click HERE
Rabbi Sacks - Vision & Details: Click HERE
Rabbi Ari Kahn - Lex Talionis: Click HERE
---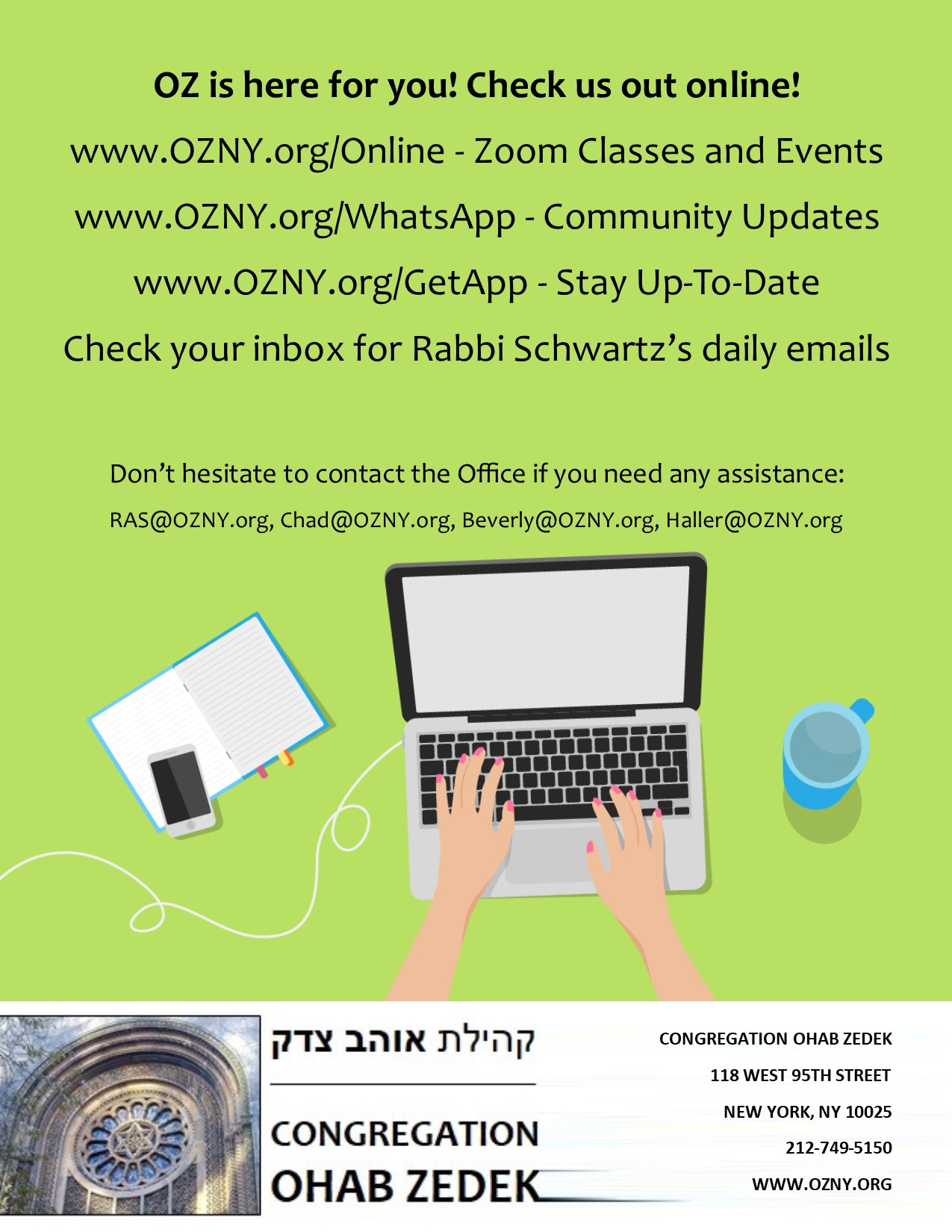 OZ Covid Guidelines & Online Updates
---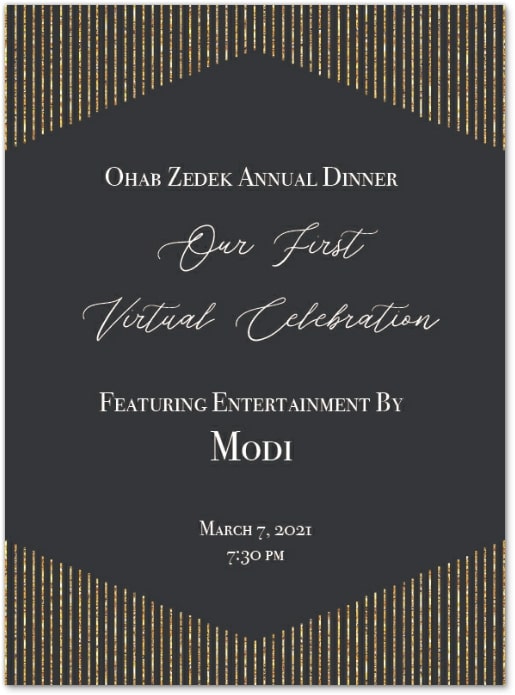 Celebrate with Ohab Zedek
Save the Date for Sunday, March 7, 2021 @ 7:30pm as our Annual Dinner goes Virtual this year!
Enjoy the comedy of MODI
Select RSVP's earn a Voucher to Kasbah Grill or Noi Due
Don't Delay - RSVP Today!
---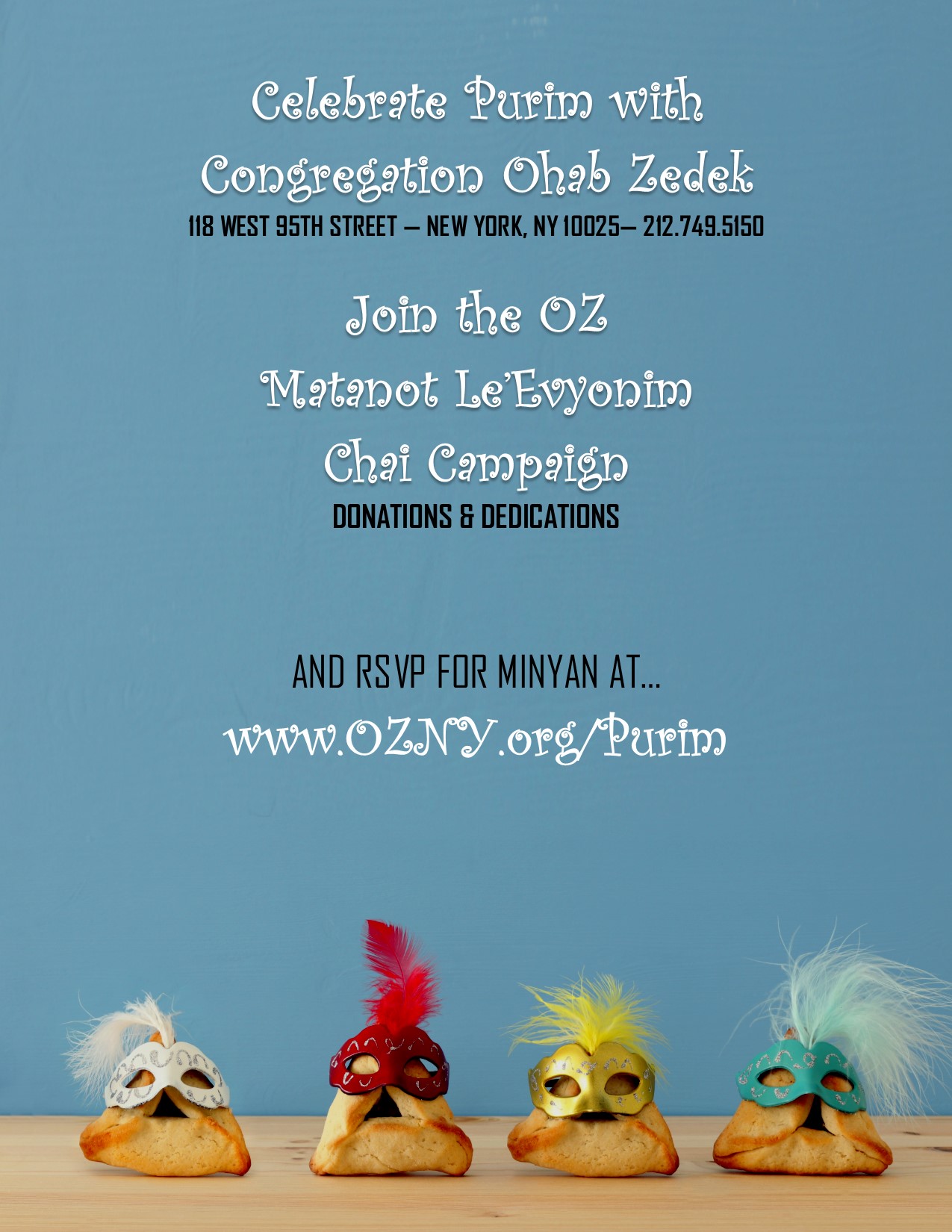 Purim 5781 Portal
Register for Minyan, Megillah, and Matanos Le'Evyonim
---
BULLETIN BOARD
Condolences
Riva Atlas & David Atik, on the passing of Riva's father Moshe Atlas - Moshe ben Yitzchak z'l

Hindy & Ruby Taub, on the passing of Hindy's brother Joseph Rotenberg - Yosef Yitzchak ben Moshe HaKohen z'l
Parshas Shekalim Kiddush To Go
Rachel & Yosef Grunfeld, in honor of Eliana's birthday

Laurie Gordon, in memory of Joseph Newman z'l
HaKol B'Seder: Shas Review of Seder Zeraim
Sponsored by Sheldon Newman and Larry Newman,commemorating the Yarzheit of their brother Joseph Benjamin Newman z'l
OZ Programs, Classes, & Events
www.OZNY.org/Online

www.OZNY.org/Youth
Sign-Up for Purim Megillah + Matanos LeEvyonim
https://www.ozny.org/form/Purim5781
---
SCHEDULE — PARSHAS YISRO 5781
Friday — Rosh Chodesh Adar
Shacharis: 6:00am, 6:45am, 7:45am

Candles: 5:09pm — Mincha / Maariv: 5:20pm

8:30pm — Discussion & Dessert-To-Go
Shabbos Parshas Mishpatim / Shekalim / RC Adar 5781
7:30am - Hashkama in Main Shul

8:30am - Sukkah Minyan - RSVP Required

9:15am - Shacharit in Main Shul

10:00am – Youth Groups in the Sukkah

Kiddush To Go

5:00pm - Mincha in Main Shul

Text & Context: Classic Commentaries

Men's Daf Yomi in the Social Hall

6:10pm - Maariv

6:18pm - Havdala
Sunday
Shacharis: 8:00am

Parsha — R' Blanchard: 6:15pm

Mincha Maariv: 5:20pm
Monday
Shacharis: 6:00am, 6:50am, 7:50am

Haftorah — Rabbi Schwartz: 8:00pm

Mincha Maariv: 5:20pm
Tuesday
Shacharis: 6:10am, 7:00am, 8:00am

Mincha Maariv: 5:20pm
Wednesday
Shacharis: 6:10am, 7:00am, 8:00am

Discover Judaism Classes start at 6:45pm

Minchas Chinuch — R' Schwartz: 8:00pm

Mincha Maariv: 5:20pm
Thursday
Shacharis: 6:00am, 6:50am, 7:50am

Mincha Maariv: 5:20pm
Friday
Shacharis: 6:10am, 7:00am, 8:00am

Candles: 5:17pm, Mincha/Maariv: 5:25pm
---
Hashkama Minyan Dvar Torah: Rabbi Blanchard's Blurb
Systems of law not only govern human behavior but also express values and commitments.
The law written in the book of Exodus in the Hebrew Bible is no exception.
Here are some of its most important values and commitments. 
Seek to show a generosity of spirit in caring for the vulnerable.

Use your foresight and ability to control material reality to anticipate difficulties and dangers and then take precautions.

Difficult deals must sometimes be made in order handle the challenges of a physically, economically  and socially imperfect world.

Be steadfast and faithful in your commitment to G'd.

Find ways to express that commitment to G'd both privately and publicly.
A few questions to think about : 
Are any of these also ethical or religious values worthy of commitment independent of a system of law?

Do we compromise them by  building them into legal systems that use force? 

Is it important for a people to have a system of law that, in addition to controlling the  use of force and violence, also expresses its ethical or religious values?

If yes, why? 
Reflections based on the covenant law code in Exodus  
Wed, May 12 2021
1 Sivan 5781
Today's Sefirah Count Is 45
היום חמשה וארבעים יום שהם ששה שבועות ושלשה ימים לעמר
Today's Calendar
---
Tomorrow's Calendar
Shacharis

: 6:00am
Shacharis

: 6:50am
Shacharis

: 7:50am
Kol B'Seder: Nashim
: 9:00am
Plag Mincha Maariv

: 6:15pm
Zman Mincha Maariv

: 7:50pm
---
Upcoming Programs & Events
---
This week's Torah portion is

Parshas Bamidbar
Candle Lighting
Havdalah
Motzei Shabbos, May 15, 8:56pm
Rosh Chodesh Sivan
View Calendar
Today's Zmanim
Alos Hashachar
4:05am
Earliest Tallis
4:46am
Netz (Sunrise)
5:42am
Latest Shema
9:17am
Zman Tefillah
10:29am
Chatzos (Midday)
12:52pm
Mincha Gedola
1:28pm
Mincha Ketana
5:04pm
Plag HaMincha
6:33pm
Shkiah (Sunset)
8:03pm
Tzais Hakochavim
8:53pm
More >>
Wed, May 12 2021 1 Sivan 5781