What's Happening
OZ Weekly - Terumah 5781 + Zachor, Megillah, and More...
02/19/2021 09:32:29 AM
| | |
| --- | --- |
| Author | |
| Date Added | |
| Automatically create summary | |
| Summary | |
---
Purim Update
Rabbi Allen Schwartz's recent Purim Notice is posted in full at the end of this email. You must RSVP for Megillah readings this year. 
---
Printable Items & Len's Links
What's Happening at OZ - Click HERE
Rabbi Sacks z'l - The Home We Build Together: Click HERE
Rabbi Lamm z'l - The Illogic of Logical Conclusions: Click HERE
---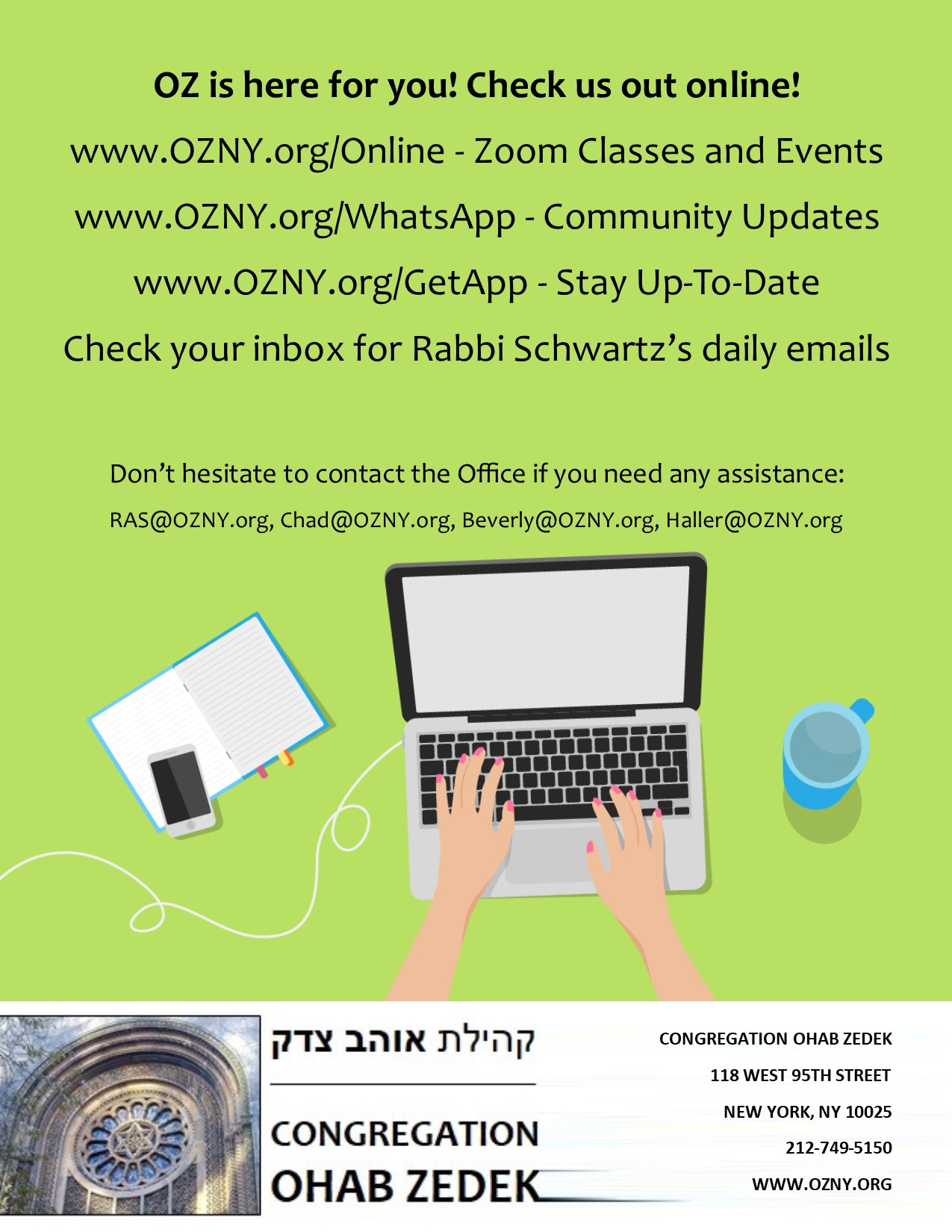 OZ Covid Guidelines & Online Updates
---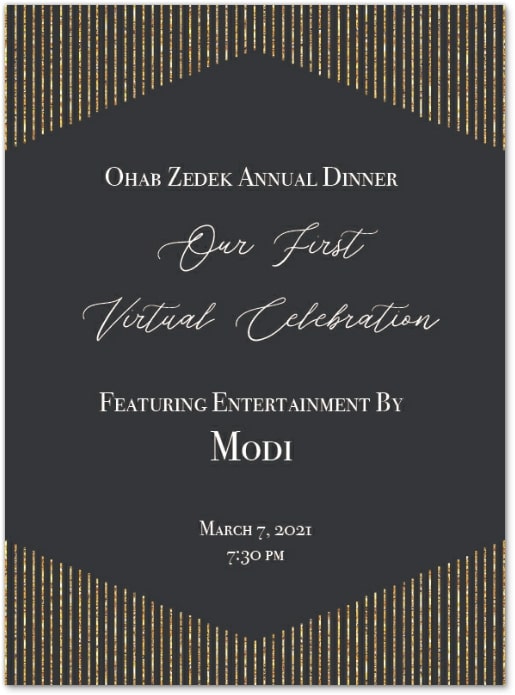 Celebrate with Ohab Zedek
Save the Date for Sunday, March 7, 2021 @ 7:30pm as our Annual Dinner goes Virtual this year!
Enjoy the comedy of MODI
Select RSVP's earn a Voucher to Kasbah Grill or Noi Due
Don't Delay - RSVP Today!
---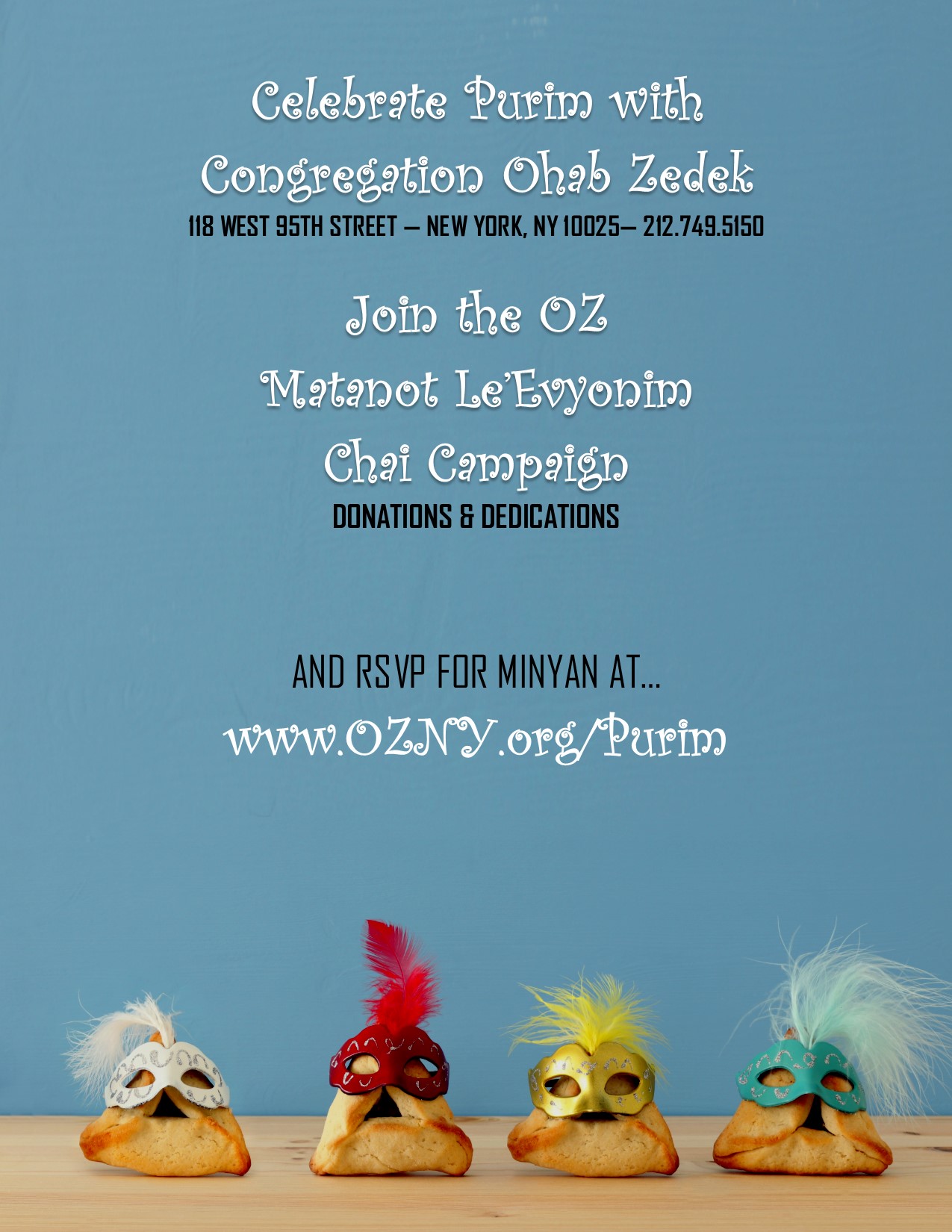 Purim 5781 Portal
Register for Minyan, Megillah, and Matanos Le'Evyonim
---
BULLETIN BOARD

Mazel Tov
Susan Fader & Larry Krule on the birth of a grandson, a baby boy to Laura & Jordan Feld who is joining big brothers JJ and Mason

Lisa & Jesse Krumholz, on the birth and bris of their son Aryeh Menachem

Miri & Ilan Schnitzer, on their marriage - Mazel Tov to Morris Schnitzer and Esther & Anton Weiss

Weldon & Sharon Turner, on the engagement of their daughter Aydan to Yossi Tarato
Condolences
Mark & Vivian Gelberman, on the passing of Mark's father Chaim Menachem Mendel Gelberman z'l
Kiddush To Go 
Riva Atlas & David Atik and family, in honor of Avi's forthcoming Bar Mitzvah, and in memory of Riva's parents Moshe & Shoshana Atlas z'l

Shira & Jeff Korenman, in memory of Riva Atlas' father Moshe Atlas z'l
HaKol B'Seder: Shas Review of Seder Zeraim
Sponsored by Sheldon Newman and Larry Newman, commemorating the Yarzheit of their brother Joseph Benjamin Newman z'l
OZ Programs, Classes, & Events
www.OZNY.org/Youth — check out our Family Zoom Megillah Reading & Sunday Super Shushan Party!
Purim Portal — www.OZNY.org/Purim
Megillah & Minyan Sign-Up

Matanos Le'Evyonim

Machatzis HaShekel

Zoom Megillah
Parshas Zachor Readings
Hashaka Minyan: 7:30am, 8:30am Zachor

'Sukkah' Minyan: 8:30am, 9:30am Zachor (In Social Hall depending on weather, rsvp required by clicking HERE) 

Youth Groups at 10:30am in Sukkah

Main Minyan: 9:15am, 10:20am Zachor

Additional Zachor Readings in Main Shul:
---
SCHEDULE

Friday — 7 Adar  5781 | February 19, 2021
Shacharis: 6:10am, 7:00am, 8:00am

Candles: 5:17pm

Mincha / Maariv: 5:25pm
Terumah / Zachor 5781 — Check Aboce for Reading Time
7:30am - Hashkama in Main Shul

8:30am - Sukkah Minyan - RSVP Required

9:15am - Shacharit in Main Shul

10:00am – Youth Groups in the Sukkah

Kiddush To Go

5:10pm - Mincha in Main Shul

Text & Context: Classic Commentaries

Men's Daf Yomi in the Social Hall

6:20pm - Maariv

6:26pm - Havdala
Sunday
Shacharis: 8:00am

Parsha — R' Blanchard: 6:15pm

Mincha Maariv: 5:30pm
Monday
Shacharis: 6:00am, 6:50am, 7:50am

Haftorah — Rabbi Schwartz: 8:00pm

Mincha Maariv: 5:30pm
Tuesday
Shacharis: 6:10am, 7:00am, 8:00am

TNLP — 7:30pm

Mincha Maariv: 5:30pm
Wednesday
Shacharis: 6:10am, 7:00am, 8:00am

Discover Judaism Classes start at 6:45pm

Minchas Chinuch — R' Schwartz: 8:00pm

Mincha Maariv: 5:30pm
Thursday — Taanis Esther
Fast Starts: 5:24am

Fast Ends 6:27pm

Shacharis: 6:00am, 6:45am, 7:45am

Mincha: 5:30pm

RSVP for Megillah: www.OZNY.org/Purim
Friday — Purim 5781
RSVP for Megillah: www.OZNY.org/Purim

Shacharis: 6:00am, 7:30am, 9:00am

Candles: 5:25pm

Mincha/Maariv: 5:35pm
---
Hashkama Minyan Dvar Torah: Rabbi Blanchard's Blurb
Sources of power, material, psychological or spiritual, may bring with them as much danger as creative opportunity, The mental power that builds a business can also tempt one to take advantage of less sophisticated customers and employees. The charisma that draws friends and followers opens the door to exploiting and using others for one's own pleasures and purposes.  Sacred places or objects reveal a transcendent dimension that  must be handled with a care and respect, that demands a protective boundary. We need force, energy and intensity in order to live a full life and make a difference in the world. To be fully human we must have them, But all such power comes labeled: Handle with care and caution. 

Reflection based on the Ark of the Covenant. 
---
RABBI SCHWARTZ'S PURIM NOTICE
---
Dear OZ Family,
The year 5781 conflates a number of anomalies that combine to make this a very rare calendrical year.  Purim on Erev Shabbos, The 10th of Teves on Friday, Chanukah all together missing Parshas Miketz, Erev Pesach on Shabbos, Tisha B'Av on Sunday, and the very rare readings for the Haftorahs of  Miketz and Tetzave, make all these anomalies a once-in-a-century year.
Please read below for select Purim Halachos and Guidelines, and please do not hesitate to contact me with any questions you may have. Thank you for your resilience in allowing us a responsible reopening during this time. 
Celebrate with OZ
When the month of Adar comes, the Talmud tells us to increase our Joy. What better way than participating in this year's Virtual Annual Dinner featuring the comedy of MODI. Please click HERE to RSVP.
Parshas Zachor
This coming Shabbos we will fulfill the Torah law of reading Parshat Zachor.  Covid offers us a special challenge, and we will be reading Parshas Zachor at OZ on Shabbos multiple times (Covid Guidelines can be reviewed HERE). 
Below are approximations, including Minyan start times. Please come early to ensure you can join on time.
Hashaka Minyan: 7:30am, 8:30am Zachor       

'Sukkah' Minyan: 8:30am, 9:30am Zachor (Social Hall depending on weather, RSVP required by clicking HERE) 

Youth Groups at 10:30am in Sukkah

Main Minyan: 9:15am, 10:20am Zachor    

Additional Zachor Readings in Main Shul: 11:15am & 5:20pm
If you are not able to make it to Shul, you may read the verses of Parshat Zachor from a Chumash at home, preferably while standing.  The verses are Devarim 25:17-19.
Some Poskim consider that one may fulfill the reading of Parshat Zachor by hearing the laining on Purim. 
Machatzis HaShekel
This Mitzvah can be fulfilled by donating HERE.  Based on the current stock price of silver (which is constantly fluctuating), to fulfill the maximalist opinion of fulfilling this mitzvah, an $18.00 donation will suffice, but "Kol HaMarbeh Harey Zeh Meshubach."
Purim Mitzvos & Ta'anit Esther
Taanit Esther is Thursday, Feb. 25th and fasting begins at 5:24am and ends at 6:27pm.  We should preferably daven Maariv and hear the Megillah before breaking our fast, but if we have no access to hear the Megillah earlier, then daven Maariv before eating and then join one of the later readings. 
This year, you must RSVP to attend our 'in-person' Megillah Readings. There will be social distancing in the Main Shul and limited space in the 'Sukkah.' Please click HERE for evening and morning times.
For those who due to health concerns cannot participate 'in-person', we will host Zoom Megillah Readings on Thursday at 8:30pm and Friday at 11:00am - click HERE for free RSVP. There is a call-in option as well.
Matanos L'evyonim can be fulfilled by donating HERE.  This year the need is great, especially in Israel.
Shalach Manos must inlcude at least 2 food items to 1 person.  Every year I announce that we should concentrate more on Matanos L'evyonim than on Shalach Manos.  This goes doubly for this year.  Please exercise discretion in fulfilling this mitzvah. 
The Seudas Purim should begin before Midday, and the custom is for it to be dairy so as not to impact on the Shabbos meals.
Please let me know if you can assist with delivering Shalach Manos to some of our homebound seniors and assist them with their shopping or even setting them up for Zoom Megillah Readings.
Special preparations for Pesach will follow as a Shabbos Erev Pesach brings its own special rules. 5781 continues to be an anomalous year in many ways. 
Kol Tuv,
Rabbi Allen Schwartz
Wed, May 12 2021
1 Sivan 5781
Today's Sefirah Count Is 45
היום חמשה וארבעים יום שהם ששה שבועות ושלשה ימים לעמר
Today's Calendar
---
Tomorrow's Calendar
Shacharis

: 6:00am
Shacharis

: 6:50am
Shacharis

: 7:50am
Kol B'Seder: Nashim
: 9:00am
Plag Mincha Maariv

: 6:15pm
Zman Mincha Maariv

: 7:50pm
---
Upcoming Programs & Events
---
This week's Torah portion is

Parshas Bamidbar
Candle Lighting
Havdalah
Motzei Shabbos, May 15, 8:56pm
Rosh Chodesh Sivan
View Calendar
Today's Zmanim
Alos Hashachar
4:05am
Earliest Tallis
4:46am
Netz (Sunrise)
5:42am
Latest Shema
9:17am
Zman Tefillah
10:29am
Chatzos (Midday)
12:52pm
Mincha Gedola
1:28pm
Mincha Ketana
5:04pm
Plag HaMincha
6:33pm
Shkiah (Sunset)
8:03pm
Tzais Hakochavim
8:53pm
More >>
Wed, May 12 2021 1 Sivan 5781