What's Happening
OZ Weekly - Ki Sisa, Parah, MODI, + More...
03/05/2021 10:24:55 AM
| | |
| --- | --- |
| Author | |
| Date Added | |
| Automatically create summary | |
| Summary | |
---
Printable Items & Len's Links
What's Happening at OZ - Click HERE
Rabbi Sacks z'l - How Leaders Fail: Click HERE
Rabbi Lamm z'l - Insights into Evil: Click HERE
---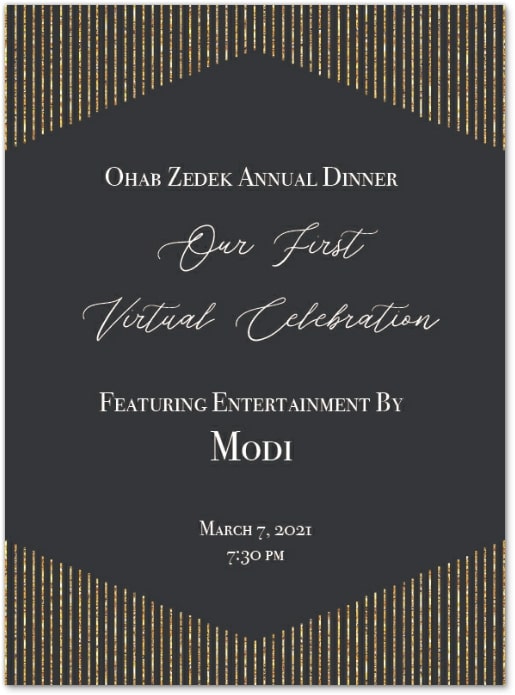 Celebrate with Ohab Zedek
Save the Date for Sunday, March 7, 2021 @ 7:30pm as our Annual Dinner goes Virtual this year!
Enjoy the comedy of MODI
Select RSVP's earn a Voucher to Kasbah Grill or Noi Due
Don't Delay - RSVP Today!
---
BULLETIN BOARD

Thank you
To the OZ Community for allowing a responsible and festive Purim program, and for raising over $20,000 for Matanos Le'Evyonim!

Megillah Lainers (with no complainers!)
Mazel Tov
Riva Atlas & David Atik, on Avi's Bar Mitzvah

Alon & Sabrina Bendory on the birth of their son Yehuda Moshe

Meir & Rocky Milgraum on the birth of their daughter Kayla Chava

Harry & Rachel Skydell on the engagement of their son, Ephraim to Shaina Mirsky
Condolences
Jesse & Melissa Mermelstein, on the passing of Jesse's father Joshua Mermelstein z'l
Kiddush-to-Go
Programs, Classes, & Events
---
SCHEDULE — KI TISSA 5781 — PARSHAS PARAH

Friday, 5 Adar 5781 / March 5 2021
Shacharis: 6:10am, 7:00am, 8:00am

Candles: 5:33pm

Mincha/Maariv: 5:40pm
Shabbat, 22 Adar 5781 / March 6, 2021
7:30am - Hashkama in Main Shul

8:30am - Sukkah Minyan - RSVP Required

9:15am - Shacharit in Main Shul

10:30am – Youth Groups in the Sukkah

5:25pm - Mincha in Main Shul

Text & Context: Classic Commentaries

Men's Daf Yomi in the Social Hall

6:35pm - Maariv

6:43pm - Havdala
---
THIS WEEK'S SCHEDULE (MARCH 7 — 12, 2021)
Shacharis
Sunday— 8:00am

Monday & Thursday — 6:00am, 6:50am, 7:50am

Tue, Wed, and Fri — 6:10am, 7:00am, 8:00am
Mincha & Maariv
Sunday—Thursday — 5:45pm

Friday — 5:50pm (Candles 5:41pm)
Krias Shema
Sunday: 9:15am — Friday: 9:09am
Discussion & Dessert To Go
Friday Night, March 12 @ 8:45pm

UWS Jewish Living & Pre-Passover Q&A w/R' Schwartz
---
You Can't Spell ZOOM without O.Z.!
---
Hashkama Minyan - Rabbi Blanchard's Blurb
Good relationships are based on trust, on a faith in the ongoing commitment of our friends or partners. But faith in fail or falter. Maybe they don't seem to be around when we need them. Or, we misperceive or misunderstand each other or the nature of the relationship. Absence and misperceptions undermine and unbalance our relationship. Then,  we do something that reveals the  crisis in our relationship. We might seek substitutes, somebody or something else to fill the perceived absence. Or, we might betray the values which ground our relationship.  And there is a cost: key symbols of the relationship somehow disappear or are damaged. The wedding ring comes off. Painful or even dangerous consequences emerge and are often seen as retribution for our lack of faithfulness.  We cut them off, stop speaking to them or do so only in a distant and often cold tone.  We find ourselves asking: Is our relationship so damaged that it is over? or, is there enough love, commitment and shared values remaining to allow us to start again?   It seems to em that all this is true not only of our relationships with others but also of our relationship with what is deeply spiritual or even divine. 
Reflections on the story of the golden calf as seen through the eyes of classical Jewish commentary 
Tue, April 13 2021
1 Iyyar 5781
Today's Sefirah Count Is 16
היום ששה עשר יום שהם שני שבועות ושני ימים לעמר
Today's Calendar
---
Tomorrow's Calendar
---
Upcoming Programs & Events
---
This week's Torah portion is

Parshas Tazria-Metzora
Candle Lighting
Havdalah
Motzei Shabbos, Apr 17, 8:27p
Rosh Chodesh Iyyar
View Calendar
Today's Zmanim
Alos Hashachar
4:54a
Earliest Tallis
5:25a
Netz (Sunrise)
6:21a
Latest Shema
9:38a
Zman Tefillah
10:45a
Chatzos (Midday)
12:57p
Mincha Gedola
1:30p
Mincha Ketana
4:48p
Plag HaMincha
6:10p
Shkiah (Sunset)
7:33p
Tzais Hakochavim
8:23p
More >>
Tue, April 13 2021 1 Iyyar 5781