What's Happening
OZ Weekly: Mishpatim 5783 - SIR Rabbi Jachter, PCL, and more!
02/17/2023 12:42:21 PM
| | |
| --- | --- |
| Author | |
| Date Added | |
| Automatically create summary | |
| Summary | |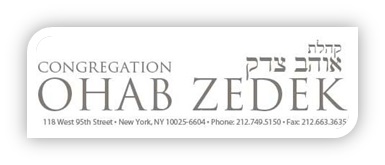 ---
Click HERE for Printable OZ Weekly: Mishpatim 5783 / 2023
---
LEN'S LINKS
---
---
BULLETIN BOARD
---
THE RABBI'S NEW SEFER ON SHEMOS IS AVAILABLE FOR PURCHASE IN THE OFFICE
---
Mishloach Manot Fundraiser!
Information and more at www.OZNY.org/Purim

We welcome all members + friends to participate in a wonderful opportunity to support OZ programs and events! In a appreciation of your generosity, a beautiful Mishloach Manot package will be available for pick up on Purim
---
Welcome Scholar in Residence!
Rabbi Chaim Jachter is a prominent rabbi who serves as the rabbi at Congregation Shaarei Orah, the Sephardic Congregation of Teaneck, and is a popular Torah teacher at the Torah Academy of Bergen County.  He also serves as a Dayan and has acquired an international reputation of excellence in the area of Get administration. He has authored fifteen books on issues ranging from Halacha, Tanach, Aggada, and Jewish Thought.   His weekly columns are distributed online and are read by thousands worldwide.  He is also called upon by many communities throughout North America to assist in constructing, expanding, and maintaining their Eruvin. Rabbi Jachter and his wife Malca have five children and two grandchildren and reside in Teaneck, New Jersey.
8:30pm - Oneg @ 697 WEA #3B: The Beit Din - A Primer for Lawyers & Layment

11:15am - Drasha in Main Shul: The Agunah Crisis - Stories & Solutions

4:15pm - Text & Context in Main Shul: Alexa & Siri - Modern Electronics on Shabbat

5:15pm - Seudah Shlishit in Bet Medrash: Tales of An Ashkenazi Rabbi of a Sephardic Shul
---
Mazel Tov
Helen & Jake Guz, on the birth of a grandson, a baby boy born to their children Zahava & Yedidya Alper

Amy & Glenn Leibowitz, on the engagement of their son Caleb & Adva Benyaacov
Delicious Kiddush
Dr. Barrie Weinstein & Avi Ishofsky, commemorating the Yahrtzeit of Barrie's beloved mother Marcia Weinstein - Miryam bat Avraham v'Aidle z"l
Hashkama Kiddush
Paul Casowitz, commemorating the Yarzheit of his mother Batya bat Levi z'l

The Newman & Gordan Families, in memory of Joseph B. Newman z'l
Late @ 8 — Keep the Minyan Momentum Going!
Young @ Heart — For your kids, grandkids, nieces, and nephews!
Youth Events info at www.OZNY.org/Youth or Nava@OZNY.org
Parent Child Learning meets Saturday Night @ 7:30pm - www.OZNY.org/PCL

Purim is coming: Sunday Fun Day, Purim Night Chagigah + More…
Israel Forum: Legal Reform in Israel | www.OZNY.org/Forum
Join Yotam Eyal on Wednesday, February 22, 2023 at 7:00pm on Zoom
Yad Leah Community Clothing Drive
Save the Date for March 12 @ 9:00am—1:00pm, Contact Gitty Flamenbaum for Info
Community Announcements… 
Join your OZ & UWS Friends for a Fabulous Pesach in Italy! Includes Singles Program and Family Friendly! Contact Sarah Stambler for info: discover@ozny.org
Gam Zuli, a new dating platform for Observant Singles has launched and registration is free for a limited time at www.GamZuli.com
---
SCHEDULE
---
Friday, February 17, 2023  (Shevat 26)
Shacharis 6:10am, 7:00am, 8:00am

5:15pm    Candle Lighting

5:25pm    Zman Mincha Maariv

8:30pm    Oneg: Rabbi Chaim Jachter (697 WEA)
Shabbos, February 18, 2023  (Shevat 27)
7:30am    Hashkama Minyan in Bet Medrash

8:45am    Haftorah Class: Parshat Shekalim

9:15am    Main Sanctuary Minyan

11:15am  Guest Drasha: Rabbi Chaim Jachter

Youth Groups in the School Building

4:00pm    Afternoon Groups in the Social Hall

4:15pm    Text & Context: Rabbi Chaim Jachter

4:55pm    Mincha in Main Shul

5:15pm    Men's Daf Yomi (in Library)

5:15pm    Shalosh Seudos: Rabbi Chaim Jachter

6:15pm    Maariv in Main Shul

6:24pm    Havdalah

7:30pm    Parent Child Learning
Sunday, February 19, 2023  (Shevat 28)
Shacharis 7:00am, 8:00am — in Main Shul

5:25pm    Zman Mincha Maariv
Monday, February 20, 2023  (Shevat 29)
Presidents Day | Office Closed
Shacharis 7:00am, 8:00am

5:25pm    Zman Mincha Maariv

7:15pm    Mitzvah Chaburah (

Not Meeting

)
8:15pm    Tanach Shiur (

Zoom Only

)
Tuesday, February 21, 2023  (Shevat 30)
Rosh Chodesh Adar
Shacharis 6:00am, 6:45am, 7:45am

5:25pm    Zman Mincha Maariv

7:30pm    TNLP on Zoom

8:00pm    Late Maariv
Wednesday, February 22, 2023  (Adar 1)
Rosh Chodesh Adar
Shacharis 6:00am, 6:45am, 7:45am

2:00pm    Tzurba Shiur: Kosher

5:25pm    Zman Mincha Maariv

8:00pm    Late Maariv
Thursday, February 23, 2023  (Adar 2)
Shacharis 6:00am, 6:50am, 7:50am

5:25pm    Zman Mincha Maariv

8:00pm    Late Maariv
Friday, February 24, 2023  (Adar 3)
Shacharis 6:10am, 7:00am, 8:00am

5:23pm    Candle Lighting

5:35pm    Main Shul Minyan

5:35pm    Sephardic Minyan & Mezzeh 
---
Stay Up-To-Date
---
Men's Daf Yomi - www.OZNY.org/Event/Daf2023
Sunday: 8:45am, Monday-Friday: 7:00am

Shabbat: after Mincha, Yom Tov: before Mincha
---
RABBI BLANCHARD'S BLURB
---
Just law is a major protector of the basic dignity and worth of human beings, individually and as members of groups.  But since actual legal systems govern specific societies, they accord special duties, rights and privileges to citizens that outsiders or even resident non-citizens do not have. In Jewish law, different rights and duties belong to Jews than to resident non-Jews or visitors. Sirely there are universal human rights or protections that any person within the jurisdiction of any legal system ought to be accorded e.g not to be robbed, kidnapped  or murdered.  Any legal system must require some actions or duties of all residents, whether temporary, long term or permanent e.g.payment of sales taxes, obeying traffic laws, or respecting group symbols like flags or anthems. Do you think the same is/should be true for the "rules"  by which families or social and ethnic groups are governed? 

Reflections on Exodus 21:1-24:18 
Sat, September 30 2023
15 Tishrei 5784
Today's Calendar
Rabbi's Class

: 9:00am
Shacharit

: 9:15am
Quick Kiddush

: 11:15am
Shift 1 - Lunch

: 12:00pm
Shift 2 - Lunch

: 1:30pm
Men's Daf Yomi

: 5:30pm
Mincha & Shiur

: 6:20pm
Maariv

: 7:10pm
Candle Lighting

: 7:30pm
Shift 1 - Dinner

: 7:45pm
Shift 2 - Dinner

: 9:00pm
---
Friday Night
Candle Lighting

: 6:12pm
Zman Mincha Maariv

: 6:20pm
Shift 1 - Dinner

: 7:30pm
Shift 2 - Dinner

: 9:00pm
Shabbat Day
Hashkama

: 7:30am
Rabbi's Class

: 9:00am
Shacharit

: 9:15am
Men's Daf Yomi

: 5:30pm
Mincha

: 6:10pm
Maariv

: 7:00pm
Candle Lighting

: 7:19pm
Upcoming Programs & Events
---
Candle Lighting
Havdalah
Sukkot
View Calendar
Sat, September 30 2023 15 Tishrei 5784