What's Happening
OZ Weekly: Terumah 5783 - Sephardic, Rabbi's Message, Purim, and More!
02/24/2023 01:03:23 PM
| | |
| --- | --- |
| Author | |
| Date Added | |
| Automatically create summary | |
| Summary | |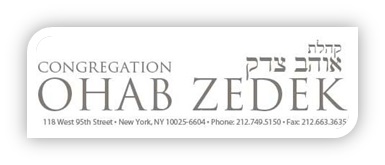 ---
Click HERE for Printable OZ Weekly: Terumah 5783 / 2023
---
LEN'S LINKS
---
---
Rabbi's Message
---
Dear OZ family,
As we approach the open arms of Shabbat's peaceful embrace, I ask everyone to please heed the cautionary words of our President's recent email, to be aware of the professed hatred set aside for tomorrow. We are on a heightened level of vigilance, and the police have informed us that they will also have an enhanced presence in our community. We know very well that hatred can only be displaced by love, and therefore, tomorrow, for our community, will be a day of devotion, chesed, love, peace and tranquility. Why should we wait until tomorrow? Let's do chesed today! Pick up a pair of gloves at shul to share with someone who is cold, as the temperature is going down into the 20's tonight. Phone someone you know will be cheered by the call. Visit Bina at Mt. Sinai West on 59th St. 9B room 14, with fresh mangoes. Love always defeats hatred.
Shabbat Shalom - Stay well and safe!
Rabbi Allen Schwartz
---
---
Mishloach Manot Fundraiser — We welcome all members + friends to participate in a wonderful opportunity to support OZ programs and events! In a appreciation of your generosity, a beautiful Mishloach Manot package will be available for pick up on Purim
Matanot Le'Evyonim — support those in need in our local community and in Israel
Pre-Purim Persian Kiddush — Make Shabbat Zachor a weekend to Remember!
Singles Chesed Event — Bikur Cholim Purim Packing: www.OZNY.org/Bikur
Purim Shanghai Seudah — Join our festive Chinese Buffet: www.OZNY.org/Seudah
Youth Events — Join us for a Grager Make, Hamantash Bake, and Purim Chagigah!
---
Bulletin Board
---
Mazel Tov
Heather Conn, on her engagement to Lorne Hendel (Aryeh Mosheh)

Helen & Jake Guz, on the bris of their grandson Moshe Mordechai — Ethan Mace

Betsy & Neal Smolar, on the birth and bris of their grandson, Leo — Moshe Anshel, born to their children Avigayil & Daniel Stern
Delicious Kiddush
Florence Berkowitz & Alan Siegelberg, commemorating the Yarzheits of Florence's father Moshe ben Zishe Berkowitz and Alan's father Hesh-Ber ben Shmuel Siegelberg
Sephardic Mezzeh
Tal & Tsivia Hochman and Family — in honor of the Sephardic Minyan at OZ
Late @ 8 — Keep the Minyan Momentum Going!
Save the Date - Poetry Slam!
Join Joe Helmreich, Jessica Schechter Herring, Rabbi Allen Schwartz, and more, at Shalosh Seudos on March 18!
Yad Leah Community Clothing Drive
Save the Date for March 12 @ 9:00am—1:00pm, Contact Gitty Flamenbaum for Info
Community Announcements…
Join your OZ & UWS Friends for a Fabulous Pesach in Italy! Includes Singles Program and Family Friendly! Contact Sarah Stambler for info: discover@ozny.org
Gam Zuli, a new dating platform for Observant Singles has launched and registration is free for a limited time at www.GamZuli.com
---
SCHEDULE
---
Friday, February 24, 2023 (Adar 3)
Shacharis 6:10am, 7:00am, 8:00am

5:23pm Candle Lighting

5:35pm Main Shul Minyan

5:35pm Sephardic Minyan in Bet Medrash
Shabbos, February 25, 2023 (Adar 4)
7:30am Hashkama Minyan in Bet Medrash

8:45am Haftorah Class

9:15am Main Sanctuary Minyan

Youth Groups in the School Building

4:30pm Afternoon Groups in the Social Hall

4:30pm Text & Context: Parsha Shiur

5:05pm Mincha in Main Shul

5:25pm Men's Daf Yomi (in Library)

5:25pm Shalosh Seudos

6:25pm Maariv in Main Shul

6:32pm Havdalah
Sunday, February 26, 2023 (Adar 5)
Shacharis 7:00am, 8:00am — in Main Shul

5:35pm Zman Mincha Maariv
Monday, February 27, 2023 (Adar 6)
Shacharis 6:00am, 6:50am, 7:50am

5:35pm Zman Mincha Maariv

7:15pm Mitzvah Chaburah

8:00pm Late Maariv

8:15pm Tanach Shiur

9:00pm Women's Emunah on Zoom
Tuesday, February 28, 2023 (Adar 7)
Shacharis 6:00am, 6:45am, 7:45am

5:35pm Zman Mincha Maariv

7:30pm TNLP on Zoom

8:00pm Late Maariv
Wednesday, March 1, 2023 (Adar 8)
Shacharis 6:00am, 6:45am, 7:45am

2:00pm Tzurba Shiur: Kosher

5:35pm Zman Mincha Maariv

8:00pm Late Maariv

9:00pm Women's Emunah on Zoom
Thursday, March 2, 2023 (Adar 9)
Shacharis 6:00am, 6:50am, 7:50am

5:35pm Zman Mincha Maariv

7:00pm Bible Behind the Scenes

8:00pm Late Maariv
Friday, March 3, 2023 (Adar 10)
Shacharis 6:10am, 7:00am, 8:00am

5:31pm Candle Lighting

5:40pm Main Shul Minyan
---
Stay Up-To-Date
---
Men's Daf Yomi - www.OZNY.org/Event/Daf2023
Sunday: 8:45am, Monday-Friday: 7:00am

Shabbat: after Mincha, Yom Tov: before Mincha
---
RABBI BLANCHARD'S BLURB
---
We live our daily lives in a world that seems to be primarily material. We are surrounded by "things," both natural and fabricated. Our understanding, intents, and purposes may, on occasion, provide them with a meaning that transcends nature and human artifice and even their moral role in our lives. This suggests that our interaction with the things of our world, especially with works of art, may open us to a reality that transcends the world's materiality. Even rarer but still possible are those moments in which the realm of the spirit seems to enter our ordinary world and either directly transform its material nature or teach us how to do so. Have you ever had or read about such moments? How have they affected you? If you have not had such experiences, how do you understand others who have had them? Has it changed how you know your reality?
Reflections on Exodus 25-27
Sun, March 26 2023
4 Nisan 5783
Today's Calendar
Shacharit

: 7:00am
Shacharit

: 8:00am
Men's Daf Yomi

: 8:45am
Zman Mincha Maariv

: 7:05pm
---
Friday Night
Shabbat Day
Hashkama

: 7:30am
Shacharit

: 9:15am
Shabbat HaGadol Luncheon
: 12:00pm
Text & Context

: 6:00pm
Mincha

: 6:40pm
Men's Daf Yomi

: 7:00pm
Shalosh Seudos

: 7:00pm
Maariv

: 8:00pm
Havdalah

: 8:10pm
Upcoming Programs & Events
---
This week's Torah portion is

Parshat Tzav
Candle Lighting
Havdalah
Motzei Shabbat, Apr 1, 8:10pm
Shabbat HaGadol
View Calendar
Sun, March 26 2023 4 Nisan 5783