What's Happening
OZ Weekly: Vayakhel-Pekudei 5783
03/17/2023 12:58:52 PM
| | |
| --- | --- |
| Author | |
| Date Added | |
| Automatically create summary | |
| Summary | |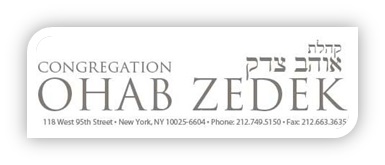 ---
Click HERE for Printable OZ Weekly: Vayakhel-Pekudei 5783 / 2023
---
LEN'S LINKS
---
---
CLICK  THE PIC: SHABBAT HAGADOL BENEFIT LUNCHEON
---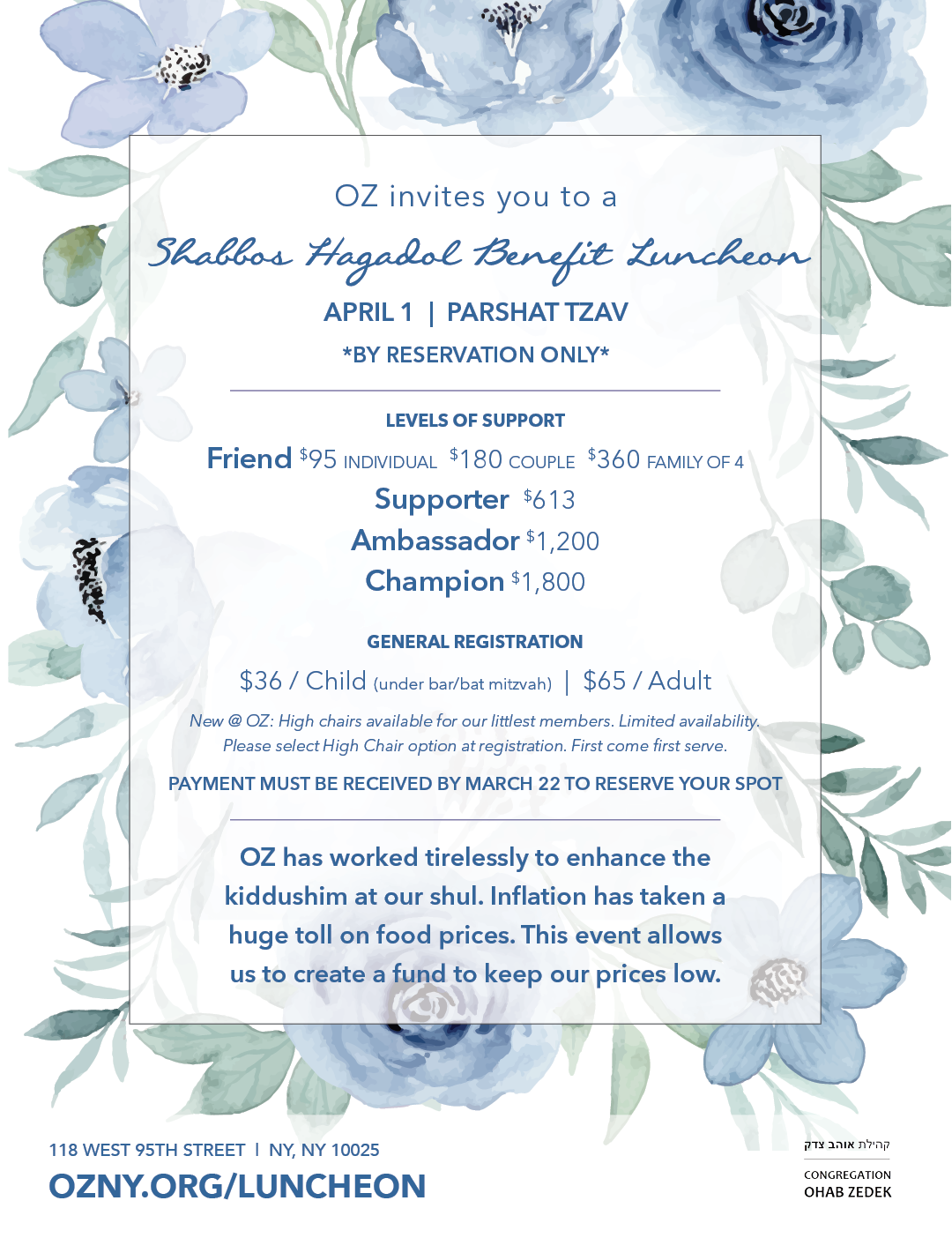 ---
VIEWS FROM THE PEWS
---
Recipe for Freedom: Our tradition teaches that Matzah is the bread of affliction baked hastily on the run, but there is reason to believe this is crumby Interpretation. Together we learn how Matzah became the bread of freedom.
Rabbi Charles E. Savenor serves as the Executive Director of Civic Spirit.  Founded in 2017, Civic Spirit provides training in civic education to Jewish, Catholic, Christian, and Islamic day schools. 
The organization's mission is to educate, inspire, and empower faculty and students towards civic belonging, knowledge, and responsibility. In addition to his work at Civic Spirit, Rabbi Savenor was the co-Executive Producer of "We Are Here - The Songs of the Holocaust" that sold out Carnegie Hall this past January in honor of International Holocaust Remembrance Day.  
He currently sits on the international boards of Leket Israel (the National Food Bank of Israel) and Gesher. Charlie and his wife, Julie Walpert, are the parents of two sons, Joseph and Benjamin, both of whom were Rabbi Schwartz's students. Raving fans of the Red Sox and Celtics, they live in New York City.
---
BULLETIN BOARD
---
PARDON OUR APPEARANCE WHILE WORK IS COMPLETED IN LOBBY & STAIRWELL AREAS
Welcome New Members
Andrew Chernela

Chaya Horowitz

Jacob Weinger
Welcome to OZ!
Rabbi Charles Savenor, who will deliver this week's Views from Pews on the "Recipe  for Freedom"

Yoetzet Halacha Ellin Cooper, who will be visiting for Shabbat morning and Kiddush
Thank You!
Gitty Flamenbaum & Alma Birnboim, for coordinating the Yad Leah clothing drive — over $3000 was raised, and 280 bags of clothing was donated on the Upper West Side!
Mazel Tov
Nathan Cepelinski & Mazel Sorscher on their upcoming wedding

Rabbi Allen Schwartz, on being honored with the 'Bendheim Award' at the MDS Dinner

Dr. Jeremy Simon & Allie Alperovich, on being honored as the 'Parents of the Year' at the Gush Etzion Foundation Annual Dinner
Kiddush Sponsors
Mildred Goldczer, commemorating the Yarzheit of her mother Yocheved bat Matisyahu z'l

Jake & Helen Guz, commemorating the Yarzheit of Jake's mother Esther Devorah bat R' Yaakov HaKohen z'l

Ervin & Clara Rosenfeld, commemorating the Yarzheit of Ervin's mother Sylvia Rosenfeld - Devorah bat Sara z'l
Poetry Slam at this week's Seudah Shlishit
Dedicated by Joe Helmreich, in honor of his upcoming win!
Shabbat HaGadol Gala Luncheon on April 1
While your kitchen is being prepared for Pesach, let ours serve you!

Registration & sponsorships support the Kiddush Fund: www.OZNY.org/Luncheon
Rabbi's Books for Sale
The Rabbi's Haggadah & other books are available for discount purchase - contact office
Upcoming Events: www.OZNY.org/Events
Monday, March 29, 8:00p, Mishmar: Tehillim of Pesach, www.OZNY.org/Mishmar
Wednesday, March 22, 6:30p, WIN: Chodesh Nissan, www.OZNY.org/WIN
Wednesday, March 22, 8:00p, Women's Wellness, www.OZNY.org/Wellness
Thursday March 23, 7:00p, Bible Behind the Scenes, www.OZNY.org/Live
Friday, March 24, 7:05p, Sephardic Minyan & Mezzeh, www.OZNY.org/Sephardic
Friday, March 24, 8:00p, Friday Night Chai Dinner, www.OZNY.org/Berman
Friday, March 31, 8:00p, OZ 30 & 40 Wine & Dine,  www.OZNY.org/3040

Sunday, April 2nd, 10:00a, Pre-Pesach Mitzvah Morning & Kids' Crafts
---
SCHEDULE
---
Friday, March 17 (Adar 24)
6:10am Shacharis
7:00am Shacharis
8:00am Shacharis
6:47pm Candle Lighting
6:55pm Zman Mincha Maariv
 
Shabbos, March 18 (Adar 25)
Shabbos Mevarchim - Parshas HaChodesh 
7:30am Hashkama Minyan
8:45am Hafotrah Class with Rabbi Allen Schwartz
9:15am Main Sanctuary Minyan
11:15a  Views from the Pews: R' Charles Savenor
5:45pm Afternoon Class with Rabbi Jack Varon
6:25pm Mincha
6:45pm Men's Daf Yomi
6:45pm Seudah Shlishit: Poetry Slam
7:45pm Maariv
7:56pm Havdalah
 
Sunday, March 19 (Adar 26)
7:00am Shacharis in Main Shul
8:00am Shacharis in Main Shul
6:55pm Zman Mincha Maariv
 
Monday, March 20 (Adar 27)
6:00am Shacharis
6:50am Shacharis
7:50am Shacharis
6:55pm Zman Mincha Maariv
8:00pm Monday Night Mishmar: Tehillim of Pesach
Tuesday, March 21 (Adar 28)
6:10am Shacharis
7:00am Shacharis
8:00am Shacharis
6:55pm Zman Mincha Maariv
7:30pm TNLP on Zoom
 
Wednesday, March 22 (Adar 29)
6:10am Shacharis
7:00am Shacharis
8:00am Shacharis
6:30pm Discover Judaism Classes in Library
6:30pm WiN: Women In Network: Sarah Vorhand
6:55pm Zman Mincha Maariv in Main Shul
8:00pm Sisterhood Wellness Series: Ellin Cooper
9:00pm Women's Emunah Group on Zoom
 
Thursday, March 23 (Nisan 1)
Rosh Chodesh Nisan 
6:00am Shacharis
6:45am Shacharis
7:45am Shacharis
6:55pm Zman Mincha Maariv
7:00pm Bible Behind The Scenes: The Temple
 
Friday, March 24 (Nisan 2)
6:10am Shacharis
7:00am Shacharis
8:00am Shacharis
6:54pm Candle Lighting
7:05pm Zman Mincha Maariv
7:05pm Sephardic Minyan in Social Hall
7:55pm Friday Night Chai Dinner
Men's Daf Yomi Schedule:
Sunday: 8:45am, Monday - Friday: 7:00am in Library
Shabbos: After Mincha, Yom Tov: Before Mincha
---
RABBI BLANCHARD'S BLURB
---
In life, we have successes and we have setbacks. When we seem to be moving along a straight path, that is,  when we live in linear time,  a  setback is a " step back." That's ok since sometimes it's "one step forward and two steps back"; other times, it's straight on through to success. When, however,  the patterns of our life keep repeating themselves, when, that is, we live in "cyclical" time, we experience a built-in, unavoidable waxing and waning of possibilities in our lives. As a result, we expect and need both failure and success. What's it like for you--linear, cyclical, or both? How do you deal with "the dark times"? 

Reflections on Exodus 12:1-20
Sun, March 26 2023
4 Nisan 5783
Today's Calendar
Shacharit

: 7:00am
Shacharit

: 8:00am
Men's Daf Yomi

: 8:45am
Zman Mincha Maariv

: 7:05pm
---
Friday Night
Shabbat Day
Hashkama

: 7:30am
Shacharit

: 9:15am
Shabbat HaGadol Luncheon
: 12:00pm
Text & Context

: 6:00pm
Mincha

: 6:40pm
Men's Daf Yomi

: 7:00pm
Shalosh Seudos

: 7:00pm
Maariv

: 8:00pm
Havdalah

: 8:10pm
Upcoming Programs & Events
---
This week's Torah portion is

Parshat Tzav
Candle Lighting
Havdalah
Motzei Shabbat, Apr 1, 8:10pm
Shabbat HaGadol
View Calendar
Sun, March 26 2023 4 Nisan 5783