Rabb's Blog - Remembering the Pentcho
08/16/2023 12:57:55 PM
| | |
| --- | --- |
| Author | |
| Date Added | |
| Automatically create summary | |
| Summary | |
FROM THE RABBI'S DESK
---
Dear OZ family,

I was sent a picture of Ohab Zedek in 1927 (below) from a NYC digital street kiosk. Netanya has similar kiosks and I took a picture (below). It refers to this city as Israel's Riviera. The Riviera is hot this week. There were rolling blackouts all over Netanya this past week. We had one in our neighborhood this past Shabbos and Alisa and I were just caught up in one at the giant Netanya mall.

Most of the mall's merchandise on the 1st floor is outside the stores and hundreds of patrons behaved in an orderly fashion and there was no misbehavior whatsoever. It was a real Kiddush Hashem to see how helpful everyone was.

Earlier today we tracked down the Pentcho memorial just off the beach in the Northern part of Netanya (below). We returned to the Netanya museum today with Chani's kids and we saw the full passenger list of the Pentcho . The memorial is in Netanya because this city was a main stopover for such ships. In fact, the museum docent told us that the same ship under a different name, Tassos, had sailed earlier and left off refugees in Netanya, reminiscent of a scene from the movie Exodus. In fact the next street up the block from the memorial is called Rechov Exodus.

This past Yom Hashoah, our member, Mark Englander showed a riveting film about the miraculous and heroic exploits of the Pentcho, and we sent out a link at the time for the film. We found the names that Mark gave me of his relatives who were on the ship, Shmuel  Englander and Joel Kaufman. The documentary can be viewed online at this LINK.

May the heroic deeds of these heroic people live on in their descendants.

Stay well and healthy.

Rabbi Allen Schwartz
---
---
---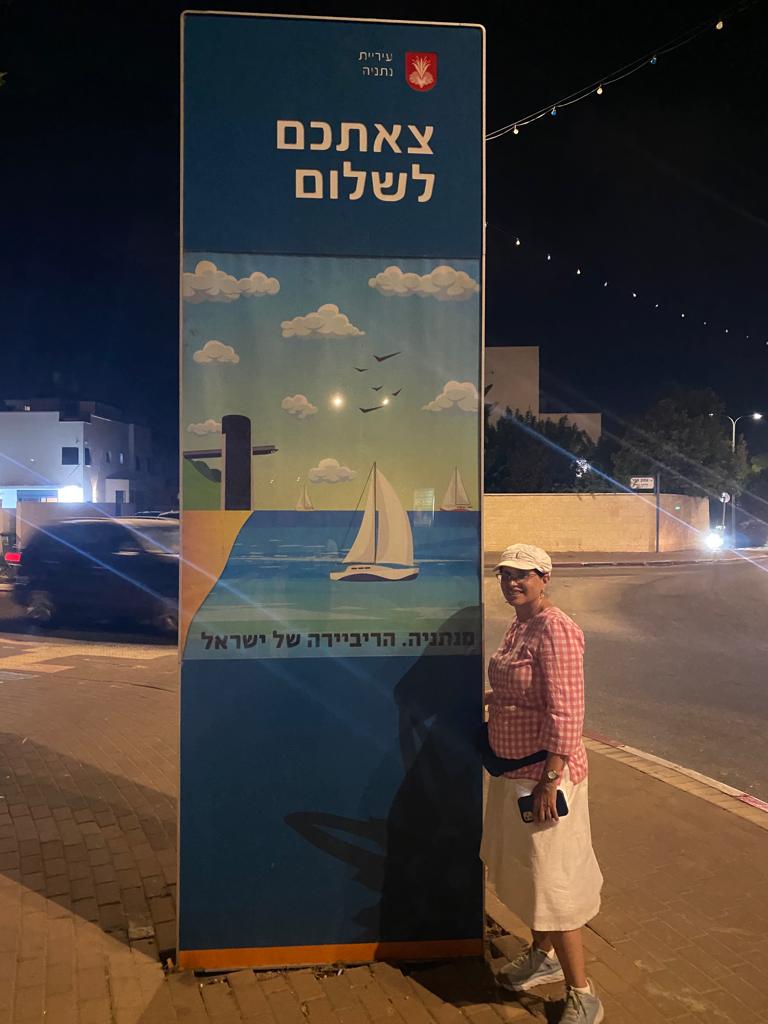 Sat, September 30 2023
15 Tishrei 5784
Today's Calendar
Rabbi's Class

: 9:00am
Shacharit

: 9:15am
Quick Kiddush

: 11:15am
Shift 1 - Lunch

: 12:00pm
Shift 2 - Lunch

: 1:30pm
Men's Daf Yomi

: 5:30pm
Mincha & Shiur

: 6:20pm
Maariv

: 7:10pm
Candle Lighting

: 7:30pm
Shift 1 - Dinner

: 7:45pm
Shift 2 - Dinner

: 9:00pm
---
Friday Night
Candle Lighting

: 6:12pm
Zman Mincha Maariv

: 6:20pm
Shift 1 - Dinner

: 7:30pm
Shift 2 - Dinner

: 9:00pm
Shabbat Day
Hashkama

: 7:30am
Rabbi's Class

: 9:00am
Shacharit

: 9:15am
Men's Daf Yomi

: 5:30pm
Mincha

: 6:10pm
Maariv

: 7:00pm
Candle Lighting

: 7:19pm
Upcoming Programs & Events
---
Candle Lighting
Havdalah
Sukkot
View Calendar
Sat, September 30 2023 15 Tishrei 5784