What's Happening
OZ Weekly - Bamidbar 5780 + Shavuot is Coming!
05/22/2020 10:28:23 AM
| | |
| --- | --- |
| Author | |
| Date Added | |
| Automatically create summary | |
| Summary | |
---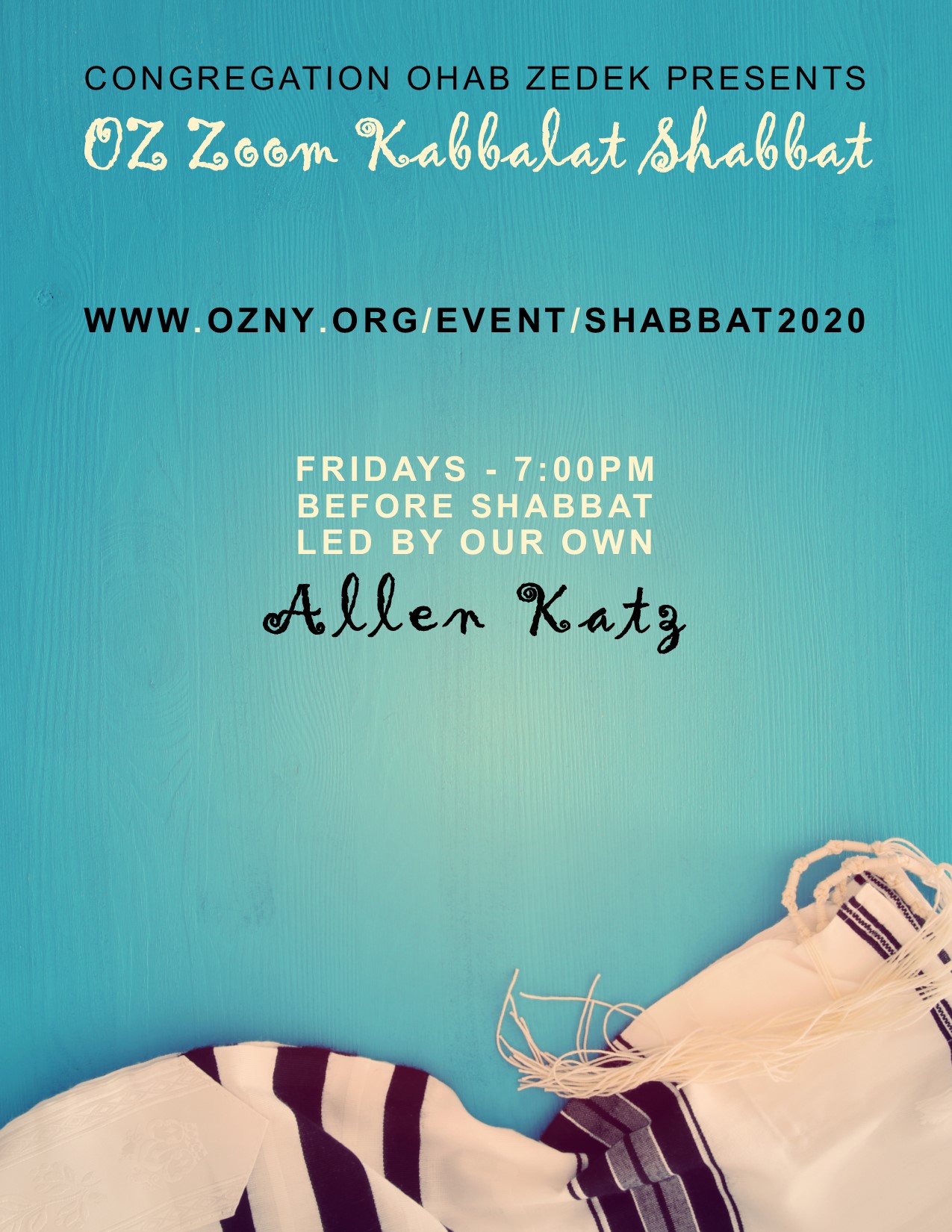 ---
---
---
---
---
Submit your "Views from the Pews" to Office@OZNY.org
---
Kallah Classes with Rebbetzin Alisa Schwartz
Space is limited

Meets Tuesdays at 12:00pm in June

June 2, 9, 16, with special sessions on June 23, and 30
---
Make a BIG Difference...
...with a SMALL monthly contribution at the OZ Online Pushke

www.OZNY.org/Monthly
---
The G-d Series continues...
Meets 8:00pm on Monday Nights with Rabbi Allen Schwartz

Online info at www.OZNY.org/Event/Series2020

May 25 - Rabbi's New Book Launch - Conflict & Resolution in the Prophets

June 1 - Rabbi's Annual Siyum HaShas
---
Pre Shavuot Lunch & Learn
Join online at 12:00pm

https://us02web.zoom.us/j/97940491898

Monday, May 25 - Yechezkel's Mysterious Chariot (R' Schwartz)

Tuesday, May 26 - Is Shavuot an Agricultural Holiday (R' Zolty)

Wednesday, May 27 - 2nd Day Haftorah: Why Habakuk?
---
Mazel Tov
Rachel Traurig, on her marriage to Josh Rothberger

Contribute to the Mitzvah Meal Campaign at www.OZNY.org/Event/613
---
Catered Shavuot Meals with Main Event / Mauzone
Click HERE for Menu

Questions? Call 201-894-8710

Deal direct with caterer (not OZ Office)

Order by Sunday, May 24
---
Volunteers Needed
Please contact RAS@ozny.org to help shop for the homebound
---
Rosh Chodesh Sivan 5780
Sunday May 24

Zoom Hallel & Readings at 9:00am (https://us02web.zoom.us/j/9926159469)

Remember to include Birchat HaChodesh on Shabbat, and start Yaaleh V'Yavo Motzei Shabbat Maariv
---
Dedications
The May Lunch & Learns have been dedicated in memory of our dear friend, Ken Bossewitch z'l
---
OZ Online Opportunities - www.OZNY.org/Online, www.OZNY.org/Events
Daf Yomi Daily Conference Call

Zoom Kaballat Shabbat - Fridays at 7:00pm

Zoom Maariv & Mishna - Sunday - Thursday at 8:45pm in May

Zoom TNLP on Tuesdays starts at 7:30pm

Zoom Discover Judaism (Wednesdays) starts of 6:45pm

Zoom "Live at Five" with Jane Blumenstein LMSW - Thursdays at 5:00pm

Zoom "History of Jewish Humor" with Micah Halpern - Select Thursdays in June at 7:30pm

Stay Tuned for More... Events!
---
OZ Youth Dept. Events
---
Torah Thought by Rabbi Tsvi Blanchard, Hashkama Minyan
Why do we count things? Typically, we have practical concerns - objectives, goals - and we need to know if we have enough resources to do so. We want to use what we are counting. Do we have enough food for our guests?  Enough paint to cover al the walls? Enough capital to last the next few quarters? This is enumeration..1,2,3....But: we sometimes count  what we have just because we love and appreciate it. Counting is a way of reviewing what we care about, a way of putting it into order. Show me what you put time into counting and arranging without any particular task to be performed and I'll show you what you hold dear, what you value just for itself, what you find intrinsically worthy of attention of your concern and commitment. We sometimes count just because we love and cherish.  
* At the beginning of the book of Numbers, G'd orders yet a third census, a counting of the People Israel--the first was after the Exodus, the second after the episode with the Golden Calf and this third counting precedes the building and installation of the desert sanctuary in which G'd will be present with the People and where He will speak with Moses.  Rashi , following a rabbinic text, comments that G'd counts Israel the "census" of the People is out of love, because they are so dear to Him. Although each census might have a practical concern, these sources insist that it is fundamentally not because G'd wants to use Israel but because he holds them dear.  The above are my brief reflections on this one small but essential point. 
---
Shabbat Mevorchim - Bamidbar 5780
FRIDAY NIGHT
6:42pm - Plag HaMincha

7:00pm - Zoom OZ Community Kabbalat Shabbat with Allen Katz

7:56pm - Candle Lighting

8:14pm - Shkiah (Sunset)

9:04pm - Tzeit HaKochavim (Night Fall)
SHABBAT
44th Day of the Omer

Pirkei Avot Chapter 6

Birchat HaChodesh (RC Sivan on Sunday, molad was Friday at 11:42 AM and 13 chalakim.​​​​​​​)

5:31am - Netz HaChama

9:12am - Latest Shema

12:53pm - Chatzot

8:14pm - Shkiah

9:04pm - Havdalah / Tzeit HaKochavim

Remember to include Yaaleh v'Yavoh in Motzei Shabbat Maariv
Sunday is Rosh Chodesh Sivan
remember to include Yaaleh v'Yavo, Musaf, Half Hallel

Rabbi Schwartz will be hosting Zoom Hallel & Torah Reading at 9:00am
---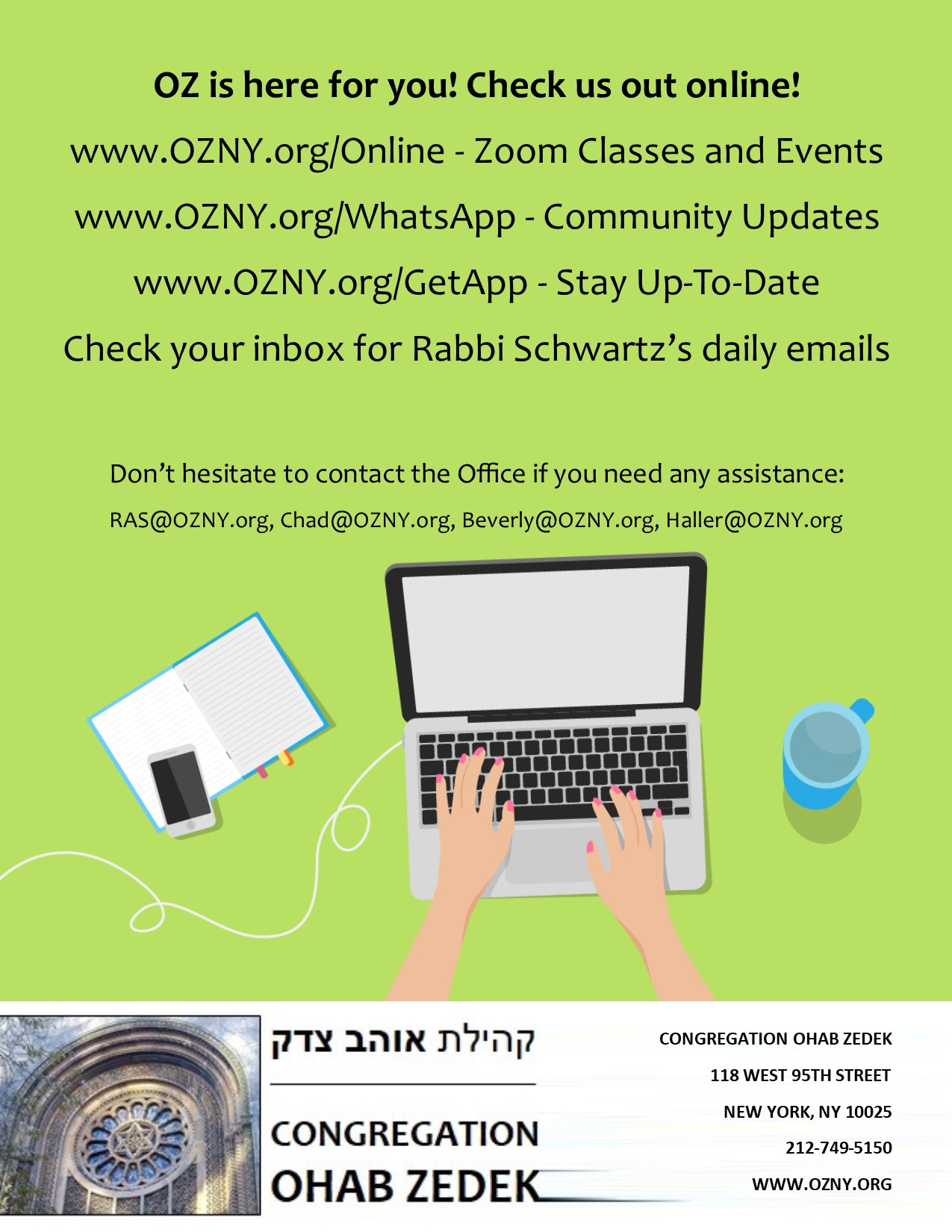 ---
---
Wed, September 30 2020
12 Tishrei 5781
Today's Calendar
---
Tomorrow's Calendar
Shacharit

: 6:50a
Shacharit

: 7:50a
Zman Mincha Maariv

: 6:30p
---
Upcoming Programs & Events
---
Candle Lighting
Havdalah
Erev Sukkot
View Calendar
Today's Zmanim
Alot Hashachar
5:31a
Earliest Tallit
5:56a
Netz (Sunrise)
6:52a
Latest Shema
9:48a
Zman Tefillah
10:48a
Chatzot (Midday)
12:45p
Mincha Gedola
1:15p
Mincha Ketana
4:11p
Plag HaMincha
5:25p
Shkiah (Sunset)
6:38p
Tzeit Hakochavim
7:28p
More >>
Wed, September 30 2020 12 Tishrei 5781