What's Happening
OZ Weekly - Korach 5780 + More
06/26/2020 01:03:56 PM
| | |
| --- | --- |
| Author | |
| Date Added | |
| Automatically create summary | |
| Summary | |
---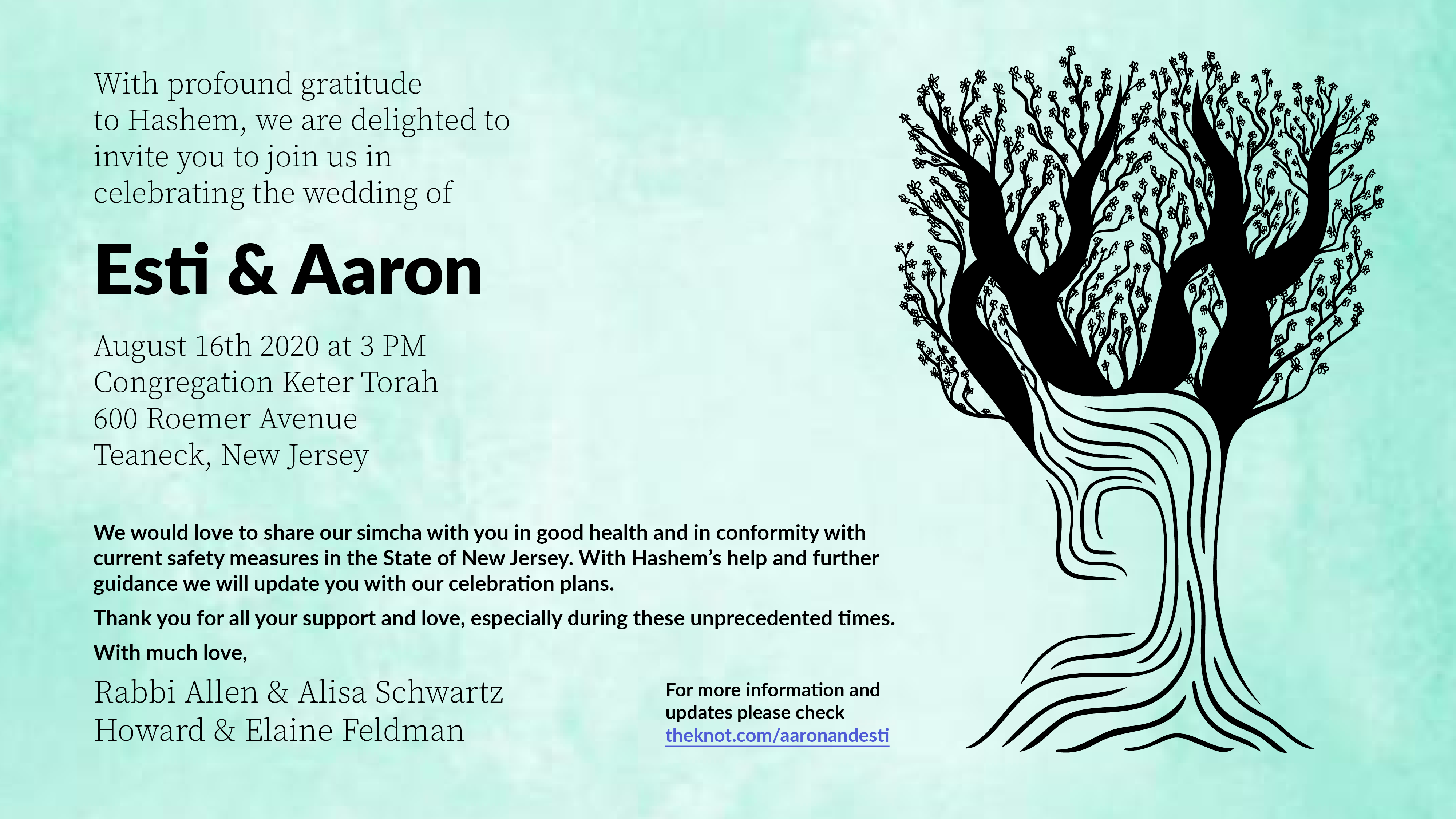 ---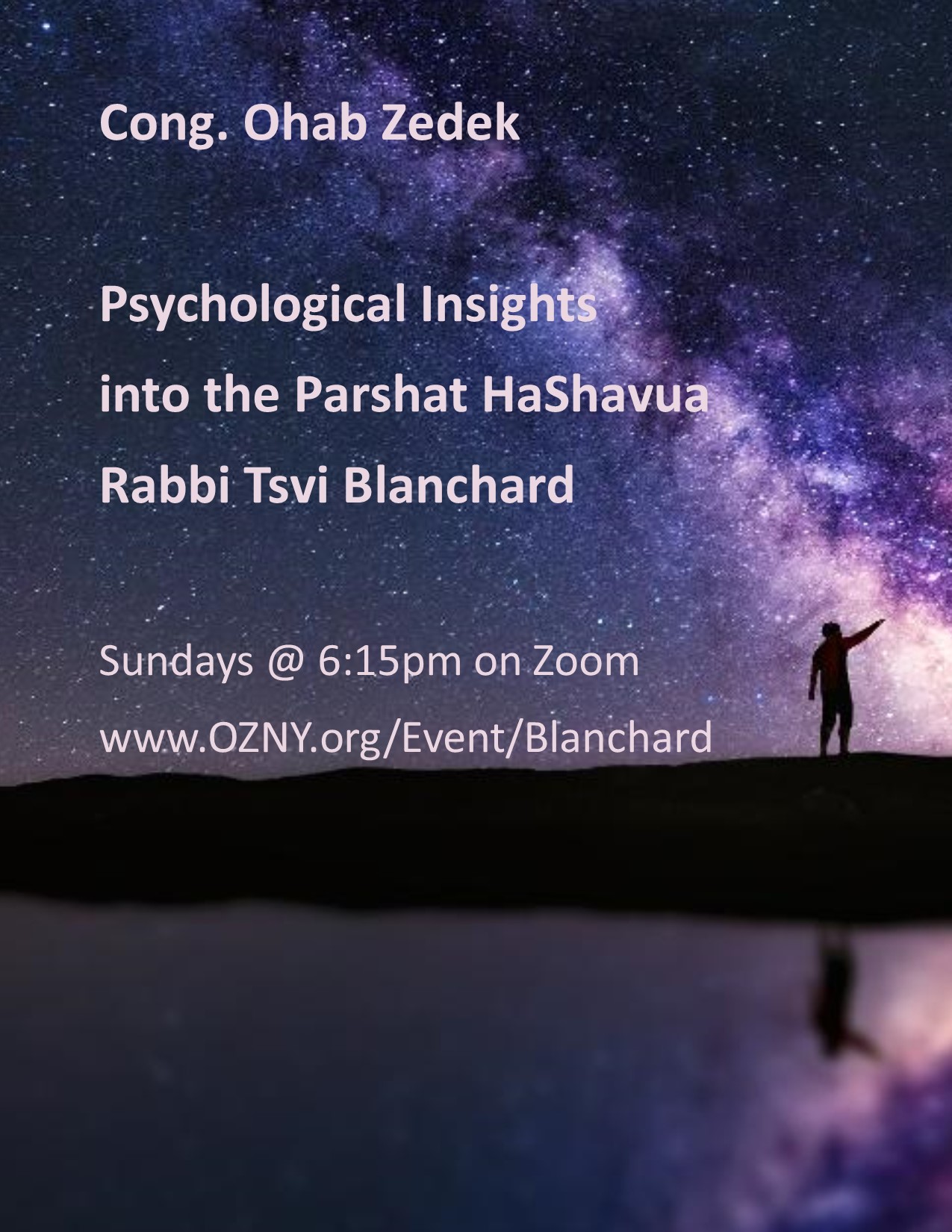 ---
---
---
---
Submit your "Views from the Pews" to Office@OZNY.org
---
Baruch Dayan Emet
Marnina & Arthur Berkowitz, on the passing of Marnina's father Sy Allis z'l
---
Mazel Tov & Milestone Chai Kiddush Sponsors
Rabbi & Allen Schwartz, on the engagement of their daughter Esti to Aaron Feldman, on their son Ellie Schwartz receiving his Semicha, and their daughter Mindy Schwartz Zolty on her graduation from GPATs - and wishing Happy Anniversary to Ellie & Carly and Mindy & Yoni
Rabbi Jack & Esther Varon, wishing everyone a safe and fun summer!
Allen Katz & Shery Galler, wishing Mazel Tov to Chad & Yael Hopkovitz (and Lily & Talia) on the birth of their daughter and sister Aliza
Erica Markowitz & Mendl Borensztejn, on Mendl's Aufruf and for their upcoming wedding
Carol & Joe Tuchman, on the graduation of their son Sam from SAR High School
Sarah & Stuart Milstein, on the graduation of their son Joshua from SAR High School
Karen & Meyer Muschel, on the Bat Mitzvah of their daughter Sophie
Amy & Glenn Leibowitz, on the engagement of their daughter Michal to David Khan
Rikki & Mendy Gross, in honor of their grandson Alter Yitzchak Kaminetsky and his fantastic parents Alana & Josh
Ronit & Aaron Etra, on the birth of their son Nathan - Nachamn Adir
Yael, Lily, Talia, and Aliza Hopkovitz wishing Happy Birthday to Chad Hopkovitz
Stephen Nathan, wishing Mazel Tov to all those celebrating Smachot in 5780!
Susan Canter, in memory of Moshe Kuppel be Yehoshua z'l
Joey Lifschitz, in honor of Rabbi Allen Schwartz and Gabbai Allen Katz for all they do for our community
Marsha & Alan Bramowitz, in honor of their children Melissa & David Retchkiman - and for David's birthday!
Beverly & Evan Markowitz, in honor of the OZ Community
Keren Golan
Naftali Bodoff
Bradley Hames
Jeffrey Feder
Sheldon Newman
Malca Resnick
---
Minyan Update
Minyanim have resumed under the guidelines of the CDC, DOH, and OU/RCA. Limited minyanim are operating and filling at capacity.
Visitors to the building must wear a mask on premises. Violators will be asked to leave or temporarily forfeit the ability to participate.
You must be pre-registered for a minyan. Currently Members observing Kaddish or Yarzheit will have priority. If you are NOT pre-registered, you will NOT be allowed to enter.
Rabbi Schwartz is emphatic that absolutely no one should feel any pressure to participate at this point.
---
Make a BIG Difference...
...with a SMALL monthly contribution at the OZ Online Pushke
---
Rabbi Schwartz's "G-d Series" continues on Zoom...
Monday at 8:00pm
June 27: Textualism, Consitutionalism, Originalism - Judaism & The Supreme Court
---
Psychological Insights into Parshat HaShavua
with Rabbi Tsvi Blanchard (Hashkama Minyan)
Sunday at 6:15pm
Zoom info at www.OZNY.org/Event/Blanchard
---
Youth Events
---
Volunteers Needed
Please contact RAS@ozny.org to help shop for the homebound
---
OZ Online Opportunities - www.OZNY.org/Online, www.OZNY.org/Events
Daf Yomi Daily Conference Call

Zoom TNLP on Tuesdays starts at 7:30pm

Zoom Discover Judaism (Wednesdays) starts of 6:45pm

Stay Tuned for More... Events!
---
Parshat Korach 5780
Friday Night
6:40pm - Plag Minyan (RSVP Required)

6:57pm - Plag HaMincha

8:13pm - Candle Lighting

8:20pm - Zman Minyan (RSVP Required)

8:31pm - Shkiah (Sunset)

9:21pm - Tzeit HaKochavim (Night Fall)
Shabbat Day
5:27am - Netz HaChama

7:30am - Hashkama Minyan (RSVP Required)

9:12am - Latest Shema

9:15am - Minyan (RSVP Required)

12:59pm - Chatzot

8:20pm - Minyan (RSVP Required)

8:31pm - Shkiah

9:21pm - Havdalah / Tzeit HaKochavim
---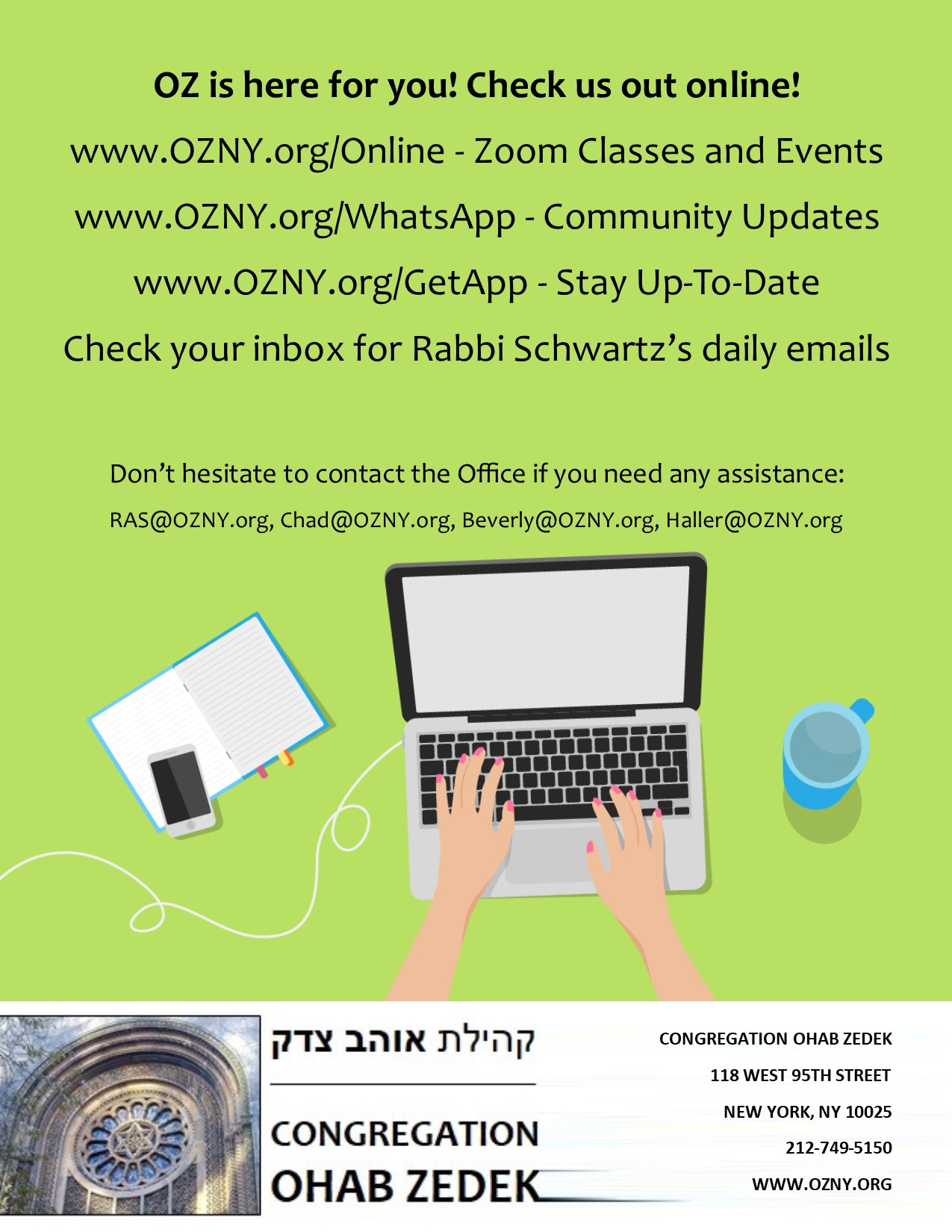 ---
Mon, November 30 2020
14 Kislev 5781
Today's Calendar
Shacharis

: 6:00a
Shacharis

: 6:50a
Shacharis

: 7:50a
Zman Mincha Maariv

: 4:20p
Weekly Haftorah Shiur
: 8:00p
Late Maariv & Mussar

: 9:00p
---
Tomorrow's Calendar
---
Upcoming Programs & Events
---
This week's Torah portion is

Parshas Vayishlach
Candle Lighting
Havdalah
Motzei Shabbos, Dec 5, 5:18p
Erev Chanukah
View Calendar
Today's Zmanim
Alos Hashachar
5:33a
Earliest Tallis
6:05a
Netz (Sunrise)
7:01a
Latest Shema
9:22a
Zman Tefillah
10:10a
Chatzos (Midday)
11:45a
Mincha Gedola
12:08p
Mincha Ketana
2:31p
Plag HaMincha
3:30p
Shkiah (Sunset)
4:29p
Tzais Hakochavim
5:19p
More >>
Mon, November 30 2020 14 Kislev 5781