What's Happening
UPDATED: OZ Rosh Hashana 5781!
09/18/2020 11:13:03 AM
| | |
| --- | --- |
| Author | |
| Date Added | |
| Automatically create summary | |
| Summary | |
---
Celebrate the High Holidays at OZ
Yom Kippur Seating will resume after Rosh Hashana

Thank you for your patience and understanding as we arrange seating according the distancing guidelines - we hope iyH next year to resume preferred seating

Rosh Hashana Seating List, Schedule, and Seating Maps:

Please arrive 15-20 minutes early to allow for spaced entry

Please bring your own machzor if you can

Note names appear under the account registered - and if you rsvp'd for moee than one minyan you name may appear 2 times (Eg Sukkah Mincha & Early Shacharit)

Please sit only in your assined seat. The Main Shul Morning & Evening services, Sukkah Minyan are closed out. 6:30am Shacharit & 8:00am Sephardic Minyan still have seats available.
Order your Lulav!
---
Help us close the Fiscal Year!
Check Your Account Balance & Support our Shul by Clicking HERE.
---
---
---
Submit your "Views from the Pews" to Office@OZNY.org
---
---
Have a Blast! - UPDATED
High Holiday ZOOM Classes with Rabbi Allen Schwartz

www.OZNY.org/Event/High2020 (Zoom, Schedule, Sponsor)

Sept. 21 @ 8:00pm — Haftorah of Yom Kippur

Sept. 24 @ 8:00pm — Shabbat Shuva — How Our Prayers Help Us Repent: Liturgies of Atonement & Forgiveness

Wednesdays @ 8:00pm - Minchas Chinuch: The Holiday Mitzvot, meets on Tuesdays, Sept. 16, 23, 30
---
Minyan Update
UPDATED SCHEDULE BELOW
MUST RSVP FOR HIGH HOLIDAY MINYAN TO ATTEND

Participants in Minyanim must follow all Shul & Social Distancing Guidelines, including wearing masks, sitting in marked seats, and following New York's self-quarantine rules

Rabbi Schwartz is emphatic that absolutely no one should feel any pressure to participate at this point.

Current Tefillah Times:

Shacharit

Shabbat: 7:30am, 9:15am

Sunday & Legal Holiday: 8:00am

Monday & Thursday: 6:00am, 6:50am, 7:50am

Tuesday, Wednesday, Friday: 6:00am, 7:00am, 8:00am

Rosh Chodesh: 6:00am, 6:45am, 7:45am

Mincha/Maariv

Zman - Please check Calendar

Selichot Schedule

Times posted for Shacharit Minyan start with Selichot

Late Night Maariv & Selichot at 10:00pm Monday - Thursday
---
Youth Events
www.OZNY.org/Youth

Youth Corner below
---
Volunteers Needed
Please contact RAS@ozny.org to help shop for the homebound
---
OZ Online Opportunities
www.OZNY.org/Online, www.OZNY.org/Events
Daf Yomi Daily Conference Call

Zoom TNLP on Tuesdays starts at 7:30pm

Zoom Discover Judaism (Wednesdays) starts of 6:45pm

Stay Tuned for More... Events!
---
Shabbat Refresher Course with Adam Resnick
The Fall Season has started with a review of the 39 Melachot: 
Topics to be covered: Reheating Food, Food preparation, Housework, Personal grooming, Appliances, Carrying, Eruvin, Muktzeh
---
| | | |
| --- | --- | --- |
| Friday | September 18 | Erev Rosh Hashana |
| 6:41 PM | Candles |   |
| 6:50 PM | Mincha & Maariv | Main Shul |
| 6:50 PM | Mincha & Maariv | Sukkah |
|   |   |   |
| Shabbat | September 19 | Rosh Hashana 1 |
| 6:30 AM | Shacharit (HaMelech) | Main Shul |
| 8:00 AM | Shacharit (Nishmat) | Sukkah / Social Hall |
| 8:00 AM | Shacharit (Sephardic) | Bet Medrash |
| 9:15 AM | Shacharit (Brachot) | Main Shul |
| 6:30 PM | Mincha | Main Shul |
| 6:30 PM | Mincha | Sukkah / Social Hall |
| 6:57 PM | Shkiah |   |
| 7:47 PM | Candles |   |
|   |   |   |
| Sunday | September 20 | Rosh Hashana 2 |
| 6:30 AM | Shacharit (HaMelech) | Main Shul |
| 8:00 AM | Shacharit (Nishmat) | Sukkah / Social Hall |
| 8:00 AM | Shacharit (Sephardic) | Bet Medrash |
| 9:15 AM | Shacharit (Brachot) | Main Shul |
| 1:30 PM | Shofar | Shul Front |
| 2:00 PM | Shofar | 89th & Riverside |
| 3:30 PM | Shofar | Shul Front |
| 4:00 PM | Youth Shofar & Tashlich | Central Park |
| 6:35 PM | Mincha | Main Shul |
| 6:35 PM | Mincha | Sukkah / Social Hall |
| 6:55 PM | Shkiah |   |
| 7:45 PM | Havdala |   |
Weekday Minyanim  * Selichot Start - Please Note Times
Selichot will not meet Sunday Motzei Rosh Hashana

Weekday Mincha/Maariv: 6:40pm

Late Maariv & Selichot: 10:00pm

Monday - Tzom Gedalia

Fast Starts 5:31am

Fast Ends: 7:33pm

Monday - Friday Aseret Yemei Teshuva

6:30am Selichot followed by Shacharit in Main Shul (6:20 on Mon & Thu)

7:30am Selichot followed by Shacharit in Bet Medrash (7:20 on Mon & Thu)

7:30am Zoom Selichot (7:20 on Mon & Thu)

https://us02web.zoom.us/j/83346809523

Meeting ID: 833 4680 9523

Sunday, Erev Yom Kippur

7:50am Selichot followed by Shacharit in Main Shul

1:16pm Mincha in Main Shul

4:15pm Mincha in Main Shul
---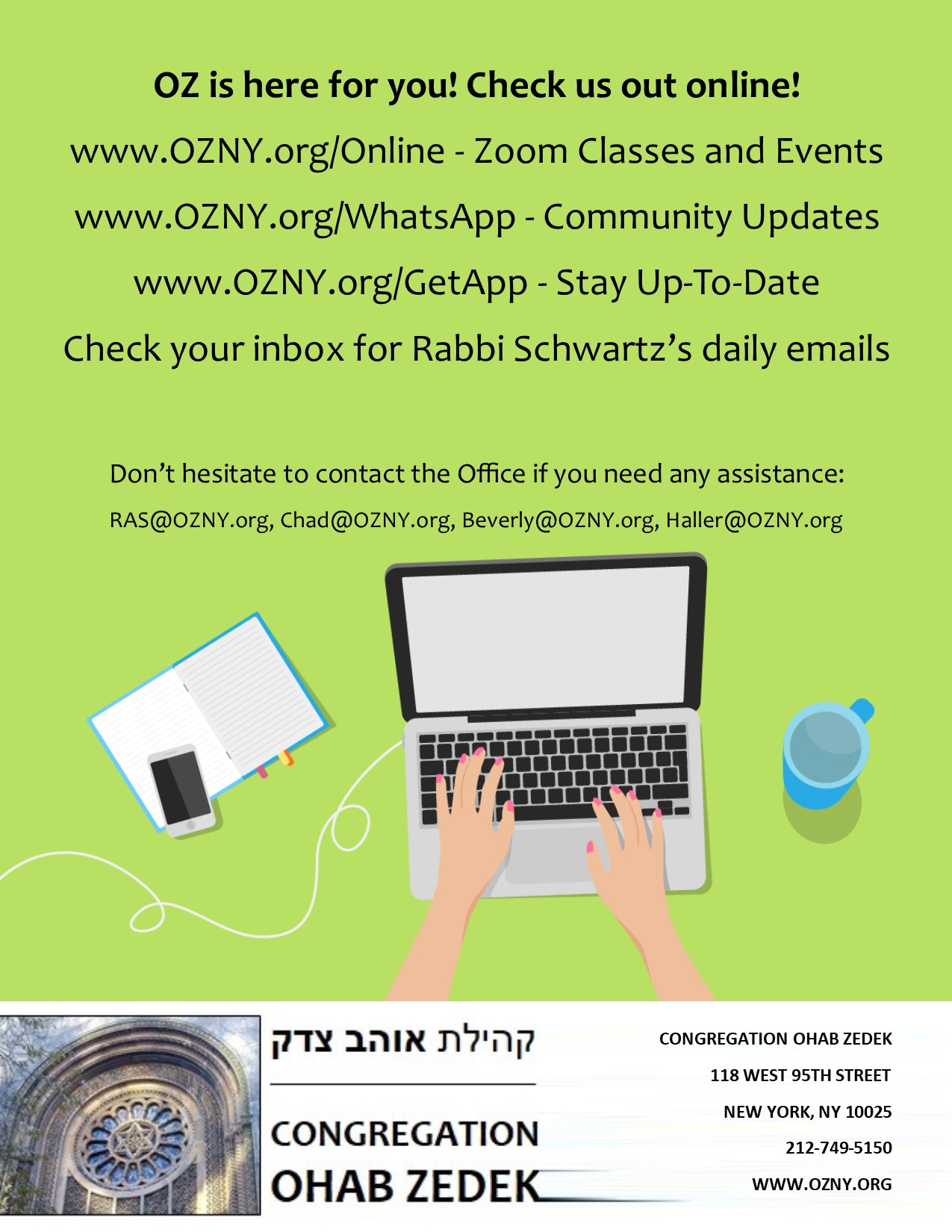 ---
Sun, January 17 2021
4 Shevat 5781
Today's Calendar
---
Tomorrow's Calendar
Office Closed
MLK Day
Shacharis

: 6:15a
Shacharis

: 7:00a
Shacharis

: 8:00a
Zman Mincha Maariv

: 4:45p
Weekly Haftorah Shiur
: 8:00p
---
Upcoming Programs & Events
---
This week's Torah portion is

Parshas Bo
Candle Lighting
Havdalah
Motzei Shabbos, Jan 23, 5:52p
Tu B'Shvat
View Calendar
Today's Zmanim
Alos Hashachar
5:51a
Earliest Tallis
6:21a
Netz (Sunrise)
7:17a
Latest Shema
9:41a
Zman Tefillah
10:30a
Chatzos (Midday)
12:06p
Mincha Gedola
12:30p
Mincha Ketana
2:55p
Plag HaMincha
3:55p
Shkiah (Sunset)
4:55p
Tzais Hakochavim
5:45p
More >>
Sun, January 17 2021 4 Shevat 5781