What's Happening
OZ Weekly: Shabbat Shuva & Yom Kippur - IMPORTANT INFO
09/25/2020 10:56:14 AM
| | |
| --- | --- |
| Author | |
| Date Added | |
| Automatically create summary | |
| Summary | |
---
Celebrate the High Holidays at OZ
Thank you for your patience and understanding as we arrange seating according to distancing guidelines - we hope iyH next year to resume preferred seating

Yom Kippur Seating List, Schedule, and Seating Maps:

https://docs.google.com/spreadsheets/d/1H2nm9SWN-8B_WUIgWgM3fMlBUXhxXHHoNR6-l_uB7XI/edit?usp=sharing

Please arrive 15 minutes early to allow for spaced entry

Please bring your own machzor if you can

Please note that names appear under the account registered - and if you rsvp'd for more than one minyan your name may appear 2 times (Eg Sukkah Kol Nidrei & Early Shacharit)

Please sit only in your assigned seat. The Main Minyan & Sukkah Minyan are closed out. 8:15pm Late Maariv, 6:30am Shacharit & 8:00am Sephardic Minyan still have seats available.

Davening Guides:
---
Order your Lulav!
---
Help us close the Fiscal Year!
Check Your Account Balance & Support our Shul by Clicking HERE.
---
---
---
Submit your "Views from the Pews" to Office@OZNY.org
---
Sponsor Kiddush To-Go (https://www.ozny.org/form/kiddush5781)
Roz Singer & Robby Bindiger, in commemoration of the first yahrzeit of Rhoda Bindiger, Rivkah Kraindel bat Eliezer Moshe v' Chanah z'l
Mazel Tov
Robert & Pam Lunzer, on the engagement of their daughter Rena and Eli Kittay

Jenny Michael, on the engagement of her daughter, Shira Moffson to Kenneth Eckstein

Andy & Ronnie Schonzeit, on Jacob receiving Semicha in Israel

Jay & Zohara Taragin, on the engagement of Barak to Zahava Milstein
Baruch Dayan Emet
Vivian & Gerald Adler, on the passing of Vivian's mother Grace Kahn z'l

Edith Nathan, on the loss of her sister Devorah Lepkifker z'l
---
Have a Blast! - UPDATED
High Holiday ZOOM Classes with Rabbi Allen Schwartz

www.OZNY.org/Event/High2020 (Zoom, Schedule, Sponsor)

Wednesday @ 8:00pm - Minchas Chinuch: The Holiday Mitzvot, meets on Wednesday Sept. 30
---
Minyan Update
UPDATED SCHEDULE BELOW

MUST RSVP FOR HIGH HOLIDAY MINYAN TO ATTEND

Participants in Minyanim must follow all Shul & Social Distancing Guidelines, including wearing masks, sitting in marked seats, and following New York's self-quarantine rules

Rabbi Schwartz is emphatic that absolutely no one should feel any pressure to participate at this point.

Weekday 6:00am Shacharit is temporarily suspended until after Sukkot

Current Tefillah Times:

Shacharit

Shabbat: 7:30am, 9:15am

Sunday & Legal Holiday: 8:00am

Monday & Thursday: 6:50am, 7:50am

Tuesday, Wednesday, Friday: 7:00am, 8:00am

Rosh Chodesh: 6:00am, 6:45am, 7:45am

Mincha/Maariv

Zman - Please check Calendar
---
Youth Events
www.OZNY.org/Youth

Youth Corner below
---
Volunteers Needed
Please contact RAS@ozny.org to help shop for the homebound
---
OZ Online Opportunities
www.OZNY.org/Online, www.OZNY.org/Events
Daf Yomi Daily Conference Call

Zoom TNLP on Tuesdays starts at 7:30pm

Zoom Discover Judaism (Wednesdays) starts of 6:45pm

Stay Tuned for More... Events!
---
Shabbat Refresher Course with Adam Resnick
The Fall Season has started with a review of the 39 Melachot: 
Topics to be covered: Reheating Food, Food preparation, Housework, Personal grooming, Appliances, Carrying, Eruvin, Muktzeh
---
Weekend Schedule
Shabbat Shuva 5781

Friday Night

6:29pm - Candles

6:40pm - Mincha/Maariv

Shabbat Day

7:30am - Hashkama Minyan

9:00am - Sukkah Minyan (RSVP Required, Click HERE)

9:15am - Main Minyan

6:25pm - Mincha, followed by Shabbat Shuva Shiur with Rabbi Allen Schwartz: "How To Bribe G-d In The Season of Repentance"

7:25pm - Maariv

7:35pm - Havdala

No Late Selichot

Sunday, Erev Yom Kippur

7:50am - Selichot followed by Shacharit in Main Shul

8:50am - Selichot followed by Shacharit in Main Shul

1:16pm - Mincha (Gedola) in Main Shul

4:15pm - Mincha (Ketana) in Main Shul

5:30pm - Zoom Kol Nidrei & Selichot
6:25pm - Candles
6:35pm - Kol Nidrei & Maariv

Main Minyan (Closed Out)

Sephardic Minyan

Sukkah Minyan (Closed Out)

8:15pm - Late Maariv in Main Shul
Monday, Yom Kippur (Yizkor)

Shacharit 

6:30am - Early Minyan in Main Shul (starts at haMelech)

8:00am - Sephardic Minyan in Bet Medrash

8:00am - Sukkah Minyan (Sold-Out) - Social Hall if Rain (starts at Nishmas)

9:30am - Main Minyan in Main Sanctuary - followed by Mincha (Sold-Out)

9:47am - Zman Kriat Shema
3:30pm - Community Yizkor on Front Steps

Early Minyan

4:15pm - Early Mincha in Main Sanctuary

5:15pm - Early Neilah in Main Sanctuary

Sukkah Minyan (Sold-Out)

5:20pm - Mincha

6:25pm - Neilah & Maariv

Sephardic Minyan in Bet Medrash

5:30pm - Mincha

6:30pm - Neilah & Maariv

Main Minyan

7:32pm - Havdalah

Tuesday & Wednesday

Shacharis: 7:00am, 8:00am

Zman Mincha Maariv: 6:30pm

Thursday

Shacharis: 6:50am, 7:50am

Zman Mincha Maariv: 6:30pm

Friday, Erev Sukkos

Shacharis: 7:00am, 8:00am

Zman Mincha Maariv: 6:25pm

Candles: 6:17pm
---
Parsha Points by Rabbi Tsvi Blanchard: Thoughts at this Time of Self-examination
As human beings, we are responsible for ourselves and our actions. This means, among other things, that we need to make up for the damage we have done to others--their person, their feelings, their dignity, and their property. Here are just some of the thoughts I had that are taken from the first chapter of the Talmud Tractate Bava Kamma that deals with damages and damagers.  I have found it helpful. I hope that you will too. 
On the whole, we need to repair / compensate others who have been damaged by anything for which we are responsible and over which we have control--typically this means property/animals/our body. I think that we should also think about the damage we have done through hurtful language and behavior.  This includes:
a. damage we have done by creating in our world/society realities that constitute physical, emotional, intellectual, moral  or spiritual "dangers" .. potentially harmful ideas, situations, experiences. 
b. we need to pay careful attention to damage that we did by initiating something which, joined with other forces around us, took on a life of its own and hurt others--snide comments, mockery of others, , gossip, etc.
c. We need to be careful about those to whom we entrust the things and powers for which we are responsible. Are they people who are worthy of our trust? Do they have the necessary capabilities? 
d. We need to be aware of the damage we cause simply by using our natural powers in the world in a commonly accepted fashion.. Just because ti is the custom/nature of humanity to act in these ways does not mean that we shouldn't look for alternatives that do not cause. Self seeking behavior is natural to humans, and we can't be taken to court for the damage that sometimes happens to others just from our doing so, but we still need to think carefully about how being " human only too human" can hurt others.
e.  We need to be aware of some motives for damage: 
Sometimes we simply intend to cause  damage.. hurting people just to show our power.   
Sometimes we are caught up in seeking our own pleasure , although this ends up hurting  others 
Sometimes we are "just following our nature" and the pain of others is  "collateral damage". 
Sometimes we are just too busy, self-involved or distracted to notice if others are being hurt. 
May we all work to merit a good life. 
In this season of the Jewish New Year may we all be written and sealed in the book of life. 
---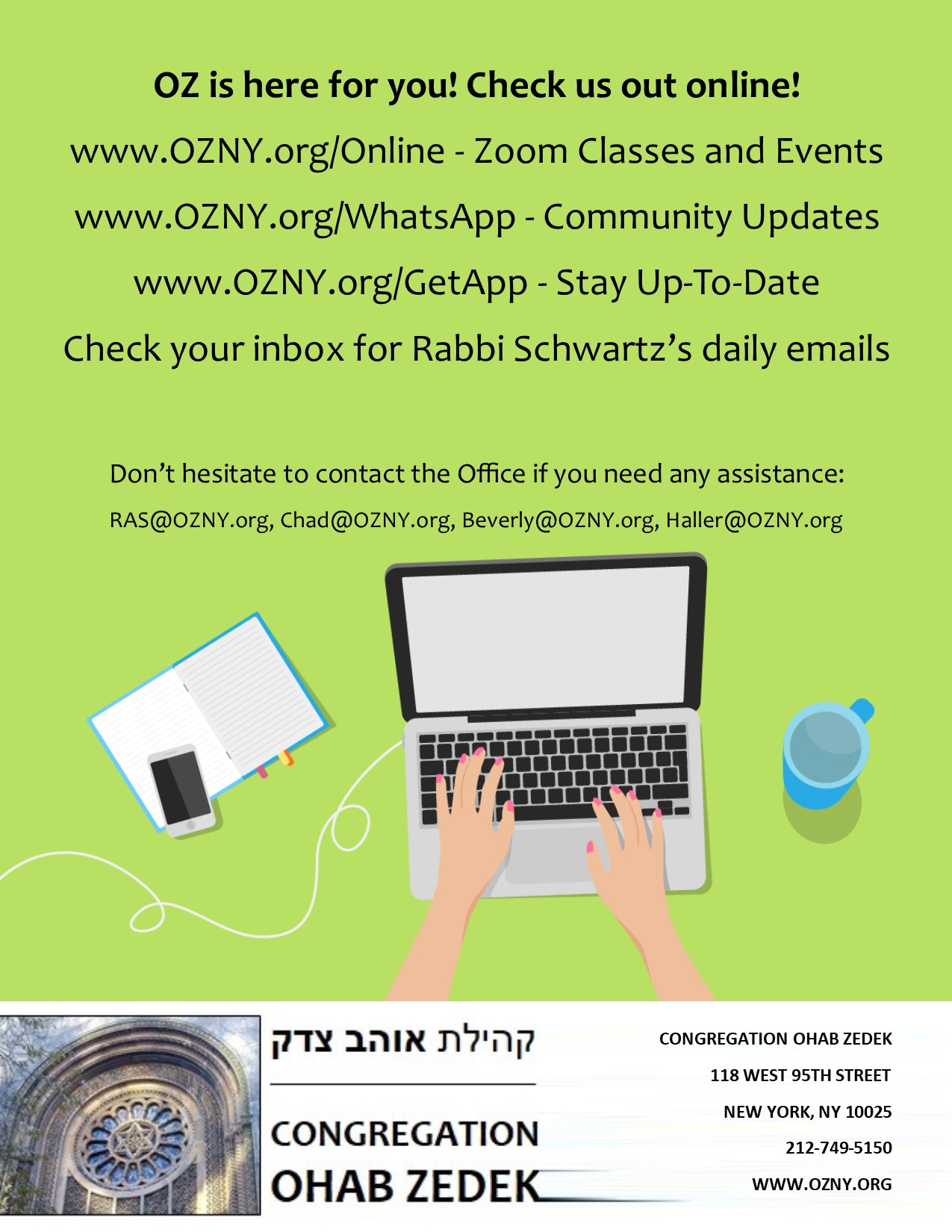 ---
Tue, April 13 2021
1 Iyyar 5781
Today's Sefirah Count Is 16
היום ששה עשר יום שהם שני שבועות ושני ימים לעמר
Today's Calendar
---
Tomorrow's Calendar
---
Upcoming Programs & Events
---
This week's Torah portion is

Parshas Tazria-Metzora
Candle Lighting
Havdalah
Motzei Shabbos, Apr 17, 8:27p
Rosh Chodesh Iyyar
View Calendar
Today's Zmanim
Alos Hashachar
4:54a
Earliest Tallis
5:25a
Netz (Sunrise)
6:21a
Latest Shema
9:38a
Zman Tefillah
10:45a
Chatzos (Midday)
12:57p
Mincha Gedola
1:30p
Mincha Ketana
4:48p
Plag HaMincha
6:10p
Shkiah (Sunset)
7:33p
Tzais Hakochavim
8:23p
More >>
Tue, April 13 2021 1 Iyyar 5781