What's Happening
UPDATED: OZ Weekly - Nitzavim / VaYelech + Selichot Start
09/11/2020 12:38:50 PM
| | |
| --- | --- |
| Author | |
| Date Added | |
| Automatically create summary | |
| Summary | |
---
SELICHOT SCHEDULE BELOW - PLEASE NOTE TIMES
---
Celebrate the High Holidays at OZ
www.OZNY.org/HighHolidays

Rosh Hashana Seatings Assignments will be emailed next week.

Seats are going quickly, and you must register to attend.

Financial assistance is available. 

Social Distancing guidelines will be enforced. 

Please contribute to the Kol Nidrei Appeal.
---
Help us close the Fiscal Year!
Check Your Account Balance & Support our Shul by Clicking HERE.
---
---
---
Submit your "Views from the Pews" to Office@OZNY.org
---
Sponsorships
Kiddush-To-Go (following Main Minyan)
Steven Antosofsky, in loving memory of his father David Antosofsky (Dovid Yosef ben Menachem Meir z'l)

Joel & Devorah Goldman

Baruch & Bracha Katz
---
Mazel Tov
Debra and Marvin Sternberg on the engagement of their son, Jacob to Nechama Kurland

OZ shidduch group for their latest match, Elisha Lucks & Melanie Jacobs
---
Have a Blast! - UPDATED
High Holiday ZOOM Classes with Rabbi Allen Schwartz

www.OZNY.org/Event/High2020 (Zoom, Schedule, Sponsor)

Sept. 14 @ 8:00pm — Haftorahs of Rosh Hashana

Sept. 21 @ 8:00pm — Haftorah of Yom Kippur

Sept. 24 @ 8:00pm — Shabbat Shuva — How Our Prayers Help Us Repent: Liturgies of Atonement & Forgiveness

Wednesdays @ 8:00pm - Minchas Chinuch: The Holiday Mitzvot, meets on Tuesdays, Sept. 16, 23, 30
---
Len's Links
---
Minyan Update
Participants in Minyanim must follow all Shul & Social Distancing Guidelines, including wearing masks, sitting in marked seats, and following New York's self-quarantine rules

Rabbi Schwartz is emphatic that absolutely no one should feel any pressure to participate at this point.

Current Tefillah Times:

Shacharit

Shabbat: 7:30am, 9:15am

Sunday & Legal Holiday: 8:00am

Monday & Thursday: 6:00am, 6:50am, 7:50am

Tuesday, Wednesday, Friday: 6:00am, 7:00am, 8:00am

Rosh Chodesh: 6:00am, 6:45am, 7:45am

Mincha/Maariv

Zman - Please check Calendar

Selichot Schedule

Saturday Night: 10:30pm

20 minutes before each posted Shacharit Minyan

Late Night Maariv & Selichot at 10:00pm Sunday - Thursday
---
Youth Events
www.OZNY.org/Youth

Youth Corner below
---
Volunteers Needed
Please contact RAS@ozny.org to help shop for the homebound
---
OZ Online Opportunities
www.OZNY.org/Online, www.OZNY.org/Events
Daf Yomi Daily Conference Call

Zoom TNLP on Tuesdays starts at 7:30pm

Zoom Discover Judaism (Wednesdays) starts of 6:45pm

Stay Tuned for More... Events!
---
Shabbat Refresher Course with Adam Resnick
The Fall Season has started with a review of the 39 Melachot: 
Topics to be covered: Reheating Food, Food preparation, Housework, Personal grooming, Appliances, Carrying, Eruvin, Muktzeh
---
Parshat Netzavim VaYelech 5780
Friday Night
6:52pm - Candle Lighting

7:05pm - Zman Minyan
Shabbat
7:30am - Hashkama Minyan

9:15am - Minyan

6:50pm - Minyan & Shiur

7:50pm - Maariv

7:59pm - Havdalah / Tzeit HaKochavim

10:30pm - Selichot
Weekday Minyanim  * Selichot Start - Please Note Times
Mincha/Maariv: 6:50pm

Late

Maariv

&

Selichot

: 10:00pm

Shacharit

&

Selichot

Sunday: 7:40am

Monday & Thursday: 5:40am, 6:30am, 7:30am

Tues., Wednes., Fri.: 5:40am, 6:40am, 7:40am
---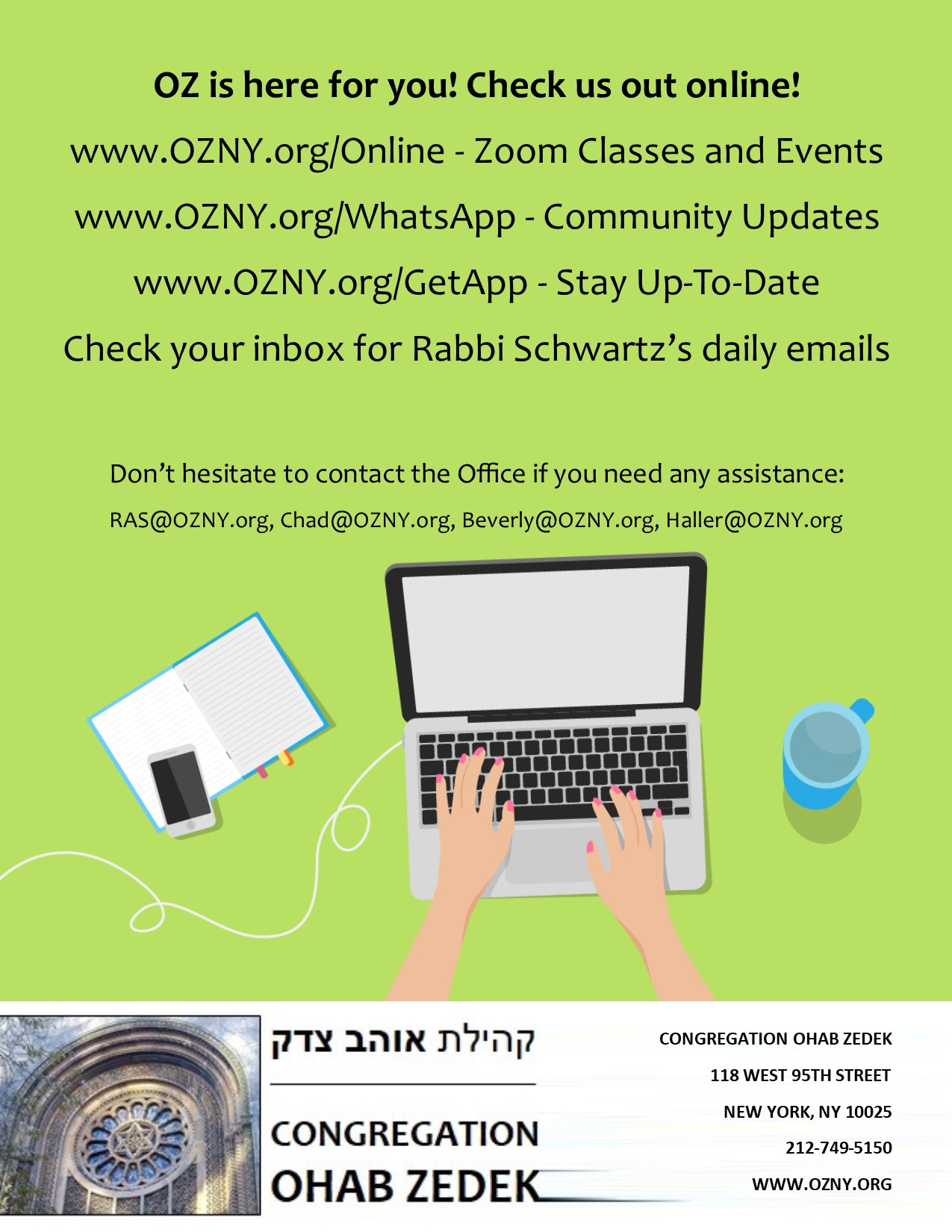 ---
YOUTH CORNER
---
Sun, January 17 2021
4 Shevat 5781
Today's Calendar
---
Tomorrow's Calendar
Office Closed
MLK Day
Shacharis

: 6:15a
Shacharis

: 7:00a
Shacharis

: 8:00a
Zman Mincha Maariv

: 4:45p
Weekly Haftorah Shiur
: 8:00p
---
Upcoming Programs & Events
---
This week's Torah portion is

Parshas Bo
Candle Lighting
Havdalah
Motzei Shabbos, Jan 23, 5:52p
Tu B'Shvat
View Calendar
Today's Zmanim
Alos Hashachar
5:51a
Earliest Tallis
6:21a
Netz (Sunrise)
7:17a
Latest Shema
9:41a
Zman Tefillah
10:30a
Chatzos (Midday)
12:06p
Mincha Gedola
12:30p
Mincha Ketana
2:55p
Plag HaMincha
3:55p
Shkiah (Sunset)
4:55p
Tzais Hakochavim
5:45p
More >>
Sun, January 17 2021 4 Shevat 5781